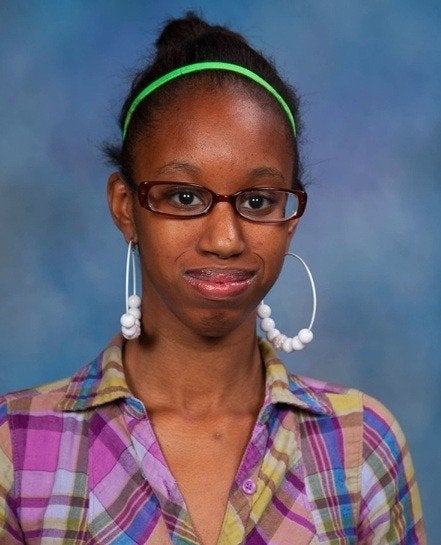 The family of Alicia Chanta Moore, a 16-year-old girl who was murdered, placed in a trunk and dumped along a remote stretch of Texas highway earlier this month, is voicing frustration with the police investigation.
The victim's aunt, Jessica Byrd, told The Huffington Post on Monday that the family is "not satisfied."
"When we ask questions, [police] tell us they can't release any information," Byrd said.
She suggested the pain and frustration is taking its toll. "There seems to be nothing happening in the case," said Byrd.
Alicia Moore's body was found Nov. 6 in a trunk along Highway 47 in Van Zandt County. The location is about 40 miles from Greenville, Texas, where the teen disappeared on Nov. 2.
Moore was last seen when she got off the school bus. Surveillance camera footage from the bus captured her safely exiting at the corner of Bourland and Walnut streets, roughly one block from her home. What happened to the teen after that remains a mystery.
Despite the family's frustration, the case is far from cold, according to the Greenville Police Department.
"The investigation into the death of Alicia Moore continues," Lori Philyaw, public information officer for the city of Greenville, told HuffPost. "This is a multi-agency investigation, and law enforcement is following all leads in the case."
On Friday, Greenville police released paperwork relating to Moore's disappearance in response to criticism that an Amber Alert had not been issued when she disappeared. According to the missing-person report, police initially treated Moore as a runaway.
Last seen leaving to catch the school bus from Bourland and Gibbons Street at 0600 on 11-02-2012.
Mother stated she has done this before but has never stayed gone this long.
Mother states runaway has ADHD and takes RX medications for it and does not have the meds.
Mother stated during the summer she befriended an older adult male, and may have done this again.
Mother has checked school and friend's residences.
Subject entered as runaway NCIC [National Crime Information Center]/TCIC [Texas Crime Information Center].
Police also released two new pictures Friday that they hope will lead to clues into Moore's murder. The surveillance photos show a dark-colored Chrysler or Dodge vehicle, possibly a minivan, directly behind the bus as Moore gets off on Nov. 2 at about 3:25 p.m. Police are hoping someone can identify the driver of that vehicle as a potential witness.
CASE PHOTOS: (Story Continues Below)
PHOTO GALLERY
Alicia Chanta Moore
One man reportedly told police he saw Moore sitting in the front seat of a car at a Greenville convenience store on the afternoon she disappeared. "I just remember seeing her walking all the time. She had her glasses on and how little she was. That's the only way I could recognize her," the witness said, according to Dallas' KDFW News.
The witness said Moore was with a man, whom the witness described as husky and "not from around here."
"I kinda got a strange feeling because I was kinda scared to say something to him. But I went on and spoke to him anyway," the witness said. "She kinda looked at me, then held her head down."
Investigators confirmed to KDFW that they have spoken with the witness, but said the lead has gone nowhere.
There are still no persons of interest or suspects in the case.
Funeral services for Moore are scheduled for 11 a.m. Saturday at Ridgecrest Baptist Church in Greenville.
Anyone wishing to contribute to the Alicia Moore Reward Fund or the Alicia Moore Memorial Fund can send checks to 9070 Westridge Blvd, McKinney, TX, 75070. Questions about either fund should be directed to 972-346-3000.
At the time of Moore's disappearance, she was described as an African-American female, 5'1" and 97 pounds. She had medium-length black hair with a pink hair band and was wearing tan pants, a green jacket, a white polo-style shirt, black undershirt, black eyeglasses and earrings. She was carrying an orange backpack with black straps and "SFA" written on it.
A $16,000 reward is being issued for information that leads to an arrest and conviction in Moore's homicide. Anyone with information is asked to contact the Greenville Police Department at 903-457-2900.

Calling all HuffPost superfans!
Sign up for membership to become a founding member and help shape HuffPost's next chapter