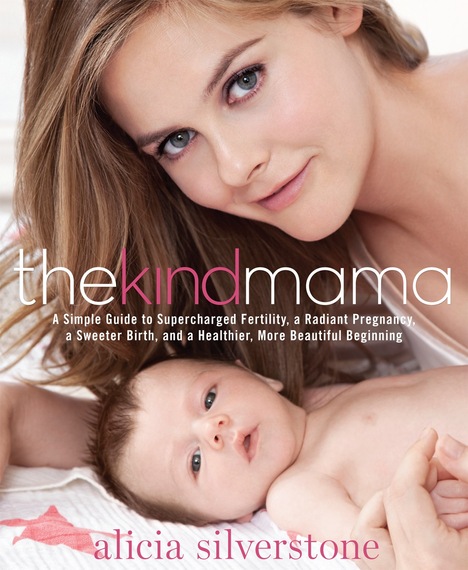 When Alicia Silverstone talks or writes about pregnancy, motherhood, or anything environmentally kind, her passion for the subject matter fuels every word.
About her 3-year-old son, Bear, she says, "Honestly, every moment since the day he was born has been incredible and I am just thrilled to be on this journey -- this is the greatest love."
Well-known for her role in the movie, Clueless, the actress has added bestselling author, activist, and conservationist to her credits. Silverstone's first book, The Kind Diet, which is a guide to vegan nutrition, climbed to #1 on the New York Times bestseller list.
Currently, there's swirl around her follow-up book, The Kind Mama: A Simple Guide to Supercharged Fertility, a Radiant Pregnancy, a Sweeter Birth, and a Healthier, More Beautiful Beginning, from both avid supporters and critics. Silverstone describes the book as, "a recipe for having the happiest, healthiest baby around."

I interviewed Silverstone, who openly discussed issues including: The Kind Mama, attachment parenting, and her critics, as well as her advice for maternal anxiety and smartphone-addicted parents.
Attachment Parenting
Silverstone's framework for The Kind Mama comes out of attachment parenting, which has its roots in attachment theory developed by psychologist John Bowlby. The idea is that the emotional bond children have with their parents early on affects their future well-being. If children trust that their parents can meet their needs, they will then form a healthy attachment and have the capability for healthy relationships throughout life.
According to attachmentparenting.org, part of nurturing and sensitively responding to a child's emotional needs includes among other things, empathic understanding, affection, breastfeeding, and co-sleeping.
For Silverstone, attachment parenting is about, "getting back to basics and doing away with excess." She is drawn to this framework because, "You are your baby's food, solace, entertainment, transportation, and education, and all of that brings you and your baby closer together than you could ever imagine. It strengthens your bond with your child and helps him develop a sense of contentment and belonging in the universe."
Why She Wrote The Kind Mama
With The Kind Mama, Silverstone says she, "wanted to provide women with a book that was full of valuable information that would help them get pregnant, have an ailment-free pregnancy (free of the icky stuff we all assume is unavoidable -- from hemorrhoids and swollen ankles to diabetes), know their birth options, and empower them to make the choices that feel right for them throughout, so that they could have the most healthy little baby."
And to Her Critics She Says ...
Silverstone and her book have sparked dialogue and debate about pregnancy, birth, and parenting. Her response to critics is, "I have done my research -- have read the studies, spoken with doctors, scientists, and other experts in the field -- and I am confident in my choices. And I trust my intuition when it comes to parenting. When I do need advice, I look to women who I've admired for how they were pregnant/birthed/raised their children. Frankly, the rest of it is all noise to me and I don't pay it any mind."

Smartphone-addicted Parents
A recent study in Pediatrics found parents on smartphones tend to ignore their kids and have negative interactions with them. I wanted to get Silverstone's take on this and what her advice is to multitasking, smartphone-obsessed, stressed-out moms.
She empathizes, "Believe me, I know what it's like to feel like you're drowning in emails -- all of them time sensitive, of course -- and trying to spend time with your child, which is why I think it's more important than ever to create boundaries when it comes to tech and parenting."
Silverstone goes on to advise, "When I am with Bear, I make a point to be completely focused on him and aim to be totally present for both our sakes -- I want to soak up every morsel of his sweetness -- so no computers and phones when he is around. Having him feel seen and heard is very important. So, when something comes up that urgently needs to be addressed, I take a mini-break to go deal with it, and then come back and re-focus. Institute 100 percent phone-free time... when you can and catch-up on things during work hours. Ninety-nine percent of the time, those emails coming in are not life or death and can wait until later in the evening or even the next day."
Worries That Keep Moms Up At Night
For many parents, an inherent part of the experience is waking up at night with worries. I asked Silverstone if she experienced this and what she does to cope with the maternal anxiety. She answers, "Like many moms, I sometimes find myself going down a rabbit hole of paranoid worries -- things like 'What if he falls out the window?' or 'What if I die in a plane crash and he's left without his mama?'"
She continues, "But then I take a deep breath and assure myself that I'm doing everything possible to keep him safe and I let those thoughts go. There are always going to be things beyond our control and it helps to just focus on what you can control, which is being present and loving to your kids when you are with them. And I do worry about the kind of world we live in -- one in which people can be unkind and disconnected from each other and make decisions based on fear. That said, we aim to surround our family with a tribe of positive, loving, warm, open, and smart people."
A Growing Family?
Silverstone is married to musician and activist Christopher Jarecki. When asked if she is going to expand her family of three, she indicates that she, "would love to, but not right now!"
As she and her husband raise Bear, they make an effort to model the values they want him to have. "When it comes to values, he is amazing and sweet and loving. He sees the way in which we live our lives -- with respect for each other, our planet, it's people and animals -- and I imagine and hope he will stay that way," she says wistfully.
Related
Popular in the Community