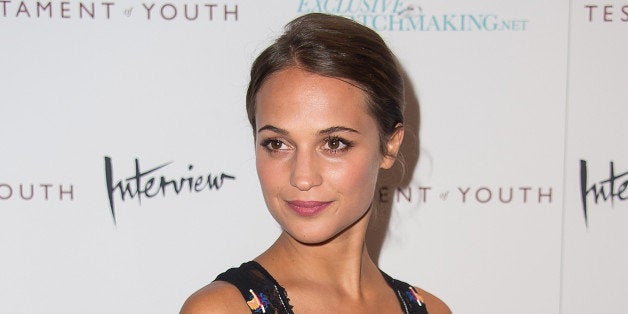 You may not know her name yet, but we assure you Alicia Vikander will be well-known by the time award season rolls around. The 26-year-old Swedish actress is in six films this year, a handful of which are likely to be Oscar contenders.
With her previous credits, which include "Anna Karenina" and "A Royal Affair," along with her fantastic performance in this year's World War I drama "Testament of Youth," it feels like Vikander is our next Keira Knightley -- after all, she stars in the upcoming "Tulip Fever," which Knightley was once attached to. But Vikander, who is only just emerging in America, will have an even more diverse breakout year than most young actresses.
On top of her period dramas, Vikander is also showing her range in the sci-fi, action and comedy genres. She already impressed critics as A.I. robot Ava in "Ex Machina" earlier this year, and will appear in Derek Cianfrance's "The Light Between Two Oceans" alongside boyfriend Michael Fassbender, in comedy "Adam Jones" with Bradley Cooper, in Guy Ritchie's "The Man from U.N.C.L.E." and alongside Eddie Redmayne in "The Danish Girl."
The Huffington Post sat down with the actress in New York on Tuesday to discuss her big moment in Hollywood and working with "Game of Thrones star Kit Harington in James Kent's "Testament of Youth." In the film, based on Vera Brittain's book of the same name, Vikander portrays pacifist and writer Brittain. The story follows the young woman through WWI, as she falls in love with Harington's Roland Leighton before he goes off to battle. Harington told The Huffington Post that "Testament" was a film he fought to be in. "I needed to do this for me, I needed creatively to do this. It was getting to do some real fucking acting," he said with a laugh. Vikander and Harington have great chemistry in the film, which Kent said he noticed the first time he watched them together. "This felt great," Kent told HuffPost of the pair's screen test during a recent AOL Build series. "I was completely convinced that the romance side of the film would completely deliver."
Here's what Vikander told us about the film, youth and feminism, and her successful year: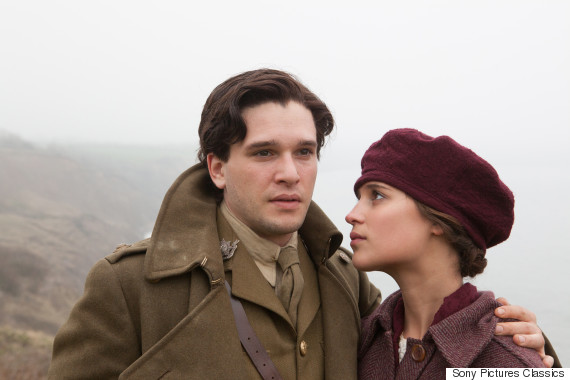 Vera begins as a young, privileged woman, but grows after working as a nurse and seeing the tragedies of war. What was it like to play those two sides of her?
I didn't want to make her too much of a saint, because she became this great, wonderful pacifist and feminist and that's what we know. But I thought it was amazing to kind of see the rawness I felt that she had. Because she's a rebel. The modern woman that she had inside of her in her youth, myself, still after I've gone back and tried to [figure out], 'Where did she get it from? She's grown up in the middle class home and she said, 'I want to have an education, I want to learn, I want to travel, I want to be active politically.' That was not the life of a woman at that time, and that's just a hundred years ago.
Partly why I wanted to make this film was [so that] a young audience would hopefully, like me, do the same and read her words. It's quite amazing with the kind of feminist revolution we've seen that's going on still, how modern she is and her thoughts.
You have a lot of emotionally heavy scenes in this. How did you prepare for those?
I'm trying to get better at not preparing. I think preparing just comes out of being really nervous because you have read a scene on the page and you want it to be as effective up on the screen as what was your instinct when you read the script. So the best thing is to not, which is very hard.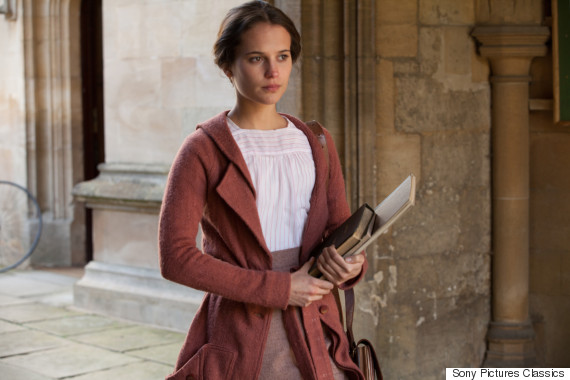 This is such a big year for you. Everyone's calling you the breakout of 2015. Does it feel like that?
Trying to watch it from the outside, it feels a bit surreal, but also wonderful that the films are finally out. I've been quite locked in my little world and just been on my film sets. So now doing the press is something very different. I think I've been quite nervous because that's very different from being in front of a film camera.
You're also in "The Danish Girl." Can you speak to how that film will approach transgender storytelling authentically?
I can't really talk about the film yet, but I think it's a subject that is -- like we've seen with Caitlyn [Jenner], how she came out -- very much in the moment and I'm so happy that it gets the attention that it should have. I hope that our film is going to raise that in the best of ways. We've had a lot of people from that community who have been with us preparing for us to make this film. So I'm excited for it to come out.
This interview has been edited and condensed.
"Testament of Youth" is now playing.
Calling all HuffPost superfans!
Sign up for membership to become a founding member and help shape HuffPost's next chapter
BEFORE YOU GO
PHOTO GALLERY
"Game Of Thrones"