Alicia Watkins is a retired Air Force staff sergeant who proudly served in Iraq and Afghanistan. She risked her life for the freedom of others, survived the 9/11 attack on the Pentagon, and watched her colleagues die. But it wasn't any of her combat experiences that broke Watkins' spirit; it was the fact that she retired from the military and found herself homeless.
In 2010, Watkins' allowed "The Oprah Winfrey Show" to document her life as a homeless veteran. Her "kitchen" was a cardboard box of snacks and microwavable meals. Her bed was a car that she rented for $10 a day. Her restrooms were the toilets at various airport hotels.
The 10-year veteran was struggling, but even during her low points, she believed that others were struggling more. At one point, Watkins did have housing, but she gave up her room to a homeless mother and her three kids.
"It might have been different had I not seen the children and the babies. So, I decided to be on the street and put them in the room," Watkins told Oprah five years ago. "Why wouldn't I?"
Since that emotional interview, a lot has changed for Watkins, who recently sent an update to "Oprah: Where Are They Now?" In the above video, she shares a surprising truth: Until her 'Oprah Show' interview aired, Watkins' friends and family had no idea she was homeless.
"I had... alienated myself from everyone," she admits now. "They really were shocked when they found out, and they were also just hurt by the fact that I was suffering."
After the show, Watkins moved in with a family friend. Though she no longer lives in a car, Watkins says that her many health issues have prevented her from being able to work.
"I have traumatic brain injury, I have post-traumatic stress disorder, I have a spinal cord injury," she says. "It's a hard road. I would love to be able to work today. I have offers, I have people that are willing to help me, but they all have to take a backseat to my health. As much as I want to work, I have to acknowledge that I am a casualty of war."
With a secure roof over her head, Watkins decided to focus on her education and began applying to colleges.
"I wanted to be able to care for wounded warriors, and so I decided to apply to Harvard University," she says. "In 2012, I was accepted. My college expenses are paid by the G.I. Bill."
Watkins' says that her personal life has really turned around as well.
"I recently got engaged, on my birthday of all days," she says, smiling. "It is amazing."
Related
Before You Go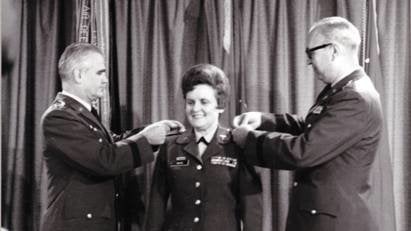 Women In The Military
Popular in the Community