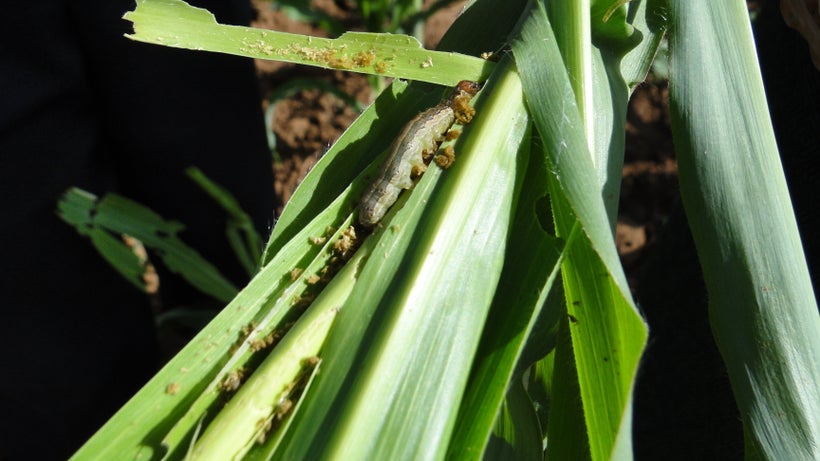 From Syrian families living in refugee camps to African migrants found in Mediterranean waters, when disaster hits faraway places, we in North America often learn about it after it's too late. Pictures of children in camps, young men pulled from icy waters, or homes reduced to rubble fill our news feeds. These are the "downstream" effects of disasters that started much earlier.
All that's left to be done is to try to help the victims.
But right now we have the chance to take action before a crisis becomes a headline-capturing disaster.
The Fall armyworm is a foreign invader. It's native to North and South America. Brazil spends up to $600 million annually to fight Spodoptera frugiperda. As a result, much is known about this pest. The female can lay about 1,000 eggs in a 12-14-day lifetime. And this "worm" is actually a caterpillar, and in its moth stage it can travel several hundred kilometres or more.
In Africa, the Fall armyworm was first detected in Nigeria in January 2016. Now it's been spotted in 38 African countries and could result in maize crop losses of US$6 billion each year unless it is controlled.
Paschal Mweruka is our radio craft development officer in Uganda, and has seen first-hand the devastation of the Fall armyworm. He told us: "The Fall armyworm was too much last year because it invaded gardens when no one was expecting it, and it is a new pest in Uganda, so many people lost their crops.... This season, a lot of awareness has been created and there is government intervention, but people still lack information on how to control it as well as preparing for its invasion."
Disaster is on the horizon as the Fall armyworm eats its way through fields across Africa, destroying farmers' crops and their food security. For small-scale and family farmers, the result will be less food and income to live on -- and in some cases it could mean no food or income at all.
Now is the time to take action.
Already, scientists and agricultural researchers are hard at work to map the path of this invasive pest and to develop biological control, chemical and other methods to minimize the damage. Governments and international organizations are discussing action plans and disaster strategies. And farmers are already in their fields, monitoring their plants for the first sign of the Fall armyworm and picking the caterpillars off by hand when they see them.
But how do farmers know to be on the look out for this foreign invader? In many countries, it's thanks to radio that farmers know just how dangerous the Fall armyworm can be to their food security.
Radio is the most trusted source of news and entertainment for Africa's rural population. And Farm Radio International is directly supporting radio broadcasters in Ghana, Ethiopia, and Uganda so that their listening audiences know how to recognize and take action against the Fall armyworm. This means understanding the difference between the Fall armyworm and the more familiar African armyworm, which control methods are most effective, and even promoting cassava as a crop that will survive an invasion.
Radio is not only useful for providing farmers with the information they need to protect their fields; it's also useful for tracking the Fall armyworm's march across Africa. When farmers call their local radio station to share recent sightings, governments and researchers can plot the path of destruction, provide advance warning, and monitor the effectiveness of any methods of control.
Against a formidable foe, radio is a great tool to leverage the efforts of both farmers and researchers.
The Fall armyworm hasn't dominated headlines yet, but by the time it does, hundreds of thousands of farming families will be facing hunger - again. Already, 20 million people in East Africa are facing famine after a three-year drought in Ethiopia, Somalia, and Kenya depleted food stores and left livestock emaciated.
We'd like to keep the Fall armyworm from becoming a headline-capturing humanitarian crisis. But that's only possible if people take early action -- people like farmers, researchers, governments, international organizations - and generous global citizens.
Farm Radio International works with more than 600 radio partners across 39 African countries, reaching tens of millions of small-scale farmers and their families. Learn more about its life-changing work at www.farmradio.org.
REAL LIFE. REAL NEWS. REAL VOICES.
Help us tell more of the stories that matter from voices that too often remain unheard.
This post was published on the now-closed HuffPost Contributor platform. Contributors control their own work and posted freely to our site. If you need to flag this entry as abusive,
send us an email
.