If "Muslim fraternity" sounds like an oxymoron, a look at a typical meeting reveals how ALM retains classic elements of being in a fraternity, such as community, service, and solidarity, while eschewing the more frivolous aspects of it, namely drinking. Instead of holding the ubiquitous red solo cups that are iconic in depictions of fraternity life, these brothers are recognized by their red kufi caps, a symbol of their membership and faith.
Founder Ali Mahmoud told The Huffington Post that the idea for the group came about as he and a childhood friend settled into college life at the University of Texas, Dallas, and considered their social options. Mahmoud's friend expressed his plans to join the Phi Gamma Delta fraternity to enjoy the social scene as well as the networking opportunities, particularly in the post-graduation context, but worried about the less academic aspects of being in a frat. They joked about how it would be great if a fraternity with Muslim values existed, and out of that joke, Alif Laam Meem was born.
They are a social fraternity with a strong emphasis on service, which seeks to "build men who can serve their communities," said Mahmoud. "Islam isn't just there to serve Muslims," he commented. "Islam is there to serve everyone." They do monthly volunteer activities as a group and seek out grassroots service opportunities, like the time they all made sandwiches and drove around the city handing them out to homeless people. Their initiation ceremony didn't involve beer chugging or keg stands -- instead the new brothers each donated $100 to charity, to demonstrate that their commitment to the fraternity was a commitment to their local community.
ALM is built on Muslim values, but their upcoming rush week is open to all, non-Muslims included. Their website says, "We're looking for members that show passion, drive, competency, and character because that's within one's control, as opposed to choosing members based on social class or ethnicity... We would rather take a humble struggler than a fake saint, no matter what they're struggling with."
Though all are welcome to rush, ALM's activities are grounded in a Muslim framework that seeks to develop a sense of brotherhood within Islam. Their FAQ page states that they "are taking what is good from the fraternity model and leaving what is bad."
ALM is not about "integrating Muslims into American society," as its members already embody the lived experience of being American Muslims. Mahmoud's slight Texas accent is a testament to his American upbringing, and he commented that though he is already integrated into American culture, the fact that American Muslims are now entering the fraternity scene is an "important symbolic step."
Mahmoud commented that Islam is a religion that's been a part of a wide variety of cultures all over the world, from 7th century Saudi Arabia to 10th century Spain, "and it's working now in 21st century America. It's a flexible religion that can allow for an organic human experience, wherever it is." The group's casual web series, "Kufi Krew," shows the guys clowning around like any other college students, regardless of their religion.
Though Muslim Students' Associations have existed since 1963, ALM is carving out a new social space for Muslim college students. Mahmoud stressed that they are not existing in opposition to the MSA, but simply offering something different. While the MSA serves as a resource for the entire university community, ALM focuses on a core group of members to work on their personal development as Muslims and as men.
Reactions to the new group have been mixed. While many people have been enthusiastic supporters of the new group and its mission to provide a service to both Muslims and the community at large, Mahmoud said that they've received pushback from a wide variety of people. Adam Abboud of the Cornell Muslim Dissents Tumblr criticized ALM for its roots in the fraternity world, questioning, "why any religious organization would strive to be modeled after a gendered institution with roots in white supremacy and elitism." He suggested that ALM will solidify heteronormative gender structures and said that gay Muslims would not be allowed to join, though Mahmoud specifically told the Huffington Post that ALM is open to accepting any men who care to rush.
The concept is catching on- chapters at Cornell University, University of Pennsylvania, University of California San Diego, and University of Central Florida are expected to have official ALM chapters in the spring. UT Dallas has been supportive, with Dr. John Watson serving as an "enthusiastic" faculty advisor to ALM.
Thirty to forty men are expected to rush next week, hoping to "Go Arabic" rather than the typical encouragement to "Go Greek."
Before You Go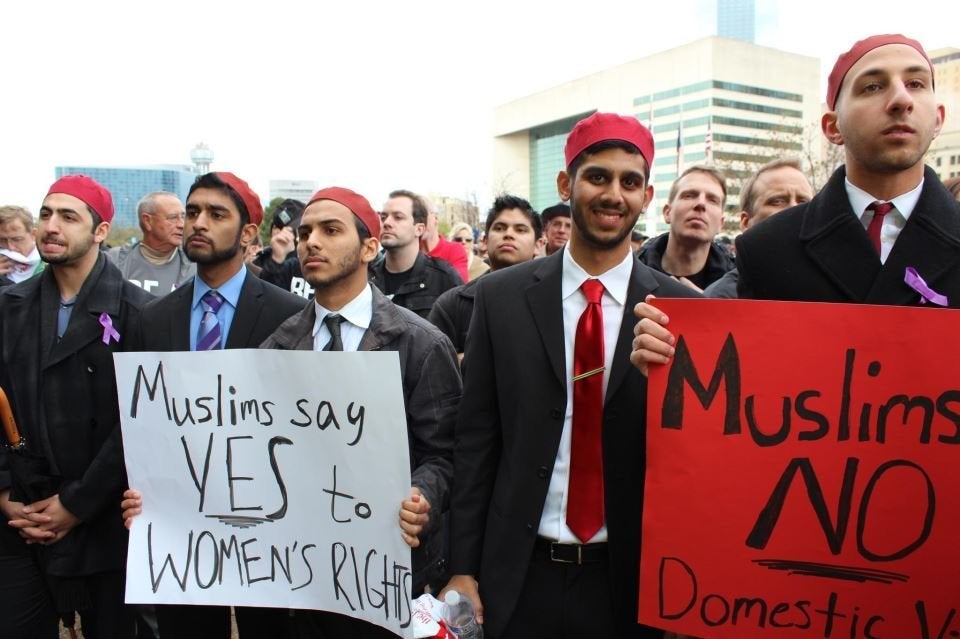 Alif Laam Meem
Popular in the Community