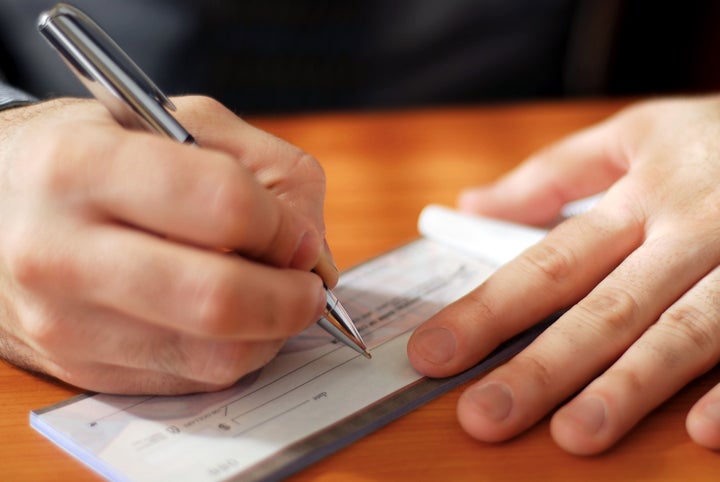 Strong weather usually moves from Florida up the East Coast. But in this case, the winds of change are going in the other direction.
Call it the Massachusetts Miracle: A grassroots organization founded and run by a man who owns a printing and copy store, Stephen Hitner of Mass Alimony Reform, was the driving force behind the state's radical overhaul of its antiquated alimony laws.
Since Gov. Deval Patrick signed the new law in September -- endorsed by the major Bar Associations and with unanimous votes in the legislature -- citizens' groups in two other states, Florida and New Jersey, are attempting to follow in Massachusetts' footsteps.
Their objectives: to bring alimony laws into the 21st century, and wrest it from the 1950s, when Fathers Knew Best and Moms were the stay-at-home variety; when men were breadwinners and most women couldn't work if they wanted to. The organizations point to the myriad injustices of permanent alimony and the unintended consequences. Instead of allowing people to end a failed relationship, the antiquated laws in their states force them to become permanent adversaries, returning to divorce court whenever circumstances change. They endure a lifetime of legal fees and divorce that never ends.
Even in this miserable economy, when payers in New Jersey and Florida go back to court after businesses have failed or they've lost their jobs, judges often deny them relief. Some have been known to say: "You should have been saving money to pay your alimony in case you lost your job." Never mind that the law permits adjustments when drastic change occurs.
In the Sunshine State, where permanent alimony is so common it is sometimes awarded to healthy women in their 30s and 40s, Florida Alimony Reform is celebrating the recent introduction of identical bills in the Senate and House (SB 748/HB 549) that are similar to the Massachusetts laws. Says House sponsor, Rep. Ritch Workman, "Florida's permanent alimony laws are relics from another century." He supports helping the lower-earning spouse for a transition period, but notes that, "Too often, lifetime alimony brings payers to bankruptcy, insolvency, and foreclosure."
His bill, sponsored in the Senate by Miami-Dade Sen. Miguel Diaz de la Portilla, limits alimony amounts and duration; changes standards for proving cohabitation, to ease the burden of alimony payers permanently supporting ex-wives and their live-in boyfriends; keeps the income and assets of new wives off the table when parties return to court to modify; and gives current payers the right to renegotiate alimony based on the new law -- an important feature of the Massachusetts law that ensures everyone is treated equally under the law. When some features of Florida's alimony laws were revised last year, those currently paying were specifically forbidden from revising their judgments, thus creating different laws for people in identical situations.
New Jersey Alimony Reform is newly established and still collecting "horror stories" to convince legislators and the press that there is a real problem that needs fixing. President and Co-founder Tom Leustek provided a group of stories that sounds frighteningly like examples from Massachusetts and Florida (available on MAR's and FAR's websites in the "Horror Stories" tabs):
A CISCO computer analyst from Sussex County loses his job at age 65 and is forced to spend his retirement assets in several failed attempts to eliminate permanent alimony of $3000 per month. He is forced to continue paying alimony and ordered to pay for his ex's attorney fees. He is now penniless.
A Somerset County man is rewarded for addiction. He chose not to look for work when he got laid off five years before divorce and proceeded to get five DUI's (two 180-day jail terms). After finishing an expensive 90-day in-patient rehab, he drank the first day home. His wife could no longer take care of him and filed for divorce. Despite being a childless marriage, she was forced to give him half their assets and must pay him $60,000 a year in permanent alimony.
At the end of a 13-year marriage, a Cumberland County man is ordered to pay $60,000, a year in permanent alimony, $21,000 in child support, and maintain a $2 million life insurance policy ($10,000 a year) for his ex-wife, who received 100 percent of the remaining marital assets after the man was ordered to pay his own and his ex's attorney bills -- about $500,000. He works three jobs and probably will never be able to retire. His ex-wife has two college degrees in education and computer science, and worked full time before the marriage.
An electrician in Hunterdon County is struggling to maintain his business. Lifetime alimony of $4,000 per month was ordered based on his earning rate before the recession in 2008. Three attempts to modify alimony have been denied. The Judge suggests that the electrician get a part-time job to pay his alimony obligation, but the electrician is already working as many hours as a regular person with a full- and part-time job.
For many years, Stephen Hitner carried around a booklet of Massachusetts horror stories to show disbelieving legislators and reporters; they read a lot like these stories from New Jersey. The stories from Florida bear striking resemblances to them too. There is a small group of other states in the country where permanent alimony is routinely awarded. Most often, divorcing couples don't know the law until they find themselves in court.
CItizens in Florida and New Jersey -- and Massachusetts, until the new law fully takes effect in March 2012 -- deserve better than this. Way better. What happens in family court in these states is a national disgrace. But the Massachusetts Miracle has put wind in everyone's sails. The good weather might just be moving from North to South this time.
Elizabeth Benedict wrote the Boston Globe op-ed that ignited the Massachsusetts alimony reform movement, in June 2008, and writes frequently on family law. She is the author of many books, including the bestselling novel Almost, and editor of Mentors, Muses & Monsters: 30 Writers on the People Who Changed Their Lives.