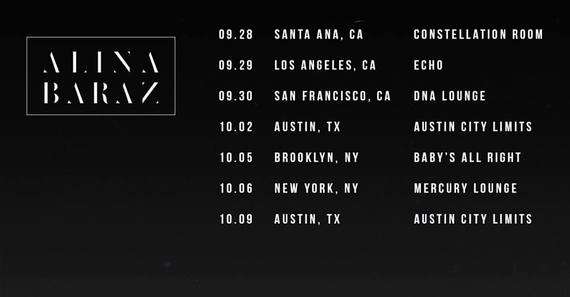 Not language nor distance can hinder the creation of music. From across the Atlantic, Alina Baraz and Galimatias joined minds to create one of the most highly acclaimed albums of the year, Urban Flora. Success found them quickly after the EP was released garnering a large fan base who already knew every one of Baraz's velvety lyrics. When Baraz and Galimatias finally met face to face, the album had already been completed and it was time for the next phase.
Having little experience with live performance, the duo was timid about committing to a tour. However, as their popularity saw a meteoric rise, they knew it was time to give their fans what they yearned for. Announcing their first U.S. tour inspired excitement amongst their fans as well as gained new ones. Selling out their California shows more than a month before the show, it was apparent that Alina Baraz and Galimatias had officially blown up, so to speak.
They began their tour at the Constellation Room in Santa Ana, California on September 28th and opened to a swaying meadow of Urban Flora devotees who were singing in unison and moved to tears, filling the room with a palpable energy that both Baraz and Galimatias deeply felt. This was a monumental moment for the duo as not only was this their first ever live performance, but also a confirmation that they were on the right path. Their evocative music has already touched the souls of thousands of people and they are just getting started.
The duo's second show was at The Echo in Los Angeles. A much smaller and hotter venue, the dancefloor was filled with fans and industry folk alike, creating a much different vibe than that of the Constellation Room performance. While fans were still going wild over the duo, singing every lyric and screaming Alina's name, it was a little difficult to see the stage through the sea of raised cellphones and tablets. Though capturing the set on camera shows the fan's adoration for the duo, it also removes people from being a part of the live performance. Focusing so much on watching this set again in the future, they are experiencing the event through a tiny screen instead of fully immersing themselves in the beautiful gift of the present.
The addition of a live drummer added a depth of sound that tantalized the senses filling the air with a percussive vibration that no other instrument or machine can reproduce. With more tour dates taking them through Northern California, New York and Texas, there is no doubt that they will leave the world begging for more. Comment threads on their tour flyer have come from fans all over the world, asking and hoping for Baraz and Galimatias to visit them in locales such as London, Brazil, Toronto, Colombia, Paris, Belgium, Germany, Vancouver and many more, showing that their music already has a global appeal beyond the U.S. Maybe a tour in Galimatias' native country of Denmark is in order as well!
Cellphones aside, it was a visceral experience to witness the magic that Baraz and Galimatias' conjured on that stage. Only their second show, their newness on stage was definitely not apparent as Galimatias' seamlessly executed his masterfully crafted sounds while Baraz's ethereal stage presence mesmerized onlookers. I lost myself in the undulating waves of their music, closing my eyes and letting their soundscapes transport me to the sensual and fragrant world of Urban Flora.
Check out my exclusive interview with Alina Baraz & Galimatias HERE
REAL LIFE. REAL NEWS. REAL VOICES.
Help us tell more of the stories that matter from voices that too often remain unheard.