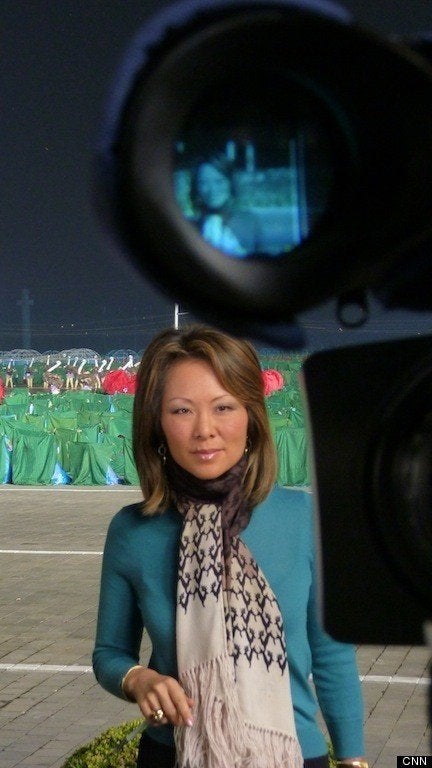 The call, when it came, was a shock to CNN reporter Alina Cho. She had been trying to get permission from the North Korean government to report from the country ever since her first visit there in 2008. Then, she had traveled with the New York Philharmonic when the orchestra played a historic concert there. Thrilled by the rare access, she was determined to go again. Over a year of fruitless attempts followed.
That is, until last week --when, seemingly out of nowhere, a call came from the North Korean government. Cho and CNN -- along with many other international media organizations -- were invited to come and view what was being billed as the largest military parades and mass games in North Korean history. Cho jumped at a rare second chance to report from inside one of the most closed-off countries in the world.
"We weren't sure what to expect," Cho said in an interview with the Huffington Post from her hotel in Beijing earlier this week, just a few hours after leaving the North Korean capital of Pyongyang. She had little more than 24 hours to obtain the right visas and book a flight.
Of course, reporting in North Korea is a tricky business. Government minders were on hand everywhere Cho went, telling her and her crew who they could and could not talk to, and where they were allowed to shoot. "No Western media will ever get a true picture of what it's like to be inside North Korea," she said.
Even with these constraints, Cho said she noticed seemingly small changes during her four days in Pyongyang that, to her, felt like dramatic ones in comparison to her 2008 trip. For one thing, there were traffic lights on the streets. Two years ago, female traffic attendants had managed what cars there were on the roads.
More shocking than that, though, were the number of people she saw talking on cell phones.
"It simply was jaw-dropping to see this," she said, though she stressed that people were only allowed to make domestic calls.
Cho also visited an amusement park that opened recently, and was further surprised to see regular North Koreans on rides, eating hot dogs and french fries and enjoying themselves. She said it reminded her that complexities are present in any country, even one as maligned as North Korea.
"We talk so much about [this being a] sad society, and in many ways it is," she said. "But what struck me was the laughter that I saw and the dancing in the streets that I saw. I don't think you can fake the smiles."
The military parade and the mass games in Kim Il-Sung square left Cho equally astonished. Seeing the sheer scale of the soldiers and weaponry on display, and the dazzling precision of the dancers and performers in the games, was a sight Cho said she would never forget. She was the only reporter in the world allowed to cover the games live on air.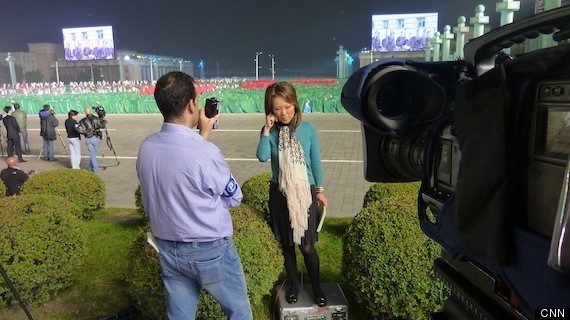 Cho reporting from Kim Il-Sung Square in Pyongyang, North Korea
As it turned out, the games included a rare appearance by North Korean leader Kim Jong-Il, as well as the first-ever public appearance of his son and heir apparent, Kim Jong-Un. Cho said that her one major disappointment about her 2008 trip was that she had never seen Kim Jong-il in the flesh. On this trip, however, she saw the reclusive leader three separate times -- and witnessed his son's official introduction to the North Korean people and the world.
"I can't explain to you what it was like as a journalist to actually see [Kim Jong-Il] in person," she said. One thing she found fascinating was that, after the games ended, the audience turned its back on the performers and instead applauded Kim Jong-Il.
"They practice for months, hoping he'll be in attendance, though he usually isn't," she said. "But this time, he was...people were sobbing at the sight of him."
Though the trip was the reporting experience of a lifetime, Cho brought more than a journalist's eye to North Korea. She also had a personal connection to the story: two of her relatives disappeared during the Korean War. "Presumably, if they are still alive, they are still in North Korea," she said. "If things had been just a little bit different, I could be living in North Korea."
This reality, she said, forced her to look more closely at the ordinary families she saw in the country, and to think about her relationship to them.
"These are people who look somewhat like me... [and yet] they can't leave the country," she said. "But the heartening part was that I saw a lot of laughter and happiness. I saw families enjoying themselves and I really thought to myself that what these North Korean families want for their children is what I want for my friends and family. We all want the same things."