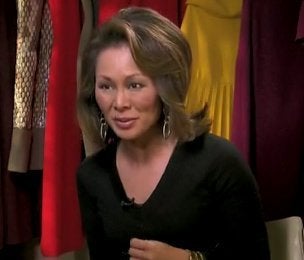 When most TV news viewers think of CNN's Alina Cho, they think of her work on the network's "American Morning" or her hard-news reporting from North Korea. And maybe after this weekend, they'll think of her fashion coverage.
Cho is hosting a special on New York Fashion Week set to air Saturday at 2:30 PM, and she insists that fashion has a place on the hard news network.
"Hard news will always be CNN's bread and butter. Nobody does it better, in my opinion. And our viewers love and crave hard news," she told the Huffington Post by phone this week. "They want the headlines from the Middle East, they want all the political news. But I think that there is room for other topics like fashion, and I've said this many times: I don't think it makes me any less of a journalist to cover fashion. I also happen to be a journalist who was in Grant Park when President Obama won the presidential election. I was lucky enough to travel to North Korea twice on assignment with CNN, and I spent four months in New Orleans after Hurricane Katrina. I like to think that I can do that and also cover another topic I'm passionate about, which is fashion."
The 30-minute special will include an interview with Victoria Beckham as well as segments on the influx of Asian designers (including fashion industry golden boy Prabal Gurung, who came to the US from Nepal after seeing an inspiring "Oprah" episode), the politics of a fashion show's front row, and how designers cast models for their shows.
Cho's struggle, as she explains it, is to make the coverage both "aspirational" and "accessible."
"I think that we should be covering stories that can play in Peoria," she said. "It's a little bit like walking a tightrope, because you want to be smart enough for the fashion crowd but accessible enough that the average CNN viewer, who loves news but may not know about fashion, will also be interested in watching."
The special airs Saturday, February 19 at 2:30 PM. A preview clip appears below.
WATCH:
REAL LIFE. REAL NEWS. REAL VOICES.
Help us tell more of the stories that matter from voices that too often remain unheard.