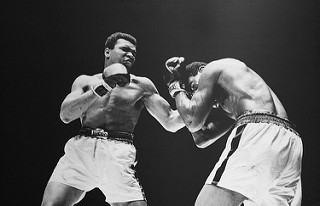 For 20 years, my paper's N'DIGO Foundation has held an annual gala to provide college scholarships for Chicago area students.
In 2005, at our 10th celebration, the N'DIGO Foundation presented Muhammad Ali with a Lifetime Achievement Award at Chicago's sparkling, newly opened Millennium Park downtown.
We had tried for three years to bestow this honor on Ali, working with his team of Troy Ratcliff, Cleve and Belvon Walker, and Ali's wife Lonnie.
Ali had almost never before been honored in his adopted hometown of Chicago because of prevailing racial, religious and political maneuvers.
During the era when Ali was not as beloved by whites as he apparently is today, Mayor Richard J. Daley did not want the increasingly popular Ali to be recognized in Daley's Chicago.
The mayor blocked Ali from fighting here in the city where he lived - despite the revenue that such an event would bring to Chicago - and Daley also tried as much as possible to block any awards to Ali that would attest to his credibility in any way.
Ali was too popular for Daley's taste, but more importantly, Daley was not fond of the very well disciplined religious organization - the Black Muslims, headquartered here in Chicago - that was behind Ali.
The Daley mindset of dealing with such characters and situations was to stifle them before they could take hold and become a political force.
Daley was successful with his political cohorts, but Ali was champion of the people. He was rooted in the community. He walked the streets of the South Side of Chicago like a pied piper.
He went to the popular Black nightclubs. He went to the Muslim mosque and the Muslim restaurant, both on the South Side. Ali played with the kids on the playground and the cats on the corner in Black neighborhoods.
Crowds gathered as he shadowboxed and preached. He went to Operation Breadbasket (before it became Operation PUSH) regularly with Rev. Jesse Jackson. He was rooted as a Black man. No excuses. No explanations. He was Ali and he was not confused.
When we were preparing for the 2005 Gala, Ali and Cleve Walker visited the N'DIGO office every day for two weeks to help. One Tuesday, which is the day our newspaper goes to print, they came by and I said, hey guys, we are working for real today.
Ali said he came to help, so our art director handed him proofs to read to look for typos and corrections. He loved looking at the pictures we were running that issue.
They stayed with us that evening until we put the paper out, then came back the next day at lunchtime. We all had lunch and Ali told us jokes and did magic tricks.
I told him he was handsome. He said, "No I'm not, I'm pretty ... and so are you." "Are you flirting?" I asked him. "Yes," he said smiling. "I'm still the champ, you know, and women love me."
He was slower, his speech quieter, his steps measured and deliberate. But he was Ali. That day after they left, I cried like a baby. He was now great, in another way. Life changes, but the essence of his real greatness remained very much intact.
Ali Being Ali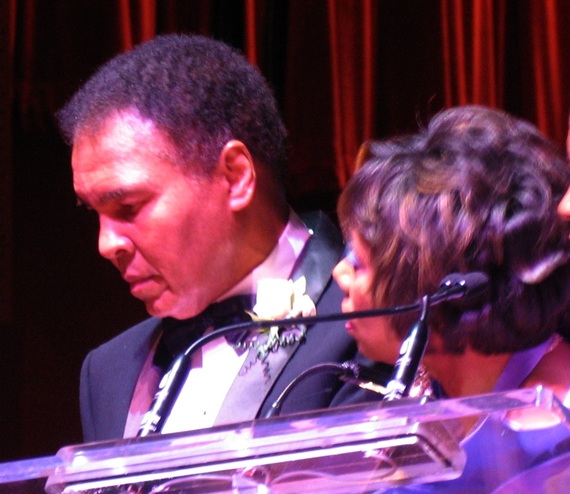 I was happy that we were honoring him. The next day when he and Cleve came to work, the Gala coordinator suggested we plan some actual Gala work for Ali, give him something to do.
I asked them to go sell tables and they did. For the next few days, they hosted luncheons and meetings with their sports and business buddies in Chicago's private clubs and sold tables and sought donations.
One day, Ali brought us a huge picture book of himself. It was one of the largest books ever, and he said it would be very valuable one day. That book, "The GOAT, The Greatest of All Time," cost $1,000. It was a gift and Ali signed some pages to add value.
He also brought us red boxing gloves that he signed. He told me they, too, would be valuable. They auctioned to ABC7 Chicago news anchor Cheryl Burton at the Gala at a very hefty price.
Ali and Cleve decided that we should have a Muhammad Ali Scholarship. It started as one scholarship, but grew to four. Ali had rules, though. The scholarships had to go to bad boys from the West Side.
That was his stipulation and we complied, with help from civic leader and Ali friend Troy Ratliff, who made it happen with kids from the Better Boys Foundation.
The night of the Gala, Sunday, June 19, 2005, was glorious. The weather was Chicago summer beautiful - a perfect day for an outdoor event to honor a champ.
Ali was excited. When he came to the stage, the crowd roared, "Ali, Ali, Ali!" He loved it. International press was in attendance. Rev. Jackson stepped up to raise Ali's arm in championship fashion. Ali was loved. He was always the champ, no matter what.
The jewelry store, Tiffany, told me to come and pick out a gift for Ali. I selected a crystal globe to be his award. Ali was touched and asked how I knew he had always wanted such a globe. I couldn't believe I had just given The Champ something that he really wanted. It was special.
Barack and Michelle Obama were the Gala Chairs that year and met Ali for the first time. Backstage, Ali was boxing with everybody and taking photos. He boxed with then Senator Obama, Rev. Jackson, and his fellow honorees. He was having a ball.
They all went to Gladys Knight's dressing room - she was the Gala entertainment that year - and totally disrupted her while she was getting ready to perform.
Ali flirted with all of the women. He took pictures; he shook hands. He was warm and receiving and funny. He was a riot. We loved him, and he loved everybody. He gave me a hug after it was over and I cried. He said, let's go back to the hotel and party. And we did.
In retrospect, how could Chicago, this City of Big shoulders, never formally honor this icon, I still ask myself.
I am so glad that N'DIGO took the time to do it. Racism and politics often get in the way, but you must always overcome that by doing what is right.
REAL LIFE. REAL NEWS. REAL VOICES.
Help us tell more of the stories that matter from voices that too often remain unheard.