Got a weight loss success story of your own? Tell us about it at success.stories@huffingtonpost.com and you could be featured on the site!
Name: Alison Stanfield
Height: 5'3"
Before Weight: 198 pounds
How I Gained It: My weight was normal, and then after marriage, college, career, kids and yo-yo dieting, I found myself at 198 pounds and wearing a size 18. "If I can do it, anyone can," was my least favorite phrase. I hated to hear those words come out of any person's mouth that had lost weight. I had battled weight for years and had tried everything and I couldn't.
Breaking Point: Two important events happened to start me on the path of real weight loss and a healthy lifestyle. A local news station interviewed me for a story, and when I saw myself on TV, I could not believe that was me. I decided to go to war knowing I would not win every battle and it would take a lifetime, but this weight was not going to defeat me any longer. I joined our local YMCA and started working out a little and joined Weight Watchers and lost 20 pounds. Then I was stuck for months and asked for some personal training sessions to jumpstart my weight loss. My husband and boss gave me five personal training sessions for my 38th birthday. It was the gift that changed my life and keeps on giving.
How I Lost It: I thought I would die of embarrassment and muscle pain during and after each session. However, my trainer was so patient, non-judgmental and really encouraging so I kept going for the torture sessions. He also helped with the proper food and nutrition for healthy weight loss. Three months later I had only shed 5 pounds, but I could fit into a pair size 12 jeans. I was hooked. I weight trained twice per week and did cardio at least three times per week and of course was very careful about my food intake.
It took 18 months, but I lost 75 pounds and have kept the weight off another 18 months. I still weight train and do cardio weekly and watch what I eat. And now when I say, "If I can do it, anyone can," I am serious. I went from never lifting a weight in my life to running several 5K races and weight training my friends and husband. My eating habits have also totally changed
for the better. The most important thing for anyone fighting the battle of the bulge is to remember this is war. You will win some battles, and lose some battles, but you have to keep fighting and never let the weight win.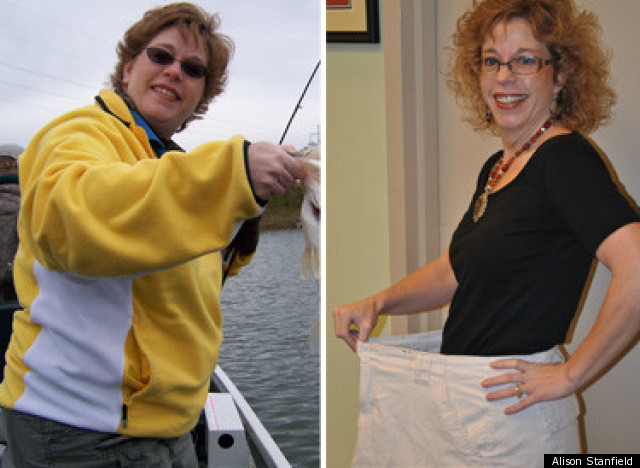 Related