A small item in a local newspaper is at the center of the most recent dust-up between Senate Minority Leader Mitch McConnell (R-Ky.) and his likely general election opponent, Kentucky Secretary of State Alison Lundergan Grimes (D).
The front page of the Beattyville Enterprise's Thursday edition featured a story about McConnell's visit with local business leaders in Eastern Kentucky's Lee County during the Senate's recess. The story quoted McConnell as saying "that is not my job," in response to a question asking what he would do to stimulate local economic development. The county has an unemployment rate of 14.3 percent and a median household income of $22,789.
U.S. Senator Mitch McConnell said Friday that it is not his responsibility to bring jobs to Kentucky.

Appearing in Beattyville, McConnell was asked by The Beattyville Enterprise what he was going to do to bring jobs to Lee County.

"Economic development is a Frankfort issue," McConnell said. "That is not my job. It is the primary responsibility of the state Commerce Cabinet."

Asked about public works projects McConnell said he is interested in bringing public works to the state. "Most comes from the state, though," he said.

He did say that he is responsible for protecting jobs by "pushing back" against the Obama Administration's restrictions on the coal industry.
Grimes fired back Thursday, saying that "the only job that [McConnell] has cared about over the past 30 years is his own."
"I stand in complete contrast and disagreement with him," Grimes told HuffPost in a phone interview. "Unlike Mitch McConnell, I listen to Kentuckians. It is the job of a U.S. senator to put hardworking Kentucky families back to work and to grow our middle class. He shocked not just myself but all of Kentucky when he declared that economic development is not his job."
Grimes used the opportunity to bring up her jobs plan, in which she proposes tourism investments, jobs training and other initiatives in Eastern Kentucky, which is still reeling from the recession. She also supports raising the minimum wage to $10.10 an hour. McConnell has opposed the $10.10 minimum wage, arguing it would cost jobs for Kentuckians.
McConnell's office responded to the Beattyville Enterprise's piece in a statement released to HuffPost that called jobs a "top priority." It continued:
Unfortunately, it seems my message got lost in translation, and I was surprised to see a headline about my visit that sent the exact opposite message to the one I was trying to convey.

Encouraging positive economic development and job growth is at the center of what I do every day. At the federal level I support policies to try to improve the economy as a whole which in turn will help preserve and create Kentucky's jobs. These efforts include supporting an end to President Obama's War on Coal and repealing job-killing Obamacare. Along with Senator Rand Paul, I was proud to sponsor the Economic Freedom Zones Act, which would spur economic growth in areas such as eastern Kentucky.
The statement also said the atmosphere created by the state can help its residents compete for jobs.
Both Grimes and McConnell have faced a high level of scrutiny as they face off in one of the country's most competitive Senate races. On Thursday, Grimes came out in support of the Keystone XL oil pipeline, perhaps in acquiescence to pressure from Kentucky Republicans.
In a potentially similar "whoops" moment from 2010, former Nevada state Assemblywoman Sharron Angle said, "That's not my job as a U.S. senator," in reference to job creation as she attempted -- unsuccessfully -- to dislodge Senate Majority Leader Harry Reid (D-Nev.).
Support HuffPost
The Stakes Have Never Been Higher
Before You Go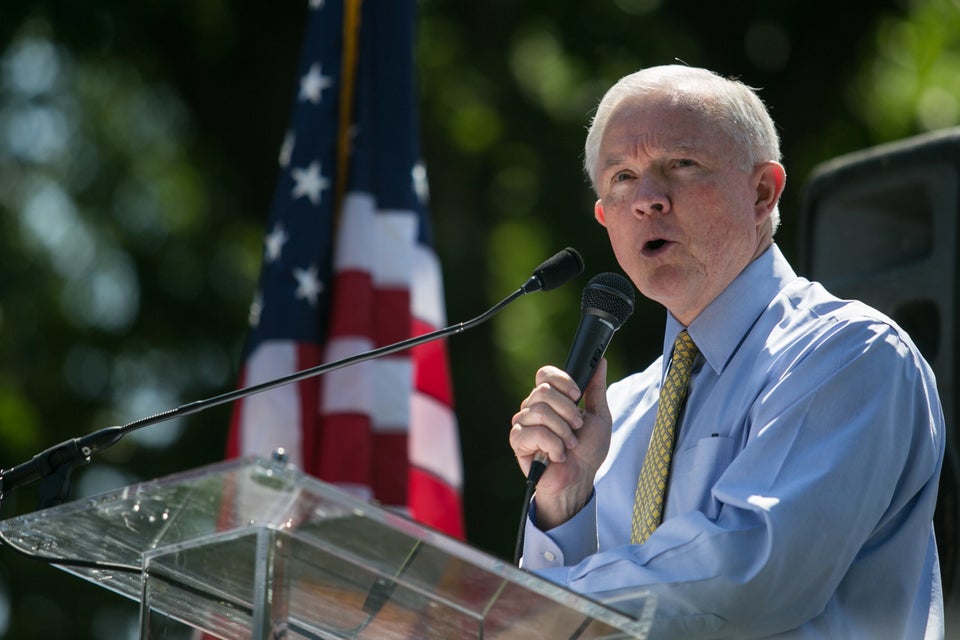 Senate Seats Up For Grabs In 2014
Popular in the Community