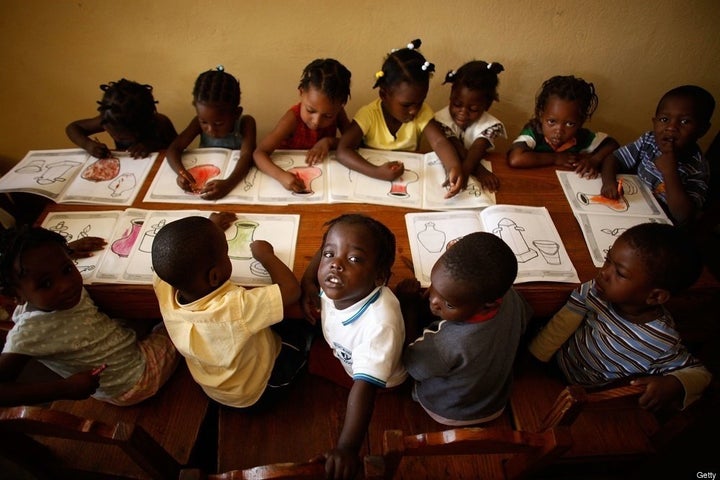 If you asked me who my heroes are, my answer would be: my mother (the subject of a future blog post) and Alison Thompson. Whether responding to an earthquake in Haiti, a tsunami in SE Asia, or a terrorist attack here on US soil, Thompson selflessly devotes her life to serving those in need.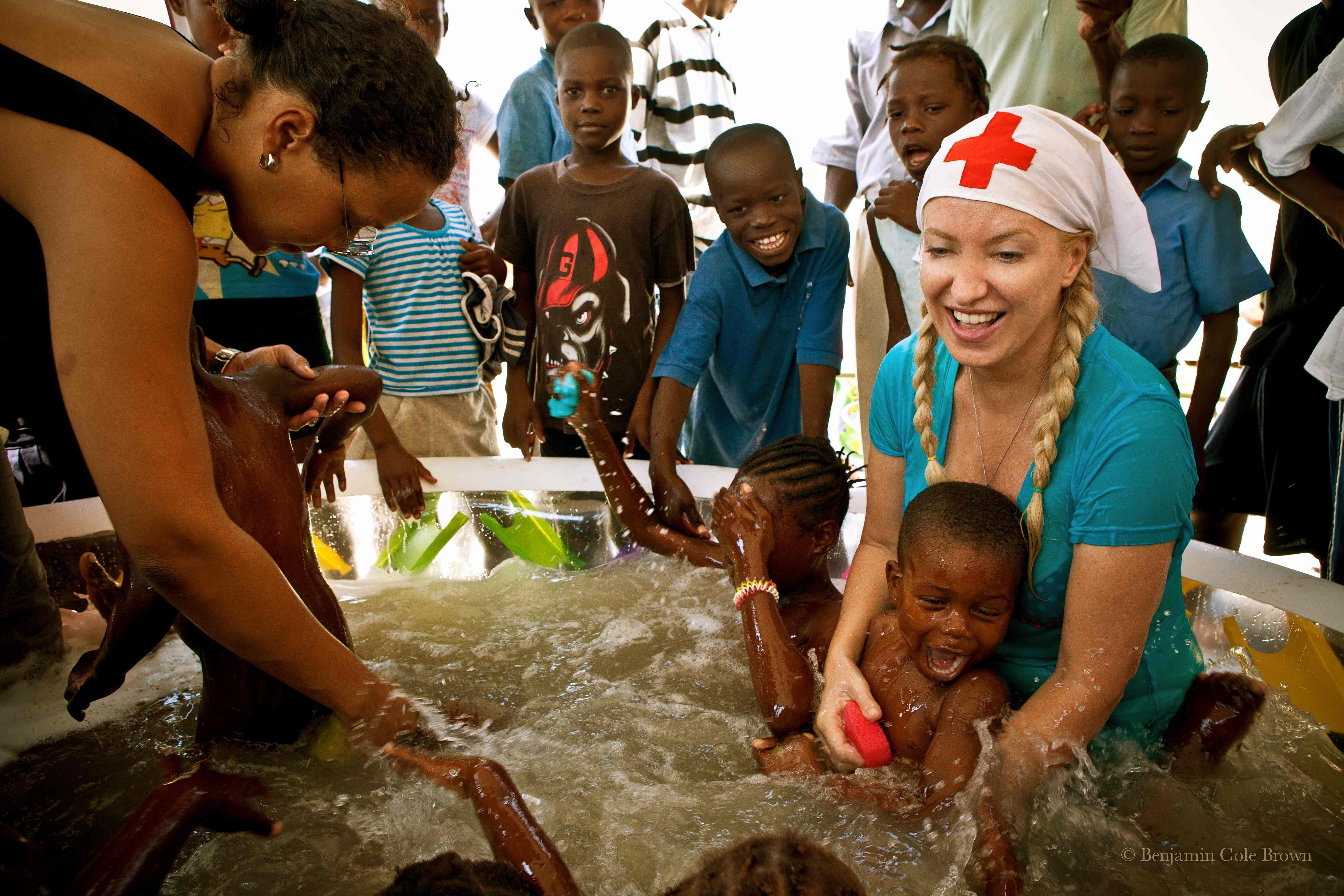 I had the good fortune to work with Thompson on compiling and editing her memoir about volunteering around the world, The Third Wave, which hits bookstores this week. However, I am writing this article for just one reason: because knowing Thompson has made me a better person.
Ten years ago on September 11, most New Yorkers fled lower Manhattan in horror as the first World Trade Center tower collapsed in a paroxysm of glass, metal and fire. Not Alison Thompson. The investment banker-turned-filmmaker feared that many of her friends, who had been working on the building's top floors, were at that very moment fighting for their lives. "I had to help," she recounted.
So Thompson strapped on her rollerblades and fought her way south from her apartment against an endless stream of shell-shocked refugees toward Ground Zero. There, she tore off her blades and dove, unmasked and unprotected, into the rubble to search for signs of life. The petite blonde-haired, blue-eyed young woman must have appeared as a hallucination to anyone who caught sight of her through the dusty haze: an angel descended to Earth.
Thompson remained volunteering at Ground Zero for the next nine months with the Red Cross, caretaking the rescue workers. The experience gave her "the volunteering bug." She realized that service to others mattered more to her than any career objectives or personal goals.
Therefore when a massive tsunami hit Southeast Asia just three years later in December 2004, Thompson dropped everything to go help. Her boyfriend at the time, Oscar Gubernati, decided to join her. They quickly pulled together their meager savings, solicited donations of medical supplies and took off for Sri Lanka, where they wound up living for the next 14 months. Partnering with volunteers Donny Paterson of Australia and Bruce French of Colorado, they rebuilt the coastal village of Peraliya, including a school, hospital and shelters for hundreds of people.
In Sri Lanka, Thompson relentlessly combated corruption from international NGOs and death threats from disgruntled locals who accused her team of pocketing their aid money. She witnessed people at the edge of survival behaving cruelly towards one another and at one point "lost faith in humanity." But in the end, laughing with local children or consoling a grieving mother always kept her going.
Thompson's background makes her uniquely suited to a life of volunteer work. Born and raised "in the bush" of Australia by missionary parents, she spent her childhood traveling to remote areas of Asia. Moreover, she acquired valuable nursing credentials by working for years at her mother's elderly hospital.
Nevertheless, leading the relief efforts in Peraliya taught Thompson that everyone who wants to help can, regardless of their training or expertise. She witnessed dozens of volunteers with "no skills" make a positive impact in Sri Lanka. "You don't have to be a doctor or a construction worker to be of service after a crisis," Thompson insisted. "Anyone can give a hug."
Being a filmmaker, Thompson had brought a video camera with her to Sri Lanka. Upon returning to the US, she put together a documentary to inspire other people to volunteer. Sean Penn ended up choosing "The Third Wave" as his Presidential pick at the Cannes Film Festival in 2008. That's why, when an earthquake devastated Port-au-Prince in January 2010, Penn reached out to Thompson first. He texted her just one word: "Haiti?"
Within 48 hours, Thompson had gathered an expert team of doctors, and Penn had solicited a major donation from Bosnian philanthropist Diana Jenkins. Donna Karan offered her private jet to fly Alison's team from Manhattan to Miami. Penn's political pull got them all safely into Port-au-Prince. Thompson then spent months helping Penn to establish the Jenkins/Penn Haiti Relief Organization, or J/P HRO, which manages one of the largest tent villages in the city.
Thompson has remained working in Haiti ever since. However, she has left Penn's non-profit to run her own, called We Advance, which she co-founded with actress/activist Maria Bello and lawyer Aleda Frishman. The NGO's vision is to advance the health, safety, and well being of Haitian women.
Winking, Thompson said, "Come to Haiti to help. You'll lose weight, get a tan, make hundreds of new friends and save lives. You might even fall in love like I did." Thompson met her new love, Albert Gomez of Miami, while volunteering in Port-au-Prince.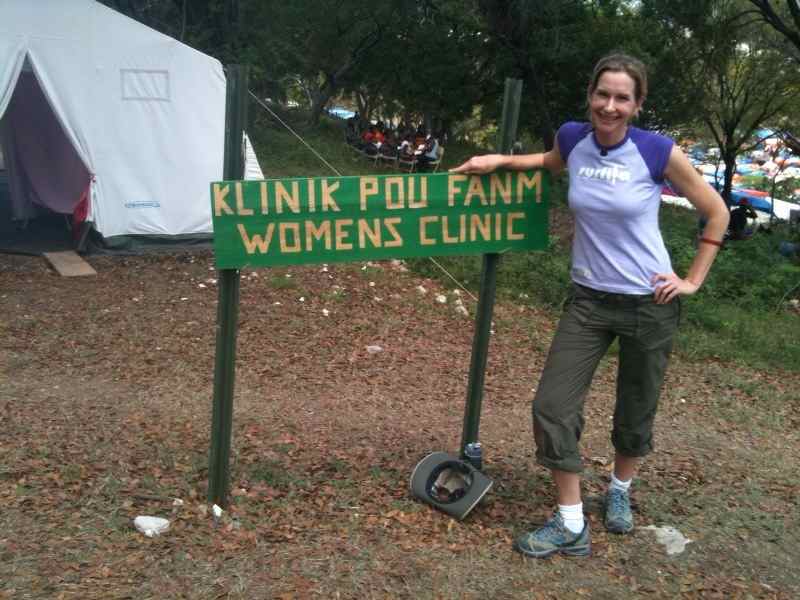 Here I'd like to add that I have done more than admire Thompson's work from afar; I have been to Haiti and seen her in action. When she invited me to volunteer with her at J/P HRO shortly after the earthquake in March 2009, I leapt at the chance.
In Port-au-Prince, I walked with Thompson through the tent villages. Dozens of children pounced on her, calling, "Alison! Alison!" She greeted each one with a radiant smile. I also saw her put her expertise to work in the medical tent. There, Thompson slaved for hours on end, sweat drenching her shirt in the sweltering heat, with little concern for her own needs. She would go the entire day without eating or even taking a break to use the bathroom.
One night, as I sat at the picnic table in the volunteers' living quarters eating dinner, Thompson came barreling in, eyes wet and face drawn. Her breath thin with urgency, she said, "We just delivered a dead baby. We've delivered over one hundred healthy babies since the quake, but this one was already dead." I marveled that she could feel such depth of emotion after months of caring for people in dire circumstances.
On my last evening in Haiti, I asked Thompson to sit outside with me on the hillside overlooking the tent village. As we gazed up at the stars and listened to the sounds of song drifting across the warm breeze from the outdoor church just a few hundred meters away, I spoke of how my experience offering psychological counseling to the Haitians had changed my life in just one week.
I had broken up with my long-term on again/off again boyfriend, M, a few months prior to my trip, and I'd found myself slipping treacherously downward into a place of self-pity and fear. I was 37 and single, panicked about not having the family I so desired. I caught myself repeating the "What's wrong with me?" soundtrack obsessively in my head.
Volunteering in Haiti had reminded me how very blessed I am, and had re-connected me to fundamental truths about life. Some of the people I'd counseled had shared soul-crushing stories of losing their entire families in the quake. But others just wanted to complain about how their boyfriends wouldn't return their texts. We would laugh, and for a while the horrors around us would fade like dust motes into the dappled sunlight. We're so human, I thought. So very fragile in our wants and needs: to connect, to feel validated, to survive.
One man came to me with a listless toddler in his arms. The medical personnel had found nothing wrong with the boy. They had given rehydrating fluids and advised him to get lots of sleep. But the father said that his child hadn't spoken since the quake, when he'd watched his mother get crushed in their home.
"What can I do?" he begged of me, tears streaming down his face.
"Just love him. Praise him, keep close physical contact with him, and love him some more. Love him as much as you can, and surround him with other people who love him," I said, my tears mirroring his.
When I reached out and embraced them both, I knew the profound truth of Alison Thompson's message: Everyone can help because everyone can share a little tenderness, a smile, a hug.
What else are we here on this planet to do, in the end, but love and be loved?
Photo credits: Benjamin Cole Brown, MeiMei Fox

Related
Popular in the Community