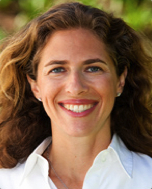 Alissa Finerman has no regrets about leaving Wall Street and moving to Los Angeles. The former bond trader and Wharton MBA got burnt out from the corporate life and felt passionless at work. "The first indication that it was time for change was after receiving my bonus at the end of my third year," she says reflecting back, holding the imaginary check out in front of her. "I should have felt like I was on top of the world but instead, I looked at this check and I felt empty inside."
Despite a bonus that was substantial by most standards, she was living a lie. "I was not connecting my passion with my work. From the outside, my life looked very successful. " Something had to give but she needed a spark. "The turning point occurred when I listened to my inner truth and took one small step forward."
I met up with Finerman in Santa Monica while preparing her keynote address for the LA Business Journal's Women Making A Difference Awards. "Everyone can define or re-define their potential regardless of their current situation," she tells me. "This is true regardless of whether you're a CEO, entrepreneur, college student, parent, musician, artist, or recently unemployed."
I get the sense that this is a woman who believes that you succeed and get the results you want or you make excuses for failing and not hitting your goals. A lifelong tennis player, she is naturally competitive. "I'm mostly competitive with myself these days," she told me over coffee. "The goals I set are for myself and no one else."
Finerman is used to setting goals and achieving them. While in college at Berkeley, she was an All-American Tennis player and later reached a world ranking of #202 on the pro circuit. Recently, she was ranked #1 in the USTA National Women's 40 Doubles in 2008 and 2009.
But despite competing in tennis and in Iron Man triathlons, Finerman also has a spiritual life. She takes yoga classes, meditates, and hikes deep into the Santa Monica Mountains to clear her head when she needs to. Interestingly enough, Finerman does not look like the frenetic pace delineated in her to-do list. In person, I find Finerman peaceful and grounded. She is full of smiles, laughs heartily, and has a great sense of humor.
Propelling her to achieve her "life goals," Finerman sets herself up to win by relying on meaningful rituals -- "consistent mental and physical practices that help you excel and perform at your highest level." Making the coffee in the morning feels good, and it starts your day off right, but it does not add up to your success. That's part of your routine. You can learn to establish your own meaningful goals by customizing nine rituals that she delineates in her book around three core areas: assess, create, and implement.
One of the main tenets that Finerman instills in her students is that anyone can change for the better if they have a process and focus. "Success is a process -- it's not magic. The 1% moments I write about in Living In Your Top 1% are defined by the feelings of fulfillment, excitement, and joy that come from the experience of reaching for your best, rather than the accomplishments alone." And don't focus on fixing all of your weaknesses. "You should only work on the weaknesses that may have an impact on your long-term goals." You may stink at ballroom dancing (so does the author), but unless your goal is to be a world-class dancer on the competitive circuit, don't get too upset.
Throughout the process of learning about yourself, Finerman encourages her students to keep an open mind, set judgments aside, and think about the changes that they can affect. "In examining your life, it is natural to feel frustrated, intimidated, and overwhelmed at times," she recognized. "Be patient and take one small step at a time. Small steps yield big results. I started with a small step and I have no regrets."
Support HuffPost
The Stakes Have Never Been Higher
Related
Popular in the Community