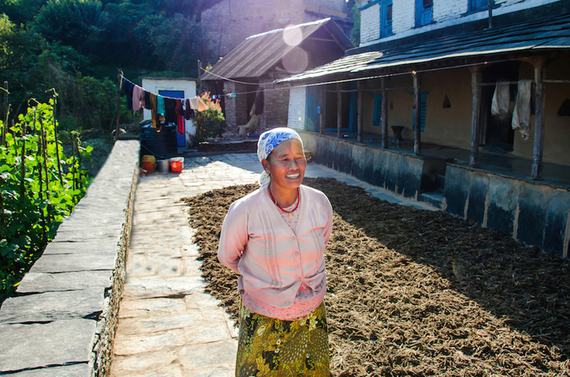 With Ashley Rose Carney, Founder of Handwoven with Love and Partner of the Women's Skill Development Organization
Nepal is a country not only brimming with color and life but also with opportunity. It is in the small town of Pokhara where the Women's Skill Development Organization (WSDO) thrives. The WSDO is a non-profit organization that was born out of Nepal's rich heritage of traditional handicrafts. Started in 1975, the WSDO specializes in handcrafted cotton products. It is a completely self-sufficient organization with a purpose: providing handicraft related training and skills to underprivileged women so that they may become self-reliant. Many of these women come from rural villages and have been widowed, divorced, handicapped, abused and estranged from their homes and villages. WSDO provides training in various areas of handicraft production such as dying, weaving, material cutting, sewing and business management. It is with these skills that the women and their families may have a better quality of life. Today, Handwoven with Love partners with the WSDO in order to sell their survivor artisan wares to a greater global market.
The WSDO has given countless women a chance for economic independence and a renewed sense of hope. Here Chari, one these incredible women, shares her story...
Where were you born?
I was born in Khumaltar, Nepal into a farmers' family. I was married at 14- also when I had my first son.
How did it feel being married so young?
My first husband passed away only three years after our wedding. I worked as a farm laborer to support my son until I met my second husband in 1973. Even though we both worked on the farm, it was not enough to take care of the family. In 1988, in search of better opportunity, we moved to Pokhara with my family, bigger now. I had now two sons, two daughters, and my husband who had slowly adopted the habits of alcohol. It was very difficult for me to raise my children with my only income. I had no choice but to beg. I hated begging. I also became sick but could not understand what was wrong. My husband drank and beat my children and me. Because I could not feed my family with my income my husband ignored us all.
How did that make you feel?
I was very unhappy and tried to commit suicide by jumping from Mahendra Bridge of Pokhara. I could not do it because of my children.
What happened next?
I was with my neighbor sharing my health concern and she suggested I visit the Green Pasture Leprosy Hospital in Pokhara for check up. I came to know about my leprosy after years of its attack on my body. After medication at the hospital, one day they took all patients to visit the WSDO.
How did you feel when you first visited the WSDO?
I was inspired by the organization. It provides training and a job to women.
Is that what made you decide to be a part of the WSDO?
I decided to be part of WSDO to earn money for my children and myself. I joined the organization and started weaving. My children help with the house as I weave with WSDO.
Where do you stand today?
I have managed to do everything through weaving at the organization and now can save some money too. I am 57 years old and cannot work on a farm like before. My husband died. Since being a part of the organization my life has improved a lot. I do not have to move from one place to another in search of a job. I have a job that is steady and I am grateful to WSDO for helping bring this change to my life.
What is the best part of your life today?
Being a part of the organization I get chances to travel and see different places and people. This is the most enjoyable thing in my life. I hope to encourage and inspire all suffering women.
To learn more about WSDO and Handwoven with Love, click here
Image provided by Handwoven With Love
REAL LIFE. REAL NEWS. REAL VOICES.
Help us tell more of the stories that matter from voices that too often remain unheard.