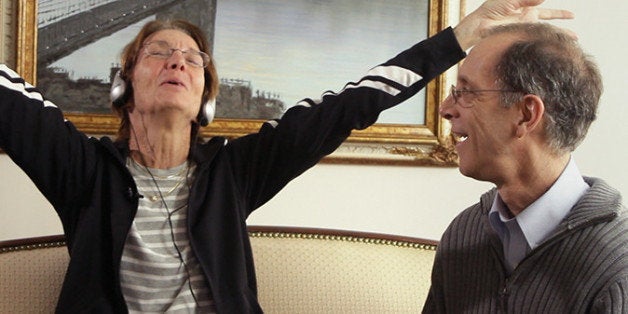 Filmmaker Michael Rossato-Bennett had planned to film Dan Cohen, a social worker and founder of the nonprofit organization Music & Memory, for a single day. Cohen had wanted to document his nascent program for elders with dementia who were springing back to life at a Brooklyn nursing home. Rossato-Bennett found himself crafting a story of music and memory around Cohen's objective to bring personalized music to every individual in nursing homes throughout America. He filmed Cohen for three years.
Henry, 92, one of many subjects in Rossato-Bennett's documentary "Alive Inside," is reawakened by the sounds from an iPod, emerging from dementia to recall an affinity for jazz singer Cab Calloway. "It gives me the feeling of love, romance!" he says. Observing Henry, renowned neurologist Oliver Sacks, who has written extensively about the effects of music on the human brain, cites the philosopher Immanuel Kant, who called music the quickening art. "Music seems inherently alive and to give a feeling of life and emotion and ongoing, and of a journey," says Sacks.
"We accidentally captured something that I've never seen before," Rossato-Bennett told The Huffington Post. "The opportunity to see an unprotected soul is something that we don't often get."
A rough cut from the film featuring Henry, posted to Reddit in 2011, provided that rare glimpse of an unprotected soul and accumulated more than nine million views on YouTube -- considerable for a six-minute clip about a nonagenarian with dementia, but Henry's humanity has power. "In 2008, when we filmed Henry, I had been working with Cobble Hill [Health Center in Brooklyn, New York,] for over a year. I didn't know that Henry was going to be the one that would rocket, but he so eloquently captured the magic," said Cohen.
Music & Memory trains elder care professionals, as well as family caregivers, to create and provide personalized playlists using iPods and related digital audio systems. The method has proven to bridge the gap between past and present with music-triggered memories for those struggling with Alzheimer's, dementia and other cognitive challenges.
"You are the music while the music lasts." -- T.S. Eliot
"Alive Inside" explores the profound relationship between humans and music. "A primate does not respond to a beat, but a human child will. This is something that has evolved," said Rossato-Bennett.
As writer, director and producer, Rossato-Bennett knew early on that he had stumbled upon a story worth telling. "When [Henry] started to emerge from the cocoon that he had been inside of for ten years, we discovered that he wasn't just a man -- he was a poet, he was a singer. He was lost to the world, and when he emerged, I just started crying," said Rossato-Bennett.
"Making this film wasn't easy, because we're dealing with our deepest fears," he said. "As a culture, we don't deal with death, we're terrified; we also don't deal with loss, we're afraid of dementia, and rightfully so. It's a hugely scary thing to address. We treat aging like it's a disease, and we suffer it alone."
"We all know that there's more life inside of us than our daily world demands. It was like in one instance that I knew I had to tell this story. If I felt this, I knew the world would feel it," he said. "If I did this we could change lives, and it's happening."
Henry, and others featured in the documentary, captured audiences across the globe as "Alive Inside" earned top honors at the Sundance, Milan and Provincetown International Film Festivals, among others, in 2014.
Barring the development of medical breakthroughs to prevent, slow or stop dementia, the U.S. faces an epidemic of neurologic diseases, according to Gregory Petsko, an American biochemist and member of the National Academy of Sciences. By 2050, the number of people age 65 and older with Alzheimer's disease may nearly triple, from 5 million to as many as 16 million. "There isn't enough money in our coffers to do what we do now for even double the population," said Rossato-Bennett. "Caring for somebody [with dementia] is like giving up your life for their life."
Aside from logic and language, Rossato-Bennett believes we have other consciousness in us. "Those two sit out in front and we think that those are us, but we are not what we think we are," said Rossato-Bennett. "The capacity for love is not diminished."
Diagnosed with Alzheimer's disease in 2007, at age 61, Mary Lou finds loving her grandson easy, even if everything else is hard, explains Rossato-Bennett in "Alive Inside." Mary Lou's full-time caretaker is her husband Doug. At a particularly poignant moment in the film, Cohen notes that he thought Mary Lou might "grow wings," upon introduction to her personalized music, to which she quickly replies: "I was trying."
"The takeaway here is that we can stabilize one's interaction with the world, very often with the music," said Cohen. "It helps to hold onto whatever cognition is there. By tapping into that emotional system you can take advantage of a connection and maximize their function rather than let them drift. Music brings out other parts of their personality to engage."
"I've found that music is one of our greatest wisdoms and one of our greatest tools for going through life's challenges. It's like laughter, it's like orgasm, it's like tears. Our consciousness shakes, it vibrates into the new world and new concepts," explained Rossato-Bennett. "Music has been used throughout history to facilitate that. Every religion and spiritual practice understands that music has the capacity to bring us to our best. [...] The simple truth that we are vibratory beings, and when the vibration stops, so do we. In the words of T.S. Eliot, 'You are the music while the music lasts.'"
With an iPod and a headset, and music specifically tailored to each individual's personal tastes, Cohen saw an opportunity to engage the consciousness of those lost in dementia. "I didn't discover anything," he said. "I talked to Dr. Connie Tamaino and Dr. Oliver Sacks [at the Institute for Music and Neurologic Function], and we know that when musicians visit the nursing home there's an effect on the patients with dementia, but there is a residual effect [with personalized music]. Just like when a family member might visit an individual in the morning and the rest of the day that person is in a better mood. [...] Why don't we take what we know works and make it available any time?"
"You have to have your heart in the right place to work in nursing home, but our system -- our system of government, our funding -- this the challenge," said Cohen. "They want to do as much as they can, but they're limited. They're woefully underfunded. I still have a tough time getting adoption [of the program] because any request by staff for money is an uphill battle."
"There's no guarantee, but there is no downside; you can't say that about any drug."
As the single most expensive condition in America, the direct costs of caring for those afflicted with Alzheimer's will total an estimated $214 billion in 2014, including $150 billion in costs to Medicare and Medicaid. Music & Memory could have impactful economic benefits for the nation, Cohen believes. "If we can reduce by half the amount of antipsychotics, antidepressants, anti-anxiety medications, and try the music first ... rather than making that the automatic response -- a pill," he said.
"We have no problem spending tens of thousands on drugs that don't work, but if we could delay people going into nursing homes -- even by six months -- we'd save billions," said Rossato-Bennett.
"What happens too often: an elderly person [with dementia] will be out of control and the family calls 911 and the ambulance takes them to the emergency room and the emergency room puts them into the psych ward and pumps them up with one or more of any antipsychotic. Nothing else is done because they can't communicate," said Cohen. "But music is proven to have a calming effect, with no side effect."
"I would like to see doctors prescribing music. They always go first for heavy duty antipsychotics that may be harmful, when music might do the trick," he said. "There's no guarantee, but there is no downside; you can't say that about any drug."
"There is life there," said Cohen. "I'm going to devote mine to bringing it out."
"Alive Inside" premieres July 18 at Sunshine Cinema in New York City, and across the nation beginning July 25.
Before You Go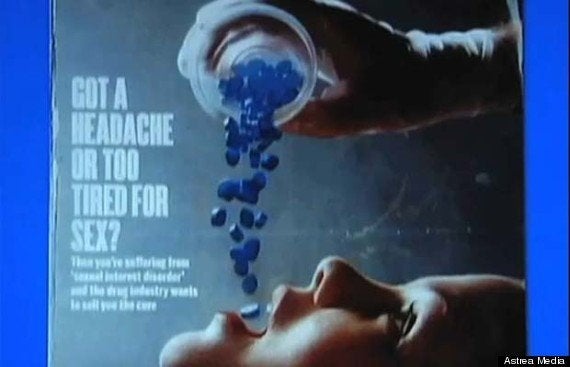 Must-See Documentaries
Popular in the Community