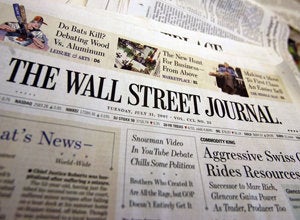 Alix Freedman, a top reporter and editor at the Wall Street Journal, has departed for Reuters after 27 years at the paper.
Freedman joined the Journal in 1984, working for the paper's Philadelphia bureau. She rose through the ranks of the Journal, becoming a senior special writer in 1991. She won a Pulitzer Prize in 1996 for her reporting on the tobacco industry.
Below, see the full memo (obtained by HuffPost's Michael Calderone) from editor Robert Thomson about Freedman's departure:
Dear All,
Our esteemed colleague and my friend Alix Freedman has decided to join Thomson Reuters (departing one Thomson for the clutches of another) after 27 years of extraordinary service for The Wall Street Journal. We all owe Alix a great debt for what she has contributed to the paper and the culture, and her impact and imprint will linger for many years. She will leave our shores at the end of next week, by which time her successor will be announced, so please seek her out and send her your personal best.

Robert.
Related
Popular in the Community