During College Week, in order to best utilize our weird passion for ranking everything, Matt and I took on the Herculean task of ranking every single Division I BCS school. There are 128. We would normally go on about the factors we weighed when ranking these things, and how we considered the college town, athletics, etc. But we want to be real with you. We based these mostly on our completely subjective gut feelings about whether we'd want to go to these schools, the tolerability of the student body and alums, and other random things that will drive you crazy if you try and parse them in a logical manner.
Also, please keep in mind: we kid because we love, friends. Except you, Notre Dame.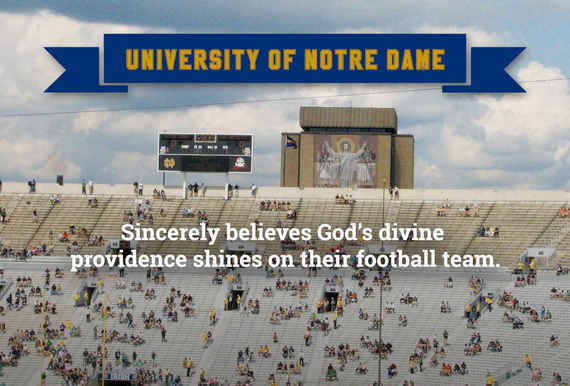 Credit: Flickr/Glenn Simmons (edited)
128. University of Notre Dame
The Touchdown Jesus thing is NOT them being cute. Your average Domer sincerely believes God's divine providence shines on their football team. Think about that and then Google Prince Shembo. Also, I went to a Notre Dame wedding once, and everyone in the church kept checking the score on their phone during the Catholic service. While they were playing Navy. And the worst part was: they were losing!

127. University of Southern California
An entire school populated by the villains from teen romcoms, all of whom are embarrassingly proud that, at some point in their life, they've been asked to work at Hollister. Just imagine Trip McNeely from Can't Hardly Wait, but, like, with dorms.

126. Arkansas State University
Come for the Jonesboro Municipal Airport, stay for assistant professor Jason Barrett-Fox's tentatively titled book Performing Persuasion and Rerouting Rhetoric: Feminism, Indirection, and the 1920s' Public Woman.

125. Fresno State University
I refuse to joke about something that makes me this sad.

124. Louisiana Tech University
Isn't this the school that was originally recruiting Neon Boudeaux before Nick Nolte's Western University Dolphins ILLEGALLY bought him a Lexus? No? Oh.

123. Troy University
If you didn't steal Helen from King Menelaus, maybe the US News & World Report would rate you higher than 82nd in graduate programs for rehabilitation counseling.

122. University of Central Florida
You don't get to be the second-largest state university in the nation by letting just ANYONE in. Oh wait, yes you do. Start letting Starbucks employees go for free and maybe you can pass Arizona State.

121. Brigham Young University
Look up the words "docking" and "soaking" and then destroy your computer's cache.

120. University of Toledo
You: "I went to UT."
Stranger at party: "Oh, I love Austin!"
You: "No, Toledo."
Stranger: [Tries to find new conversation]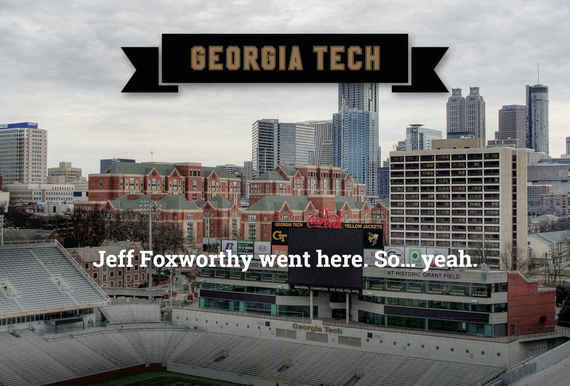 Credit: Flickr/Hector Alejandro (edited)
119. Georgia Tech
If you like basketball, building robots, and practicing tongue-kissing girls with your hand, you might be from Georgia Tech (shout out to Yellow Jackets alum Jeff Foxworthy!).

118. East Carolina University
I refuse to comment on a university based on a fictional state.

117. Old Dominion University
Their name comes from an old nickname for Virginia given to them by King Charles II because they were loyal to the Royalists (aka the Cavaliers) during the English Civil War. Wait, why do all college nicknames in VA imply loyalty to the English Crown? I smell an Outside the Lines investigation.

116. Ball State University
Being the fictional home of Jerry Gergich's timeshare just might be the most exciting thing about Muncie.

115. Bowling Green State University
Even people who go to Bowling Green aren't 100% convinced it's a real college.

114. Arizona State University
Because the people who work as STS Travel spring break tour guides in Cancun can't all go to Florida schools.

113. Florida Atlantic University
Perfect place for that Boca girl who thinks tuition is kind of a waste and daddy's money is much better spent on Louboutins and plastic surgery.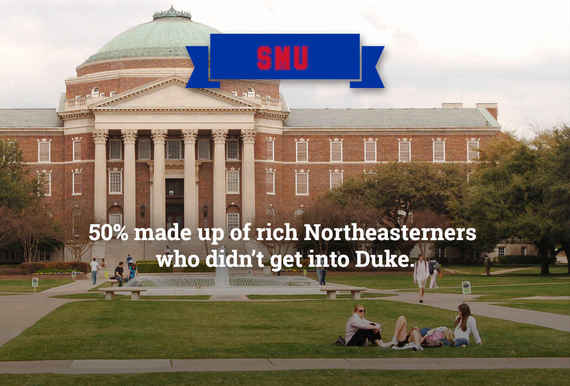 Credit: Flickr/Ed Uthman (edited)
112. Southern Methodist University
SMU likes to think of itself as the Duke of the Southwest. And it is, in that half the students are really good-looking people from the Northeast who didn't get into Duke. But seriously, it's an astonishingly good-looking student body, even if most of the dudes should be punched in the hair for Dave Matthews concert cuts they'll be trimming the moment they waltz into their finance job.

111. Georgia Southern University
The Arby's of Georgia colleges.

110. University of Nevada, Las Vegas
Did anyone really think this was a good idea?

109. University of Louisiana at Monroe
Famous alums include Bubby Brister! Sorry, I didn't mean to put an exclamation point after that.

108. Utah State University
Where the "cool" Mormons go. We're kidding of course, but CAN YOU IMAGINE?

107. Texas State University
Texas State enjoyed a brief period of relevance when Scott Bakula and Sinbad took the football team to prominence in 1991. Unfortunately, that was in the movie Necessary Roughness, and the real Texas State -- which was known as "Southwest Texas" until 2003 -- is still waiting for its "Badkula" moment.

106. Temple University
If you are Jewish and you go here by accident based on the name, that will be an awkward mistake.

105. Middle Tennessee State University
Despite the fact that the name sounds a little bit like a bunch of random word magnets put together on a fridge, we quite enjoyed Lacey Kanipe's review of comedian Ben Bailey in the thrice-weekly student newspaper Sidelines.

104. University of Southern Mississippi
Somehow still upset Marcus Dupree didn't pan out as they'd hoped.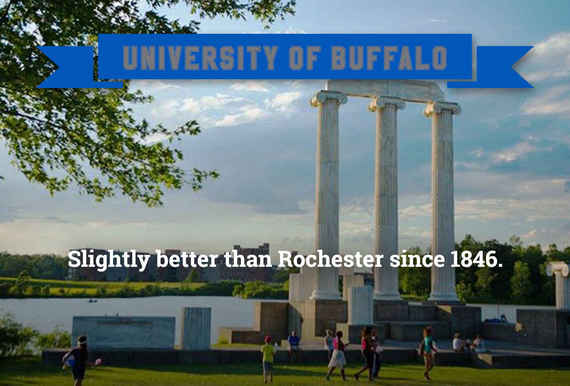 Credit: University at Buffalo (edited)
103. University at Buffalo
29k students mildly confident in their choice to not attend Rochester.

102. Boise State University
If you want to see people truly, astonishingly, inexplicably proud of the color of the fake turf at a football stadium, put this on your bucket list.

101. Baylor University
Cliches are cliches for a reason, so if you want to matriculate on the side of a highway, get the frat beaten out of you in largely unimaginative ways, be summoned to the dean's office because an informant said your hair smelled like beer, and be engaged by the time you're 20, this is the school for you.

100. Northern Illinois University
It's kind of a bummer to attend a commuter school where the campus life lags behind that of other universities. It's an even bigger bummer if the place you're commuting to is DeKalb.

99. University of Houston
If you're going back to college at 32 and don't want to deal with "the college experience," this commuter school's a perfect fit. Bonus points for that vague feeling that you're somehow part of the legacy of Phi Slama Jama; bonus half-point for that vague feeling that you're somehow part of the legacy of Andre Ware.

98. University of South Florida
When your name screams "I failed eighth-grade geography," that's all you need to know.

97. Central Michigan University
Mount Pleasant is decidedly unpleasant.

96. Duke University
If you went to Duke, you're probably sitting there in your custom chair shaped into Mike Krzyzewski's exact body, thinking you know everything we're going to say, Eminem-in-8 Mile style. Like how the fiery passion and dorkiness (which isn't cool like nerdiness, friends) of the Cameron Crazies is annoying to the point of insanity, and how you can always tell people who went to Duke when you meet them in real life because they're being condescending to you in confusing and inconsequential ways. Well, congrats: you're smugly right again!

95. Eastern Michigan University
Welcome to Ypsilanti, the trashy cousin Ann Arbor hopes won't show up to family functions.

94. Mississippi State University
In case you didn't already know them as the redneck school in a predominantly redneck state, they spend the entirety of their football games aggressively ringing cowbells to further hammer home that point.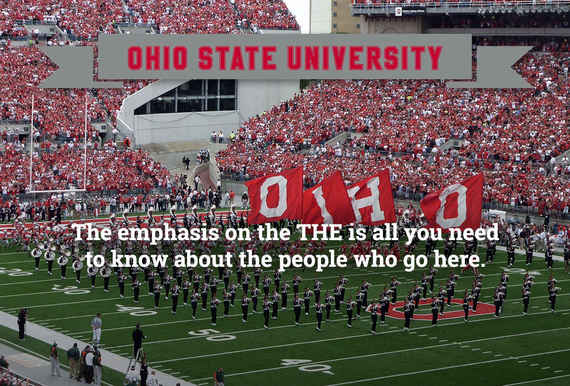 Credit: Flickr/Jagrap (edited)
93. Ohio State University
The emphasis they put on THE Ohio State University alone is enough to tell you what kind of people go here.

92. Tulane University
A popular girl who used to hook up with our high school gym teacher went here, and that feels like everything you need to know about Tulane.

91. Texas Christian University
Much like the TCU football team, Fort Worth exists at the brink of relevance -- it's never an embarrassment, and sometimes it's pretty good, but it doesn't really excel as either a college town or major city. On the plus side, the student body defines "Christian" as "2.8 GPA, not afraid to pound light beers on a Tuesday."

90. Georgia State University
What a run in the NCAA tourney, or something!

89. University of Idaho
For people who look at Boise State and think, "Too diverse."

88. University of North Texas
Amazing music school, which is partly why Denton is where almost every cool Texas band comes from. So enjoy being a fan of a cool Texas band, because there's... not much else to do in Denton.

87. University of Illinois at Urbana-Champaign
You know what stinks? The university as a whole is so incompetent that there's nobody left standing with the clout to fire the spectacularly embarrassing athletic director who has had to fire several of his spectacularly embarrassing hires. You know what else stinks? The cloud of cow crap blowing over from somewhere West of Urbana. Nice campus library though!

86. University of South Carolina
We've put them here as a punishment for all of the snapback caps reading "COCKS" we had to endure in the '90s.

85. University of Akron
Man, it's going to be rough when LeBron leaves again and takes those scholarships with him.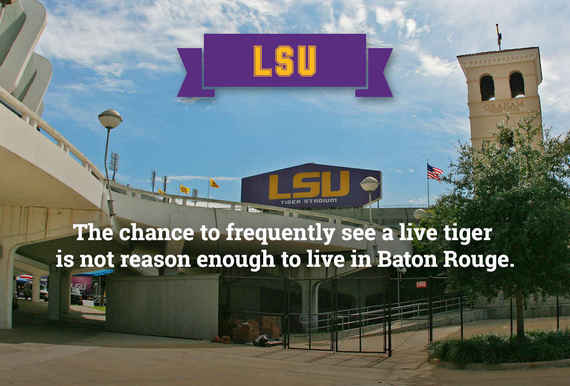 Credit: Flickr/crawford orthodontics (edited)
84. Louisiana State University
The chance to frequently see a live tiger around campus is not reason enough to live in Baton Rouge clad in purple and gold.

83. Wake Forest University
When I went to visit Wake Forest, one of the guys showing me around asked me what other schools I was looking at. When I told him, he thought about it, and told me to go to one of those other schools.

82. Purdue University
Has turned out more astronauts than any other university, indicative of either strong science education or the fact that graduates want to get REALLY far from West Lafayette.

81. Marshall University
Too soon?

80. San Diego State University
If upscale chain steakhouses had executive recruiters for hostess positions, this is where they would fulfill their entire hiring quota.

79. University of Oklahoma
A story in The Oklahoman right now states that "University of Oklahoma will end baboon program within 4 years" thus helping stave off the eventual, inevitable ape uprising and domination of our planet for at least another 10 years. Boomer Sooner, indeed.

78. University of Texas at El Paso
You're not even sure where you are right now.

77. University of Texas at San Antonio
You know where you are, but you're not sure why you're here.

76. Washington State University
Actually somehow in Idaho.

75. University of Cincinnati
"Bearcat" sounds like something a 5-year-old would come up with after too many juice boxes.

74. University of Utah
"We're not all Mormon," they whisper as they quietly watch bootleg R-rated movies while drinking fully caffeinated sodas in the judgment-free safety of their dorm rooms.

73. Western Kentucky University
University founder 1: Let's brainstorm nicknames!
University founder 2: Bears, dragons, unicorns, tigers, lions, jaguars, cougars...
University founder 1: Hilltoppers?
University founder 2: No.
University founder 1: You're fired.

72. University of Louisiana at Lafayette
Ragin' Cajuns is by far the best of all the college nicknames, and definitely better than U Penn's Moderately Upset Quakers.

71. University of Memphis
Were you really planning to honor John Calipari, the man who just goes from college to college vacating wins as if they are empty lots in semi-residential areas?!?!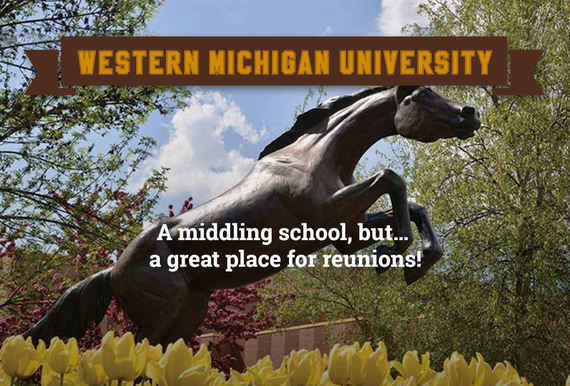 Credit: Western Michigan University (edited)
70. Western Michigan University
If college kids drank good beer, being in Bell's' backyard would earn some more points. But alas, they do not, making it a great place for reunions when you're a pleated Dockers-wearing dad.

69. Ohio University
Whenever the most exciting thing about your school is the band, it's a bad sign.

68. Texas Tech University
Lubbock has everything you need in a college town: it's in the middle of the desert; it didn't allow packaged liquor sales until 2009; it's still coasting on a "music town" reputation built on the backs of musicians who were prominent well before you were alive and mostly left for other cities anyway; and it's in the middle of the desert. Also, the football coach looks like a second-string linebacker at T.C. Williams High School.

67. Florida International University
Want to go to college in Miami but can't afford the U? Come to FIU, where you're only a short 17-mile drive in unmoving traffic from anything you ever saw in Bad Boys. But, hey, Hialeah is RIGHT THERE.

66. San Jose State University
A predominantly working-class university nestled into an area where 24-year-old tech billionaires regularly crash drones filled with gold bullion into their Teslas out of boredom. What could go wrong?

65. Kansas State University
"Manhattan, Kansas has four or five really good restaurants," a Kansas State alum named Bill told me, but you could tell Bill's heart wasn't in it.
Calling all HuffPost superfans!
Sign up for membership to become a founding member and help shape HuffPost's next chapter