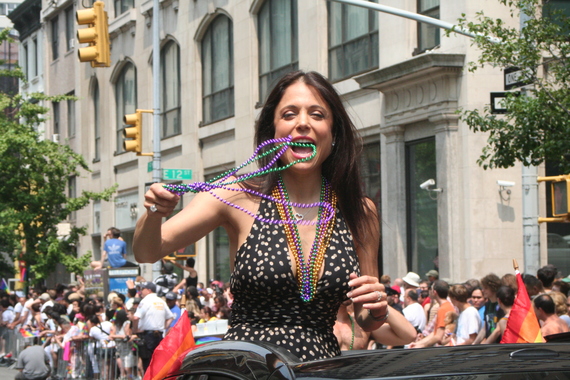 Credit: Flickr/Boss Tweed
Just last month, Bravo's Real Housewives franchise celebrated a decade of captivating audiences with their ostentatious wealth, narcissistic behavior, ridiculous arguments, and more dance singles than a gay disco could play over a weekend. To date, 87 full-time Housewives have graced our screens so far, not counting the five stars of The Real Housewives of Dallas.
Judging what makes the "best" Housewife is sort of like trying to determine what is the most excellent kind of candy. There are many different factors to consider, and personal taste plays a large part. For this list, I considered longevity, likability, general insanity, scrappiness, individuality, ability to leverage an appearance on the show into another business, earning a spinoff, and number of classic moments the Housewife was responsible for. Some of it just has to do with who I like better. As the Housewives would say, I'm owning it.
84-87. The Cast of The Real Housewives of DC: There was nothing to recommend Mary Schmidt Amons, Lynda Erkiletian, Cat Ommanney, or Stacie Scott Turner for further consideration. How did this show even make it on the air?
83. Katie Rost (Real Housewives of Potomac): I'm.

82. Charrisse Jackson Jordan (RHOP): Sorry.
81. Karen Huger (RHOP): But.
80. Robyn Dixon (RHOP): Potomac.
79. Ashley Darby (RHOP): Is
78. Gizelle Bryant (RHOP): Boring.
77. Quinn Fry (Real Housewives of Orange County): I didn't even remember that this person existed.
76. Kimberly Bryant (RHOC): She moved away after Season 1. Smart decision.
75. Lizzie Rovsek (RHOC): A Housewife so bad, she didn't even get invited to the Season 10 reunion.
74. Claudia Jordan (Real Housewives of Atlanta): No thanks.
73. DeShawn Snow (RHOA): More snooze-inducing than a glass of warm milk spiked with NyQuil.
72. Cristy Rice (Real Housewives of Miami): Larsa's bestie, this delusional mean girl also wasted a ton of potential by being too foul for words.
71. Larsa Pippen (RHOM): She had a sly disregard for other people's emotions that would have made her a great Housewife had she not squandered her gifts.
70. Tammy Knickerbocker (RHOC): She was the single mom one, right? Whatever.
69. Amber Marchese (Real Housewives of New Jersey): Just thinking about her and her striving to be relevant makes me want to get into bed and pull the covers over my face.

68. Ana Quincoces (RHOM): Trying to be the "voice of reason" on the already boring Miami was always going to be a losing proposition.
67. Joyce Giraud (Real Housewives of Beverly Hills): Joyce, a half-empty can of hairspray that runs out after only setting one side of your hair.
66. Kim Fields (RHOA): Sadly, this former Facts of Life star always thought she was too good to be on the show, and she opted out after her first season. A big disappointment.
65. Kathryn Edwards (RHOBH): Other than her weird, tenuous connection to the O. J. Simpson trial, Kathryn isn't that exciting. She's trying very hard (and has a hot husband), but there is little to recommend that she get a contract for another season.
63-64. Teresa Aprea and Nicole Napolitano (RHONJ): I still can't tell the difference between these twins, or what they were supposed to bring to the table other than being twins.
62. Cindy Barshop (Real Housewives of New York): This queen of vajazzling made all the Housewives go to her house in Quogue, the worst town in the Hamptons. Sonja Morgan refused to go. That's why Sonja is No. 11 and Cindy is No. 62.
61. Lydia McLaughlin (RHOC): Like a bug-eyed bird that has been drinking Diet Coke for three weeks, Lydia was amusing, but too much of a crazy fairy-person to be long for this world.
60. Lisa Wu-Hartwell (RHOA): Remember her clothing line, Closet Freak? Yeah, no one else does either.
59. Marysol Patton (RHOM): The only reason Andy Cohen kept her around for so long is because he was amused by her psychic mother.
58. Peggy Tanous (RHOC): She was brought on to be Alexis Bellino's friend and ally and betrayed her. That was pretty nice.

57. Kristen Taekman (RHONY): She always had the best outfits of any Housewife, but she also had the worst husband, Josh, the beer pong ball you find the morning after a party that has adhered itself to the carpet.
56. Kathy Wakile (RHONJ): The best thing I can say for Kathy is that I would eat her cannolis. It doesn't help to be the only sane member of the extended Gorga clan.
55. Lisa Hochstein (RHOM): She had the rich husband and all the right jiggle, but her fertility issues were a drag to watch. We don't want these women to actually be sad!
54. Carlton Gebbia (RHOBH): She was a witch, so there was that.
53. Lauri Peterson (RHOC): Lauri always looked like the perfect Housewife, but then she would talk like a sloth who got into his wife's Ambien stash -- and was about as exciting.
50. Adrienne Maloof (RHOBH): The only thing that was ever cool about Adrienne, queen of the Maloofs, a race of mole people that live under the mountain, is that she once had glittery extensions. Her only other accomplishment was being in the limo when Kim and Kyle Richards had the famous "You stole my house" fight.
49. Jo De La Rosa (RHOC): The first Housewife to leave the show to start a pop career, which didn't work out very well for her. Jo's most lasting contribution was introducing us to Slade Smiley, who, as Gretchen's boyfriend, was on more seasons than Jo ever was. That's a dubious distinction, indeed.
48. Karent Sierra (RHOM): I always had a soft spot for Karent, the dentist with a million-dollar smile. I'm not sure why. Probably because when people would attack her (and they always were), she would just give them her creepy smile and totally disarm them. Too bad she didn't stick around longer.
47. Erika Girardi (RHOBH): Just watch the video for "Painkillr" and tell me your life isn't changed. Erika's first season isn't over yet, but she's already a fan favorite because she doesn't give one single crap. She just wants to dress like a sex robot, play with her gay friends, and take trips on her private jets. Yes, that's plural. Now, if only her relationship with her husband wasn't so odd.

46. Alexia Echevarria (RHOM): The rare class act, Alexia took a step back from the show to care for her son after he was in a tragic car accident. She wasn't always central to the drama, but she was tough and smart, which has to stand for something.
45. Meghan King Edmonds (RHOC): Meghan went all private investigator on Vicki's grifter boyfriend Brooks and wouldn't believe his BS story about having cancer. She was only on one season, but her relentless investigation (and prying) finally broke Brooks and Vicki up for good, something much better Housewives hadn't been able to accomplish for years.
44. Dorinda Medley (RHONY): Though a new addition, Dorinda made her mark by being fun, outrageous, and willing to speak her mind, even if it was to defend her Cheez Doodle of a boyfriend. Let's see if we like her as much after a few seasons.
Popular in the Community