We've all seen the ads on the subway depicting children with cleft lips. Yes, they're hard to look at, but what's even harder to digest is the truth about what life looks like for these kids.

What people may not realize is that they aren't just suffering from a cosmetic deformity. Children with cleft lips and palates can't eat, drink, or speak properly, and there is such a stigma surrounding this disfigurement in various countries that many must stay home from school, isolated from all others. They often don't get married and have a hard time finding work. Babies with cleft palates often have difficulty nursing and require special feeding techniques; respiratory problems are also common, and so is hearing loss.
Because cleft repair is typically a simple procedure that can take as little as 45 minutes and cost $250, we don't see many children with cleft palates here in the U.S. Generally, they receive surgery very early on after birth. In developing countries, however, 1 in 700 children are born with cleft, which studies have shown is the result of a combination of genetics and environmental factors. Footing the cost of surgery is nearly impossible for these families.
Fortunately, for the past 15 years, a nonprofit called Smile Train has been providing free cleft repair surgery to an average of 340 children each day.
The organization celebrated their one-millionth smile surgery--or "Smilestone"--with a gala at the Barclays Center last Wednesday, serving up dinner on the court and a performance by Train.
Pat Monahan, the band's lead singer, heard about the organization through his friend, a doctor who plans on becoming involved with Smile Train when he retires.
"I didn't realize how big of a problem this was until tonight. All of us have families, and we know what it's like to have kids in the hospital," said Monahan. "We're blown away by the fact that they've done so many operations in so little time. That's a lot."
A video was screened that featured Osawa Owiti, a six-year-old boy who lives in a rural village near the Serengeti. Osawa was the recipient of Smile Train's one-millionth surgery.
Since the Owiti family is part of a farming community, they rely on the rain to survive. If there's a drought, the must work in the gold mines or as day laborers just to get by. Osawa's mother, Ada, stayed up nights worrying about her son's future. He preferred to stay home and work on the farm than to go to school or into the village and be stared at by others. His teacher said that was not a happy kid, and was quiet most of the time.
"Osawa goes to school, but he is very conscious of his deformity and it affects his progress," Ada said.
One day, she heard an announcement for Smile Train on Radio Mazingira, and contacted a nonprofit organization called CCBRT that operates out of a hospital in Dar es Salaam, the capital of Tanzania. It was the longest trip mother and son had ever taken, and the first time they'd been to a big city.
Osawa's operation was a success, and his mother was brought to tears--she had no idea that her son would look like her.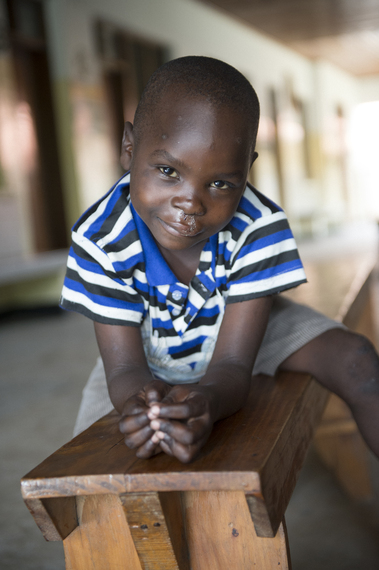 "Yesterday, in the ward, he fetched a mirror and looked at himself," she said. "I asked him, 'Why are you looking at yourself like this?' and he said, 'My mouth looks so good mama! I look like my friends now.'"
Physically, the scars are usually very minimal.
The organization operates in 87 countries around the world, but one thing always translates: the gratitude they receive through each and every new smile.
"Recently, a teenager in the Philippines came back to the hospital to celebrate after her surgery, and she was so overwhelmed with joy for her new life that she couldn't even express herself," said Smile Train CEO Susannah Schaefer. "But the mothers' faces really say it all. First in the desperation, and then, in the sheer joy."
Related