With yesterday's announcement that a large and varied team of designers and engineers and others has been selected to develop a conceptual plan for turning 3.5 miles of an abandoned railroad line in Queens, N.Y. into a linear park and trail, a national trend makes another whistle stop in an American city.
As passenger and freight rail lines were shut down in the late 20th century, their rights of way, often still covered with tracks and gravel ballast, became forlorn corridors through hundreds of cities and suburbs and rural areas
But beginning about 50 years ago, savvy planners saw the wisdom in repurposing them as bicycle and pedestrian paths. The first conversion of a rail line to a recreational trail was that of the Elroy-Sparta Trail in Wisconsin, which opened in 1965. The longest rail trail in the country is said to be the 238-mile Katy Trail State Park in Missouri. Among many virtues, these rail trails created safe, continuous trails that encourage exercise, recreation and bicycle commuting for families and residents of all ages.
Among the nation's best known rails-to-trail is in Massachusetts, where the Cape Cod Rail Trail runs for 22 miles, allowing vacationing families and commuting workers the chance to avoid the busy roads and enjoy the sights, sounds and aromas of the Outer Cape.
More recently, urban and suburban areas have joined the trend of writing second acts for old rail lines, encouraged by both local advocates and national organizations such as the Rails to Trails Conservancy, which was founded in 1986 to promote the conversion of abandoned rail lines to trails. When the Conservancy began, there were about 200 such trails -- now there are more than 1,600, covering more than 20,000 miles.
One of the tools to help these conversions was an approach known as "railbanking," a way for railroads to hedge their bets and allow recreational use of lines until they were needed again for trains. In cities large and small across the nation, there are efforts to transform abandoned rail lines, including some that are elevated or even below street level, into parks and trails. Among the recent celebrated projects are New York City's High Line and the Atlanta Beltline, an ambitious plan to turn a 22-mile-long railroad corridor encircling the downtown area into a series of parks. It is off to a great start.
In Santa Fe, an entire railyard was converted into a park that includes a water-saving "xeriscape" landscape. And there are other efforts in various stages of completion, including Chicago's 606 park, named after the first 3 digits of the Windy City's zip code and running through a variety of neighborhoods in Chicago.
In Puget Sound, there are ambitious plans to for a 42-mile long Eastside Rail Corridor on the shore of Lake Washington, while local park advocates in Philadelphia are planning to turn the old Reading Viaduct line into a series of parks.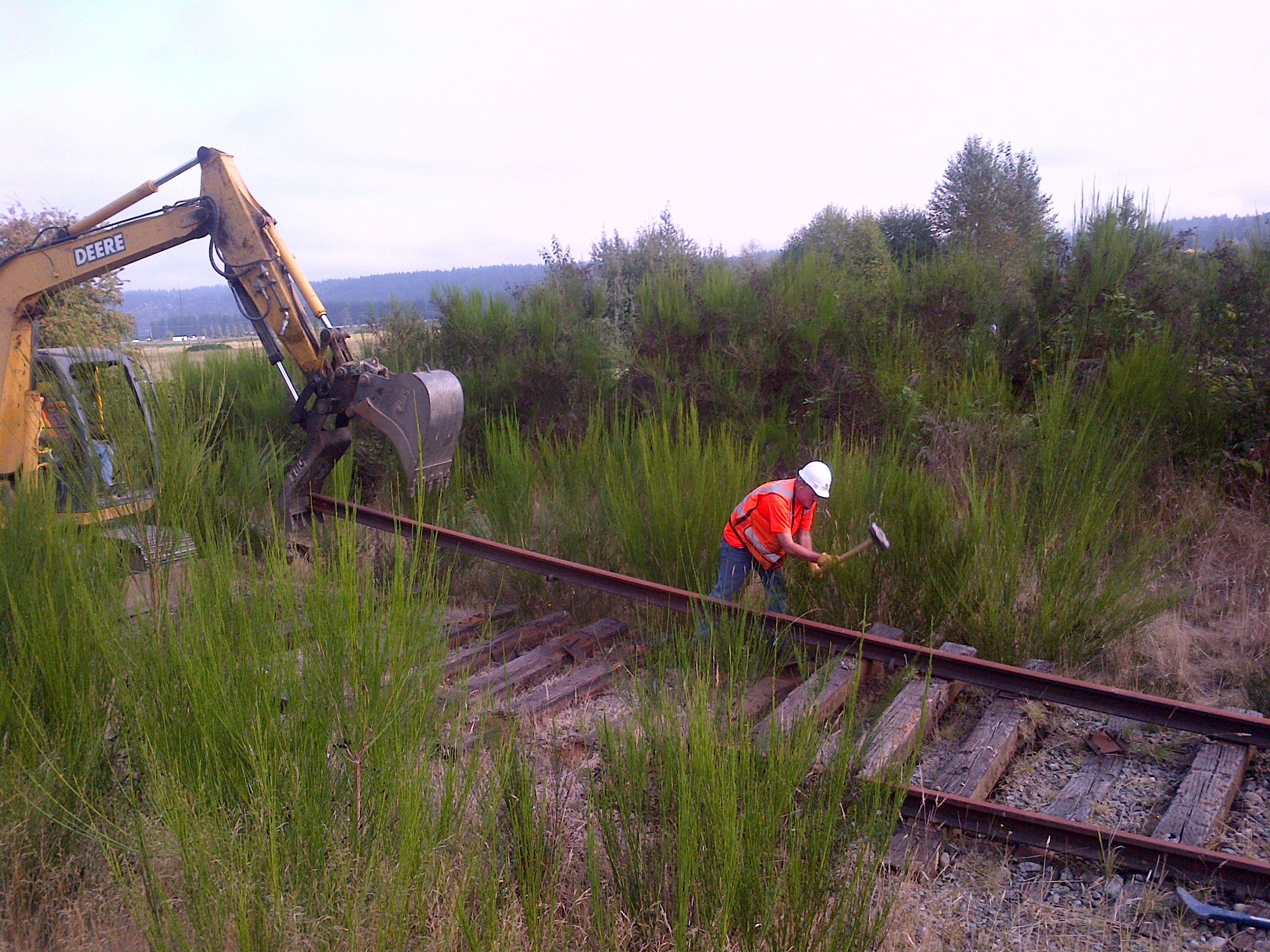 Removal of the rails from the Eastside Rail Corridor. Image is author's own.
As is the case in Queens, some people in these cities hold out hope for the reactivation for passenger or freight purposes of some of these long-abandoned lines; and some homeowners, grown accustomed to the relatively private space in their backyards, oppose both a reactivated rail line and a recreational trail.
Many of our cities had excellent networks of rail lines in the 19th century, and they were efficient ways to move large numbers of people and large amounts of freight. But in many cases, those same cities switched to cars and trucks in the 20th Century as the main mode of transportation, and the railroad lines fell silent, unused and overgrown with weeds.
Now, cities across the nation, starved for park land and pressured by citizens to improve quality of life in neighborhoods and create safe and pleasant ways to recreate and commute, are rediscovering these old lines and giving them great new purposes in the 21st century.
Calling all HuffPost superfans!
Sign up for membership to become a founding member and help shape HuffPost's next chapter