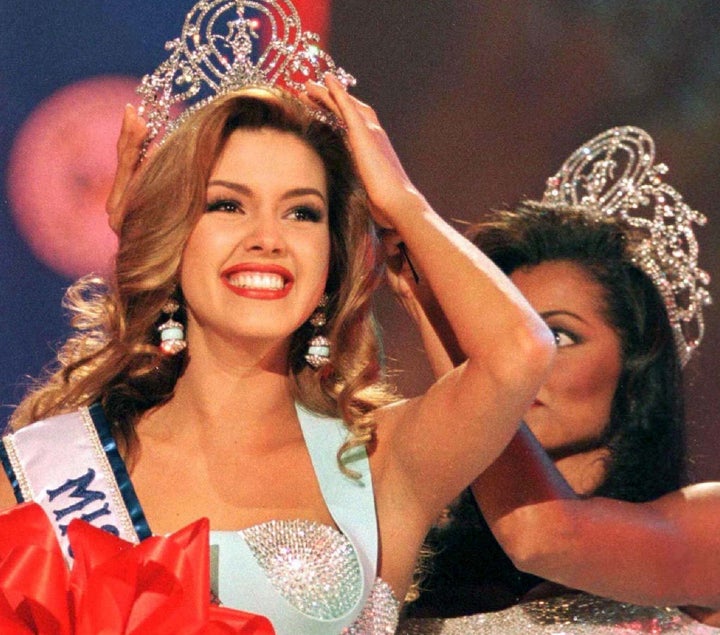 Now it's come to this ― Donald Trump has inspired me to out myself as a Miss Universe fan. So here goes.
I have watched every Miss Universe Pageant going back to the mid-1970s. As the fifth child with four older, straighter brothers, beauty pageants always found their way onto the television in our Milwaukee living room (and this was the four-channel era). And somehow the tradition stuck ― even as the decades passed, watching pageants like Miss Universe felt like renewing a cherished childhood family tradition (although I am certainly not one to advocate the objectification of women, and stand with everyone who measures a woman's worth beyond her physical appearance and fitness in a swimsuit). But thanks to a love of nostalgia, I can name Miss Universe winners going way back, and if you don't believe me, give me a call.
As a result, I knew the name of Alicia Machado even before Hillary Clinton shared it with the world at last night's presidential debate. And here's what else I know:
The 1996 Miss Universe Pageant was held in Las Vegas (indeed, smack in the middle of another "Clinton/Trump era"... when Bill was president living the White House and Donald was the world's most famous millionaire mogul posing on the cover of Vanity Fair). It marked the first pageant staged under the ownership of Trump, who had recently purchased the Miss Universe, Miss USA and Miss Teen USA Pageants (which he later co-owned with the NBC network from 2003-2015). Trump's then-wife Marla Maples Trump co-hosted the CBS telecast; the mogul himself made a (non-verbal) cameo appearance flanked by an Elvis impersonator.
On that May night in the Aladdin theater, Alicia Machado represented Venezuela, the "New York Yankees" of pageant powerhouses, which had produced three previous Miss Universe winners (and, after Machado, would produce three more, including the 2013 winner crowned in Trump's favorite fixation nation, Russia).
As pageants go, Machado was one of the more runaway winners in Miss Universe history. There was little doubt to anyone watching that she would ultimately take the crown; she exuded a confidence and vivacity that clearly stood out from the field of international contestants (which included one of the more famous Miss USA winners in history, future "Doritos Girl" Ali Landry).
After barnstorming through interview, swimsuit and evening gown competitions with the highest overall score, Machado aced the final question round and captured the crown over a first runner-up from Aruba. Especially in the pre-Internet era, you really only saw or heard about the Miss Universe winner on the night she won and the night she gave up her crown. Not so with Alicia Machado.
In early 1997, she made headlines when Trump dubbed her an "eating machine" and demanded she lose weight or relinquish her title to her Arubian alternate. Machado's plight even became a question in that year's Miss USA contest, with the Hawaiian contestant, Brook Lee, delivering one of the more famous spot-on answers in pageant history. When asked what she would do in a weight gain situation similar to Machado's, Lee responded:
I think I would take a good hard look at myself, and look from the inside out and know that I was the same girl that was crowned that day. And it really didn't matter what I looked like on the outside, because I won from the way I was (on the inside)... so if I go up or go down, I get taller or I get shorter, my nose gets bigger or smaller, I'm still who I was when that crown was on my head and I'm a good representative no matter what.
Not surprisingly, the articulate Lee won the Miss USA title that night, and ultimately succeeded Machado (who, despite Trump's threats, did not lose her title) as Miss Universe.
Machado, as now touted in a Clinton campaign ad, struggled with anorexia and bulimia in the aftermath of her Miss Universe reign. She became an American citizen earlier this year and a debate topic last night. Trump himself seemed flummoxed last night when Clinton mention her name: "Where did you hear this?" he chided his rival as she related Machado's story, including his use of the monikers "Miss Piggy" and "Miss Housekeeping."
As a now-out-and-proud Miss Universe watcher, he could have it heard it from me, but I swear, Donald, I didn't tell her.
I'm pretty sure Alicia did... and good for her.
REAL LIFE. REAL NEWS. REAL VOICES.
Help us tell more of the stories that matter from voices that too often remain unheard.
BEFORE YOU GO