Leftover tortillas present a huge issue for me. Even though they can last weeks without going stale, I seem destined to eat, in record time, any that grace the shelves of my fridge. This is partly due to the cheese and egg that sit on the shelf nearby, and when I'm in possession of tortillas the thought of late-night egg and cheese quesadillas is constantly on my mind. And yes, I mean quesadillas, plural.
It doesn't matter how much I've eaten for dinner, or how much I've had to drink afterward. With the promise of those tortillas in the fridge, I come home on weekends at 1, 2, or 3 in the morning, fry up some eggs, stuff them inside the crisped shell, and wait for the cheese to envelop the egg and seal the whole perfect package together. After nights like these, I find myself on the couch in the morning beside an empty plate covered in greasy fingerprints. In the trash: the empty plastic tortilla packaging.
I've cooked fancier versions of these bad boys for company, especially ones cut into smaller triangles for cocktail parties, but it's the eggy ones I make for myself that are ultimately the most satisfying. But, since I clearly cannot control myself around them, when I recently came into a package of tortillas I was determined to use them up in a civilized way, with egg, cheese--and someone else on the other side of the table.
To use up the first few rounds, I lured Essie down to my apartment from the Upper West Side for quesadillas made fancy with chimichurri and chipotle crema. It was a Friday afternoon, but since we both don't have 9-to-5 day jobs, it might as well have been the weekend. We devoured our quesadillas while catching up on the latest in boyfriends, friends, and potential 9-to-5 jobs.
On Saturday, Will, the object of the above boyfriend conversation, woke me begging for a breakfast quesadilla. I wasn't in the mood for food yet, since my stomach was still a bit full from the previous night's steak dinner, and my head hurt a little from the wine. His craving might have come from the Cilantro Succotash Quesadillas we'd recently posted on the blog--a dish made for the first time months before Will was in the picture. But it also might have come from me bragging about the feast I'd made Essie the day before, which I'd told him about via email while he was eating mediocre pizza at the office. Mainly, the factor that motivated me to get out of bed was knowing that if I didn't get rid of the two remaining tortillas in my fridge right then and there, Will might not be there later that night to stop me from eating both of them by myself. So I got up, tossed together some eggs with the leftover mushrooms from the night before, and got to work caramelizing onions.
When we finished eating, I was ready to go back to sleep on the couch, though contrary to my former quesadilla behavior it was 2pm, not 2am. Fortunately, as I mentally prepared to get up, Will came over and collected my greasy plate, took it to the sink, and did the dishes.
Unfortunately, I have been craving quesadillas ever since.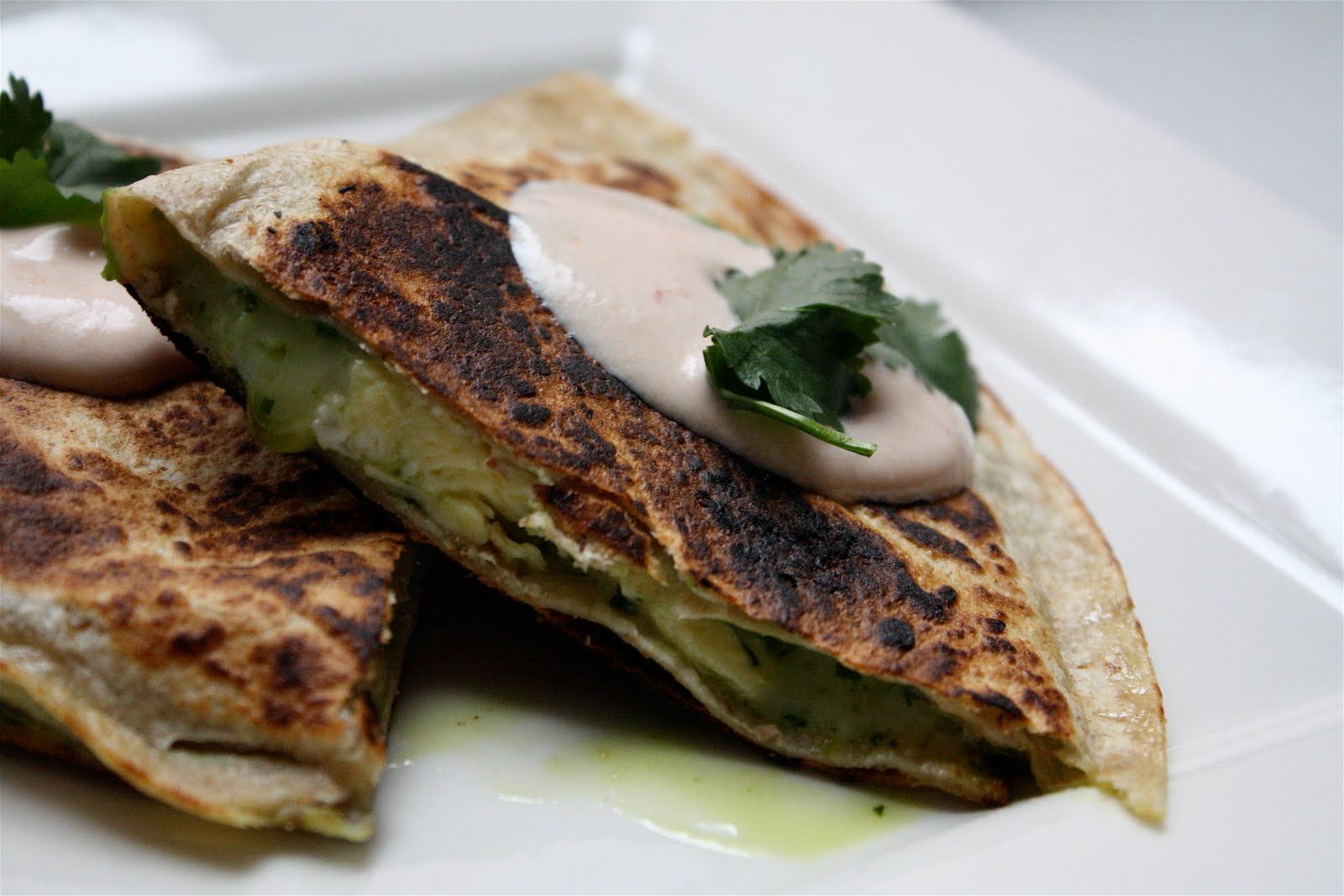 Breakfast Quesadillas with Cilantro Chimichurri and Chipotle Crema
Makes 2 servings
Traditional chimichurri uses parsley and is thinned with a combination of oil and water. For a tortilla-friendly version, I've recommended that you only puree until it reaches a paste, not a creamy condiment. To use for other purposes (or to drizzle on top of the finished quesadilla), continue adding oil and/or water until the mixture thins.
Ingredients
3 eggs
1/4 tsp salt
pinch cayenne
2 8-inch tortillas
1 cup Monterey Jack cheese, shredded
1 cup cilantro leaves
1 small garlic clove
1/2 lime, juiced
1 tsp white wine vinegar
olive oil
salt
3 tbsp sour cream
1 small canend chipotle chili, minced
1/2 tsp adobo sauce from the can
pinch of salt
hit of lime juice
Combine the ingredients for the crema in a small bowl, set aside. This can be done days in advance.
In a mini food processor, pulse the cilantro, garlic, lime juice, and vinegar until roughly chopped. Add the olive oil in a steam until the mixture becomes a finely chopped paste (probably a little less than 1/4 cup), but not too thin. Taste for seasoning and add salt accordingly. This can be stored in the fridge for a day or so.
In a small bowl, beat the eggs with the salt and cayenne.
On a cutting board arrange the tortillas side by side. Slather the chimichurri on each round, just enough to cover them with herbs but not make them soggy (you may have leftovers). Divide a 1/2 cup of cheese between the two tortillas.
In a small non-stick saute pan, scramble the eggs over low heat until just coming together (they should still be rather wet). Spread the eggs between the two tortillas, cover with the remaining 1/2 cup cheese, and fold them in half, pressing down so they are glued together.
Clean out the pan and return it to the stove over high heat. Get the pan hot, then toast the tortillas (one at a time depending on the size of your pan) on both sides, until dark and crispy with cheese oozing out the sides.
Serve immediately with a generous dollop of chipotle crema and some extra cilantro leaves for garnish.
Related
Popular in the Community