Even though it was my friend Nate's wife Kris, who was lured in by the scruffy, long-legged boy with the human eyes in the ad placed in the local newspaper, there was no doubt that when Nate met Brutus, a German wire-haired Pointer, in person, on March 31, 2012, it was he whom that dog's heart belonged to. Brutus was on loan to the family with two young boys for a two-week trial basis. The agency stated in their ad that he did not do well around cats and was known to be a counter surfer. What they failed to mention, was that he was likely in an abusive situation at some point, as he was not fond of most men. If truth be told, he was not fond of the mailman, school bus man, UPS guy, oil man, the neighbor's oil man, a local motorcycle man or, well I guess you get the picture. As bold and brash, high strung and barky as their "loaner" dog was, Brutus was equally quirky and charming; and was content lying on Nate's lap on the couch. The family decided they loved him and would keep him.
Nate and Kris's work hours seemed a perfect scenario for being responsible pet owners, Nate worked early morning to early afternoons as a local butcher in the suburbs of Albany, New York. Kris worked bankers hours...which allowed Brutus to have plenty of play time with Nate. But after having Brutus about a year, Nate started having terrible back pains. On July 22, 2013, their live's were turned upside down as the gastro doctor delivered the news that there was a cancerous mass at the base of Nate's esophagus. It was stage three. One over night surgery turned into a week long hospital stay. Brutus was more than aware that something was amiss at home. Still, Brutus would rest his head on the windowsill, waiting for Nate to come back.
When Nate started his chemotherapy sessions, Brutus had become more protective than ever, and had now started sleeping with Nate and Kris, never wanting to be out of Nate's line of vision. He wanted and was ready to play, play, play! Surely, Nate would get better. But Nate was dealt that unfortunate bad cancerous hand we too often see and hear about. Kris put out a message on Facebook stating that the end was near, and that anyone who wished to come say their good-byes, had better come now. Nathan C. Turon passed quietly on May 14, 2014. Brutus slept in Kris's bed cuddled up with Nate's blanket.
Brutus has been in mourning since his Dad died. He acts out like a child who doesn't get enough attention. And sadly, he doesn't get the attention he needs, deserves or had. The circumstances stunk. A kid home from college, irked Brutus when he jogged by, so Brutus bit him. Kris and the boys built him a beautiful 20 x 40 chain link dog run, that is six feet high. But Brutus escaped and bit a neighbor. There was something about his past, that made it so that Brutus didn't like to be confined. He is a wild and free spirit, one who Nate just said was "misunderstood."
Kris and the boys love him to pieces. Kris wishes she had more land, more money. She has said, "I'd build him a one hundred acre farm with a pond, but that just isn't in the cards." And so began a GoFundMe page for Brutus to live out his days at the Spirit Animal Sanctuary in Booneville, New York. This is one of those stories that's about a clock running. The town police have told Kris to find him a place, or he needs to be put down. Yes, all dogs go to heaven, even with a few bites, but does Brutus deserve that sentence? My heart goes out to all dogs as I had to have two of mine euthanized due to illness. If you've put a dog or cat to sleep, you know how it feels. It's like the light of day gets kicked out of you. And then there's this feeling of guilt, and it's always about money. Money can buy you another month, but what is the quality of life?
Brutus has this one second chance be it at the mercy of others. Five dollars here, twenty-five dollars there. The fund is growing. The sanctuary is a place where Nate's boys can go and visit Brutus, and maybe recall their dad with him. In this case I'm rooting for Brutus in memory of my friend Nate. It's not their time to be together quite yet. May Brutus live a long life in the fields barking his heart out. May he be born free.
https://www.gofundme.com/sanctuaryforbrutus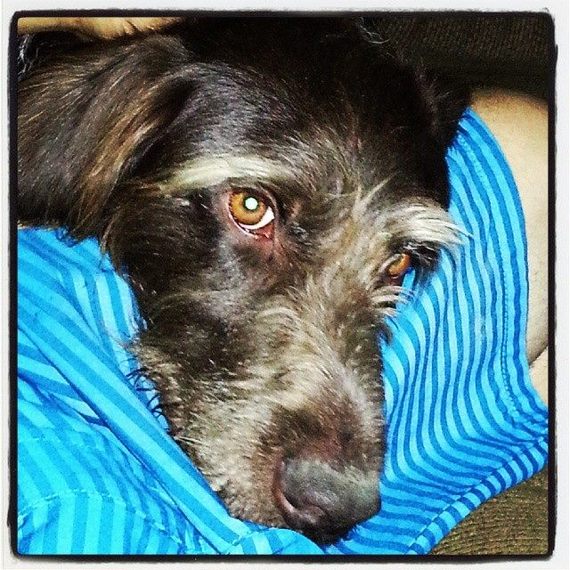 Calling all HuffPost superfans!
Sign up for membership to become a founding member and help shape HuffPost's next chapter