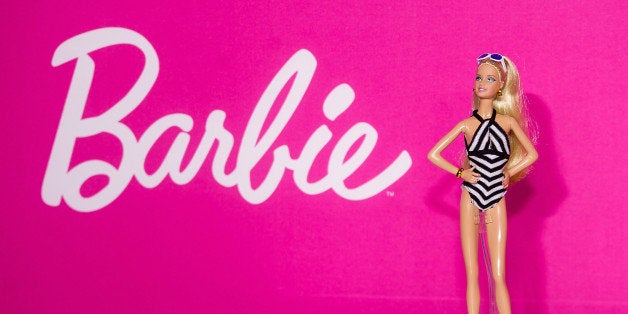 It's been years since my partner and I issued the Barbie Proclamation, but the recent tempest amidst the Girl Scouts, Mattel, feminists and consumer advocates brought it all right back.
Our daughter was six, about to celebrate her birthday party with friends from a new school that included families of all religious, cultural and political stripes: liberal white Jewish lesbians (um, that would be us) along with burka-clad Muslim moms and devoutly Christian grandparents raising their grandkids.
"What if someone gives her a Barbie?" I asked my partner. Elissa was raised Barbie-free by a staunchly feminist mom who earned her Ph.D. in her 50s. My mother (also a feminist, but a high-heel-wearing one) let me have Barbies. Aspiring architect that I was back then, I was more excited about the Dream House, with its mod furniture and nifty snap-together structure.
We conferred, we debated, we reached a verdict. At Sasha's progressive daycare center, no Barbies were permitted in the toy room (no plastic weapons, either). But this was a different setting, and even Sasha was cautious, referring to me as "Anndee" at kindergarten events rather than outing our family by calling me "Ama."
Elissa and I composed a short note to the mothers of Sasha's invitees, explaining that we preferred our daughter not to have Barbies because they promoted unrealistic images of women. One mother emailed that she agreed, and the rest were silent. Sasha got paints and books and puppets that year, though her favorite gift was a suitcase of dress-up clothes a family friend had scavenged at the Goodwill store -- sequinned hats, elbow-length gloves, a claret-colored velveteen dress.
At six, no matter what she wore or played with, Sasha wanted to be a princess. Later, her career dreams shifted: astronaut, New York Times theater critic, White House press secretary, member of Congress, lawyer for Sunoco (don't ask) and "one of those doctors who talks to people." These aspirations, I can only assume, were sparked by books, television, the professions of her parents and our closest friends -- writer, social worker, lawyer, rabbi, psychologist -- and Sasha's own expansive imagination.
So I was curious about this month's brouhaha over the partnership between the Girl Scouts and Mattel, a deal struck last summer that resulted in an online game, a downloadable activity booklet in English and Spanish and (the fuse that really ignited protest) a Barbie patch for the youngest Scouts to iron onto their uniform sashes or vests.
The patch doesn't depict Barbie, but it has the "Barbie" logo in unmistakable fuschia, along with the campaign's slogan: "Be Anything. Do Everything."
When I read that, my first thought was: Really? Everything? I thought of all the things I hope my daughter won't do: smoke pot outside the high school, ride motorcycles, have unprotected sex. Gosh, grown-ups, do we really want to open the door of possibility that wide?
But it's clear that Mattel and the Girl Scouts are talking about a pretty specific kind of everything -- the kind that refers to career choice. In the online game on the Scouts' website, Barbie (or her doppelgangers, the ethnically-unidentifiable Teresa and Nikki) wear the outfits of various trades -- soccer player, veterinarian, dolphin trainer, race car driver.
The range of occupations is impressive; the clothes are absurd. What vet do you know who sports a frilled skirt under her perfectly white lab coat, not a splotch of puppy poop in evidence? What astronaut braves outer space in pansy-pink boots? Not to mention, of course, that these figures bear Barbie's ridiculous proportions, famously arched feet and lush ponytail. Sure, do whatever job you want, the game implies, as long as you're thin, cutely dressed and have fabulous hair.
The activity book, "I Can Be.../Yo Puedo Ser," aimed at girls in kindergarten-3rd grade, tells a different story. It includes photographs of real women -- all shapes, ages and ethnicities --doing a range of real jobs. Gardener. Librarian. Soldier. Biologist. Not one of them looks anything like Barbie.
But then, on the last page, is the info for ordering that Barbie patch. And here's where the Girl Scout/Mattel deal starts to curdle. Because it's clear what the company has at stake. Mattel doesn't want girls to want to be Barbie. They want girls to want to buy Barbie. And the patch, despite its go-for-it-girlfriend slogan, is an unapologetic scrap of advertising.
What's next? A McDonald's patch for girls who play an online nutrition game? I can see future Girl Scout sashes, the badges for Fair Play, Home Scientist and Hiker lost in a sea of corporate sponsorships: This Brownie brought to you by CoreStates Bank!
I doubt the Girl Scouts, despite their noble history of supporting LGBT inclusion and girls' empowerment, is going to back out of this deal. And Mattel's unlikely to yank the sponsorship, especially since publicity -- pro or con -- can only be good for the Barbie brand.
But I say we make this controversy a "teachable moment" for our girls, whether or not they've ever sold a Pecan Sandie, whether or not they've wiggled a Barbie shoe onto a teensy plastic foot. It's a fabulous lesson about the power of branding, the allure (and cost) of corporate sponsorship and the capacities of a popular backlash aided by social media.
Talk about new career possibilities: Barbie the Consumer Advocate! Barbie the Not-for-Profit Organization Sell-Out! Barbie the Ph.D. Researcher on Gender and Career Goals!
There could be a new badge, one much more relevant to the 21st century -- a Media Maven sash patch that girls could earn by deconstructing the messages of toy commercials or blogging a critique of the ads in Teen Vogue.
The patch would depict a girl's face ringed by a constellation of modern media: a fashion magazine, a website, a television set, a cell phone. The girl's eyes would be open, her expression skeptical.
It would come in any color you want. Just not pink.
Popular in the Community