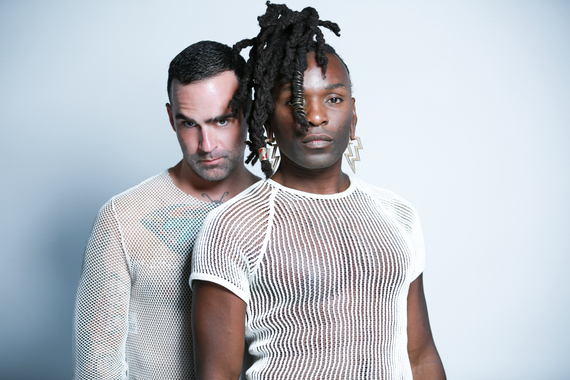 Together as electro-hop duo Double Duchess, David "davO" Richardson and Krylon Superstar have been performing live and making San Francisco partygoers sweat their butts off for years - five at the very least. But this week marks the culmination of every drop of sweat they, themselves, have spilt on stage.
On Tuesday Double Duchess released their first full-length album, All Eyes on Me, their loudest, most confident collection of songs to date, led by the title track, "Good Girl Freak Out" and their atmospheric cover of "Bullshit," a little-known Grace Jones song.
"[Grace Jones] has always has been a huge inspiration to me," Krylon told me via email while on tour. "Her connection to nightlife and fashion is legendary. We wanted to pay homage to that."
Double Duchess approached writing and recording the "Bullshit" cover as they do any of their projects: by decidedly putting their own spin on it. Krylon suggested using the original lyrics in a beat that davO had created, but davO had never heard the song. In fact, he never heard it until they had finished recording the cover. That fresh take worked to "make [the cover] feel like an original Double Duchess track, but with the spirit of Grace Jones," davO said.
The spirit of Grace Jones sure follows Double Duchess wherever they go. Audiences can count on eye-popping club fashions and energetic performances at every one of their live shows. Perhaps most importantly, Grace Jones' fierce attitude - as well as her other complexities -- are smeared all over All Eyes on Me.
"The title of the record represents the pressure that we feel as artists in today's society to always be on," davO said. "With social media, there's the overwhelming pressure of self-promotion and of creating a one dimensional being, when we are really complex humans."
One dimensional way to view Double Duchess is simply as queer artists, although davO and Krylon are both comfortable with the label. Instead of alienating them from the mainstream, being labeled "queer" has actually connected them more deeply with the LGBT community, they say.
"I think being queer it an essential part of our music and our personas in general," davO said. "It can often help reach more queer people and creates community amongst us queers."
"But for the record I am a queer person who makes music, I don't make music because I am queer," Krylon added.
As indie artists who encourage bouts of vogueing and twerking in their live shows, Krylon and davO have a similarly open-minded view on cultural appreciation and ball culture becoming more mainstream.
"It's definitely something that Willie Ninja (choreographer and 'godfather of vogueing' who appears prominently in the landmark documentary Paris Is Burning) would have wanted," Krylon said. "A lot of work is being offered to kids who are vogueing these days."
"Artists can't help but be inspired by all types of creative expressions," davO added, "however, I believe that it is important... to provide opportunities to [those artists] who have sparked that flame for others."
"Twinkle," the sixth track on All Eyes on Me, features Nicky da B, the bounce artist who tragically passed away last year at 24 years old. Other artists featured in the new album include TT the Artist and Chris Cosgrove of Future People, who also served as a producer. The music video for the title track was directed by Dave Malloure, while JB Ghuman directed the video for "Good Girl Freak Out" featuring TV personality Kelly Osbourne.
"My friend Johnny Stuntz brought Ghuman to watch us perform in L.A.," Krylon recalled. "Both are friends with Kelly. She loved the track and loved the idea of being a video vixen for it."
Popular in the Community