In 2015, the Charleston-based Post and Courier published an exposé on how deadly the state of South Carolina is for women. The paper covered the state's record of domestic violence over five issues in a series called, "Till Death Do Us Part." The small paper won journalism's most prestigious award for that reporting: a Pulitzer.
South Carolina has been in the top 10 most dangerous states in the country for domestic violence in the past two decades. Reporting began in September 2013, when the Violence Policy Center ranked South Carolina No. 1 in the nation in the rate of women killed by men. (Source: Post and Courier)
Last week, I gave a short talk at Monmouth University about our film featuring High Point, N.C. I ended the talk with a slide about Spartanburg County, SC.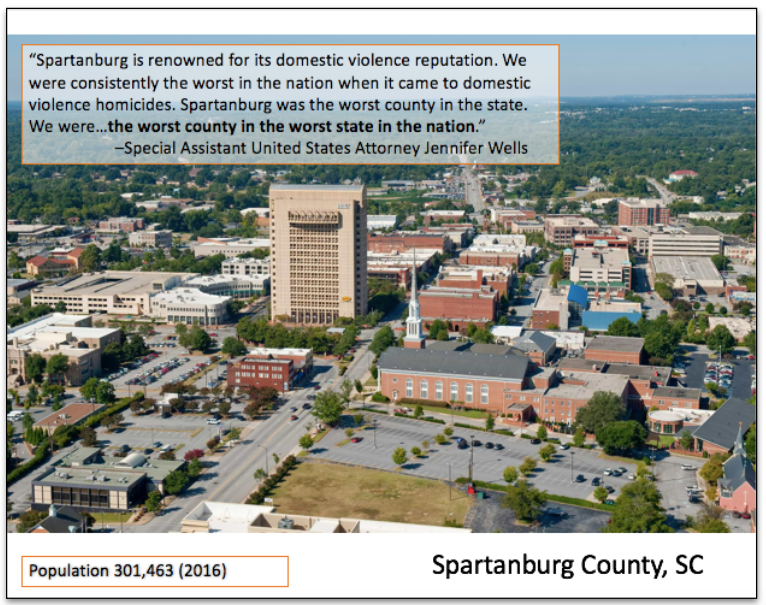 Spartanburg County is three times the size of High Point, NC. The county is implementing the High Point model of offender-focused deterrence. What's interesting about Spartanburg is the process is being led by prosecution with all law enforcement agencies participating (13 agencies), as well as social services and other government organizations. The project is sponsored by 7th Judicial Circuit Solicitor Barry Barnette. The program is called, "Home Front."
In 2015 (the most recent available stats), Spartanburg County had 14 domestic violence homicides. Since they've begun the program in 2017, they've had zero among the offenders who've been notified. It's been an incredible success so far.
I spoke to Assistant U.S. Attorney Jennifer Wells who is leading the charge on the ground for this initiative. To get the program started, she told me, "We literally just hit the pavement, made the rounds and visited, answering questions and handing out cards and said this is what we want to do, and we want you to be on board."
When our film team began working on the documentary about High Point, we asked ourselves, "What do we want the viewer to think/do after they see this film?"
We agreed we wanted the viewer to pick up the phone to their local Sheriff, city manager, mayor, police chief, and ask the question: "Why aren't we doing this here?"
That is exactly the reaction we get every time we screen the film.
City of Spartanburg Police Department
City of Campobello
City of Pacolet Police Department
City of Chesnee Police Department
City of Cowpens Police Department
City of Duncan Police Department
City of Greer Police Department
City of Inman Police Department
City of Landrum Police Department
City of Lyman Police Department
City of Wellford Police Department
City of Woodruff Police Department
Spartanburg County Sheriff's Office
Greenville-Spartanburg International Airport Police Department
Victim Advocates
Victim Services Providers
Behavioral Health
SC Dept. of Probation, Pardon and Parole Services
U. S. Attorney's Office, District of South Carolina
Bureau of Alcohol, Tobacco and Firearms
Seventh Circuit Solicitor's Office
SAFE Homes
Children's Advocacy Center of Spartanburg, Cherokee, & Union
Calling all HuffPost superfans!
Sign up for membership to become a founding member and help shape HuffPost's next chapter
This post was published on the now-closed HuffPost Contributor platform. Contributors control their own work and posted freely to our site. If you need to flag this entry as abusive,
send us an email
.