Co-authored by Juan Williams. Williams is a journalist and author of the recently released, We the People: The Modern-Day Figures Who Have Reshaped and Affirmed the Founding Fathers' Vision of America. He serves on the advisory board of Generations United.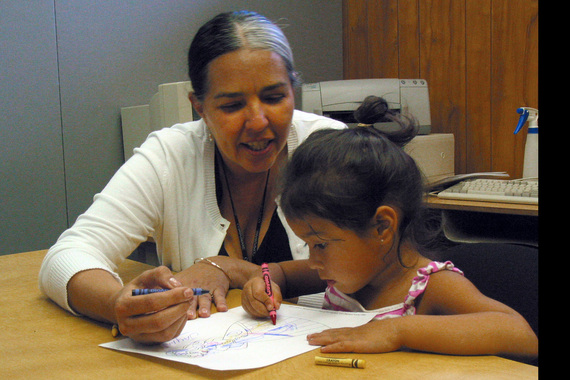 With people living longer, the numbers of grandparents are at an all-time high. And more children are living in single parent families in need of those older relatives.
Yet schools, day care centers, youth programs and recreation centers often overlook grandparents.
Grandparents -- and many older adults without grandchildren -- have big hearts and willing hands. They are the untapped human capital of our time.
We know this because at Glenmount Elementary/Middle School in Baltimore, Maryland, Generations United has been working on a revolutionary program call Partners in Education or PIE.
Unlike traditional parent-school partnerships, PIE is designed by parents AND grandparents so that multiple generations can be involved in the child's education and the school itself.
PIE provides a clear plan for parents and extended family to help prepare students for school and support their learning at home. It helps caregivers understand what reports they can reasonably ask for and expect from administrators and teachers about how well a child is learning so lessons can be reinforced after school hours.
The PIE toolkit -- which emulates the Glenmount School motto Pride, Potential and Purpose -- is a family engagement plan that describes how parents and grandparents can be involved in the school and a child's classroom.
Funded by the W.K. Kellogg Foundation, and working in partnership with the Center for Law and Education and Grandfamilies PST, PIE is backed by research that's proven grandparents and other older adults can improve children's academic, social-emotional and behavioral outcomes.
How? By increasing children's school attendance and enhancing their social skills, cooperation, communication, tolerance and respect. So called soft skills they'll need to make it later in life.
One school administrator said the program has "been helpful in reminding us always to be inclusive of the full family and use language that names and includes grandparents and other caregivers, not just parents."
The collaboration couldn't be more timely.
Congress recently passed a new version of the biggest education law (Title I), which recognizes the important role of family as full partners with schools in helping children learn.
To fulfill that role, the law points to families' key rights in many areas as equal partners -- for example, in access to school staff and in being full partners in developing and improving the school's academic plan.
And the law explicitly says "family" is more than just parents.
In fact, the law includes grandparents in the definition of "parent" recognizing the diverse and important roles grandparents are playing in today's families.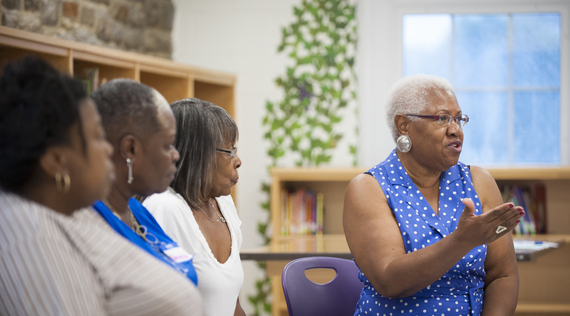 Grandparents often have the relationships, access and communications skills needed to motivate and encourage parents to be engaged and students to learn.
And often they are more likely to have what working parents don't have -- time.
"I am a firm believer that your child does better in school when they know they have somebody who cares, somebody who shows up. A lot of times both parents have to work so they don't have the time to invest like the grandparents do" said a Glenmount School grandmother when talking about her involvement in PIE.
Even in its early stages of development, PIE is showing results. The grandparents and parents are now so engaged, they're working with KABOOM to build a much needed playground at the school.
In this complex world, every child deserves the unconditional love, encouragement and coaching of more than one generation.
But the program isn't just a one way street. As one grandmother participating in PIE explained.
"For my grandson and the other kids, it's going to help them," she said. "Plus when he sees me in the school hallway, he'll shout out the biggest, 'Nana!' and that just warms my heart, when he's excited to see me."
It doesn't have to stop at Glenmount. You too can bake a PIE in your community. You can learn more about the program and download the toolkit to get you started.
Investing in our children's future is critical to a strong America...and it can have delicious results.
REAL LIFE. REAL NEWS. REAL VOICES.
Help us tell more of the stories that matter from voices that too often remain unheard.