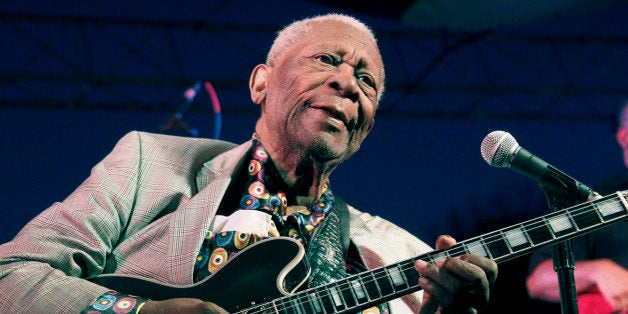 Legendary blues guitarist and singer B.B. King died last week. He was a global ambassador for American culture. King performed in Russia, China and Europe, and while in his 80s, he was still playing concerts in Denmark, Germany and France. He was an embodiment of American Soft Power, expressing the vitality and spirit of a diverse nation.
I first heard B.B. King play the blues in the 1960s in a bar in Washington, DC, packed with a racially mixed audience, a rarity in those days. I became a fan and admirer of his talent and his work ethic. Decades later while serving as US ambassador to Finland in the Clinton administration, I got to meet King when he performed at the summer Pori Jazz festival which attracts worldwide musical talent.
Before his performance, I sat with King in his trailer. I expressed my admiration for his career, and asked him if he had ever been to the White House. "No, sir, " he replied, "But I'd surely like to." He gave me "Lucille" guitar picks as a souvenir and asked me to give his regards to President Clinton. I sent the White House a report about the meeting, and included a personal note for the President. Later that year, Clinton included B.B. King as a recipient of the Kennedy Center Honors. President Obama would later invite King to perform at a blues concert in the White House where the two of them sang a duet of Sweet Home Chicago.
During my diplomatic time in Finland, I saw first hand the power of American music to stir foreign audiences. Other singers who performed in Finland included Wilson Pickett, Bob Dylan, Johnny Cash and James Brown. I stood on the running board of the white Rolls Royce that Brown -- the King of Soul -- required for concert appearances while he leaned out and gave me religious and political advice for his fellow Baptist, Bill Clinton. I welcomed Cash and his wife June Carter, and Cash kindly dedicated a song to me in public before a sold out crowd in a hockey arena. I presented an achievement award to Tina Turner, then watched her run up and down the steps of Helsinki's Olympic Stadium singing and dancing, thrilling the Finns. When a friend from Los Angeles, folk rock singer Jackson Browne came to Helsinki, I hosted him at the ambassador's residence and took my family to his concert, where he gave a shout out to his fellow Californian.
Music diplomacy was not a one way street. I paid a courtesy visit to Helsinki's only rock n' roll themed McDonald's, run by a Finnish group called The Leningrad Cowboys, a band of entrepreneurial musicians with a sense of humor (the joke of the band's name was that they had come to Finland from Russia). To celebrate the end of the Cold War, the band invited the Red Army Chorus to play a joint concert in downtown Helsinki's Senate Square, and advertized the event with posters saying, "The Russians Are Coming." They also starred in a strange road movie, Leningrad Cowboys Go America, directed by the Finnish director Aris Kaurismaki. The band agreed to play at my 50th birthday party, and in front of guests including Finland's Prime Minister, I was made an honorary member of the Leningrad Cowboys and presented with a trophy calling me 'the Ambassadude" (a moniker I've happily used ever since).
During the Cold War, the US State Department recognized the power of music and sent jazz greats such as Louis Armstrong, Dave Brubeck, Duke Ellington, Dizzy Gillespie and Benny Goodman on concert tours behind the Iron Curtin (for details, see: Satchmo Blows Up the World: Jazz Ambassadors Play the Cold War, by Penny Von Eschen, or Jazz Diplomacy, by Lisa Davenport). Bruce Springsteen played a famous concert in East Berlin in 1988 before the Wall came down, a story told in Rocking The Wall. Bruce Springsteen: The Berlin Concert That Changed the World by Erik Kirschbaum. While on a student trip to the Soviet Union in the 60s, I recognized that rock n' roll was a subversive force in a repressive society. My classic rock albums were gold currency which I traded with Russian students. Jazz, the Blues, folk music and rock n' roll all speak to the diversity of the American experience and are inherently democratic musical forms.
Of course, it's not only these popular genres which make for music diplomacy. Finland is known for its famous classical composers and contemporary world class conductors. While I was abroad, Finnish conductor Esa-Pekka Salonen became head of the Los Angeles Philharmonic to much acclaim. He brought the LA orchestra to play in Helsinki, and I hosted a post-concert dinner for the entire LA Phil (including accompanying spouses and partners), and invited Finnish classical musicians to join in a summer outdoor meal. I also attended performances of the classic American opera Porgy and Bess, and modern operatic offerings by composer John Adams whose producer Peter Sellars came to Helsinki with the show "I Was Looking at Ceiling and Then I Saw the Sky."
The power of music is universal. Music diplomacy is not just an American tool of statecraft. Musicians from South Africa jazz trumpeter Hugh Masekela and singer Miriam Makeba played an important role in winning international support against the Apartheid regime. Folk singers from Chile rallied international opposition to the Pinochet dictatorship, and the songs of Bob Marley have been an inspiration for freedom movements around the world. Occidental graduate Gay Carawan who died this month revived and popularized the hymn We Shall Overcome which became a civil rights anthem and an international song of freedom. Amandla: A Revolution in Four Part Harmony, the award winning documentary directed by my Oxy colleague Sherry Dean Simpson. tells the role that music played in bolstering Mandela and the ANC's liberation movement.
Music continues to bring down international barriers.
Pop star Michael Jackson was an international icon with a global fan base. In 2003, former Beatle Sir Paul McCartney famously played In Moscow's Red Square. Russian President Vladimir Putin gave Sir Paul a personally guided tour of the Kremlin and attended the concert. The Gangham Style music video by South Korean pop star Psy became the first You Tube video to reach one billion views. By the end of 2012, the song had topped the pop charts in more than thirty countries including Australia, Canada, Russia and the UK. UN Secretary General Ban Ki-moon hailed it as a "force for world peace," and President Obama praised the song in his White House meeting with the South Korean President. One of the most popular American rock groups in China is The Eagles. Their 2011 concerts in Shanghai and Beijing were sell outs, and the band's signature song Hotel California created a mini-boom in like named hotels.
American musician Ry Cooder collaborated with Cuban musicians to produce the awarding winning album, The Buena Vista Social Club. This past weekend, the Minnesota Orchestra played to a sold out crowd at the Theatro Nacional in Havana, the first American orchestra to make a concert tour in Cuba after President Obama announced the opening of normalized relations. The conductor of the orchestra, Osmo Vanska, is Finnish.
Of course, music can't solve all of the world's troubles and there's no doubt that the Islamic State won't be won over by Western tunes -- but music diplomacy should be a tool of every country's statecraft.
Support HuffPost
The Stakes Have Never Been Higher
Related
Popular in the Community