This is Pepper, a three-year-old Pomeranian who lives with her human mom Elaine Diaz in Fresno, California.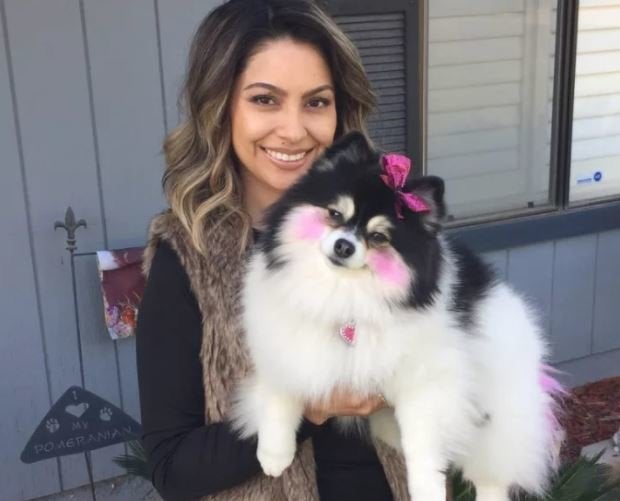 Earlier this week, Diaz tasked her nephew Tommy Rios with dog sitting this sweet Pom princess ― and left him with some highly specific instructions.
"My aunt is having me house sit and watch her dog and omg she's too much lol," the 20-year-old wrote in a tweet that now has over 173,000 "likes" and 56,000 retweets since Sunday.
Here are some of the detailed directions for babysitting Pepper, the "most beautiful girl in the world."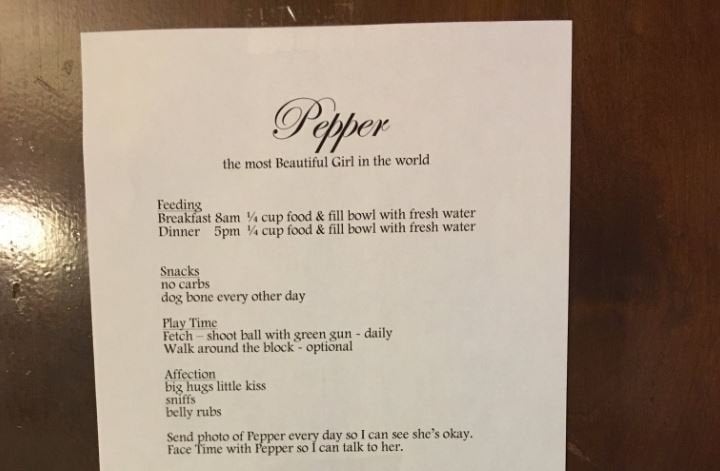 Feeding: Breakfast 8 am. 1/4 cup food & fill bowl with fresh water.

Dinner: 5 p.m. 1/4 cup food & fill bowl with fresh water.

Snacks: No carbs.

Dog bone every other day.

Play time: Fetch ― shoot ball with green gun - daily

Walk around the block - optional.

Affection: Big hugs little kiss.

Sniffs

Belly rubs

Send photo of Pepper every day so I can see she's okay. FaceTime with Pepper so I can talk to her.
Diaz comes back later today and so far, Rios says he's mostly stuck to the rules (he's shown the pampered pooch lots of affection, as you can see below). But he's slipped in some areas, too.
"I may have broken some rules, like maybe the FaceTime one and no carbs!" he told HuffPost.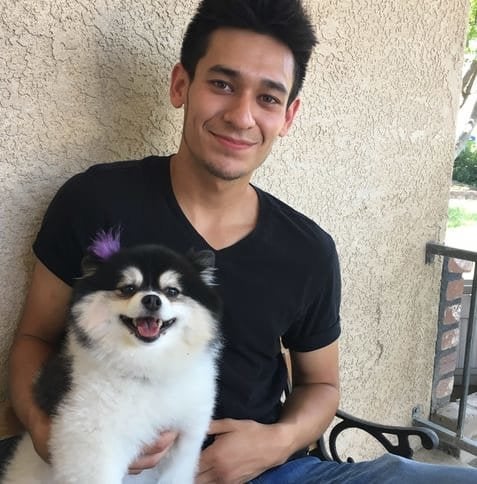 Oh, but there are more rules. Here are the "don'ts" for babysitting Ms. Pepper.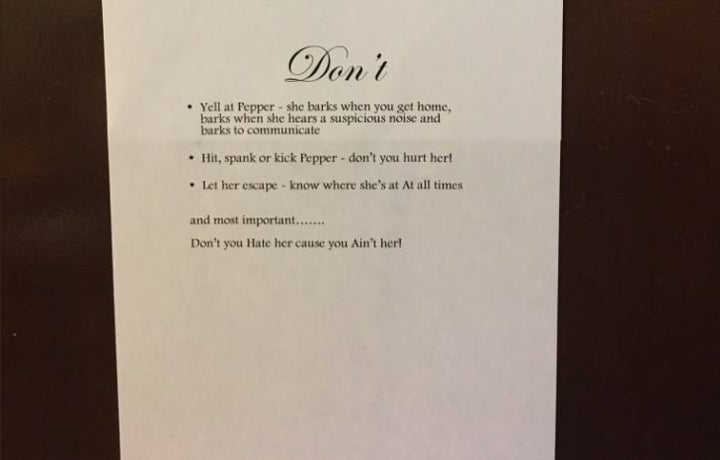 Don't yell at Pepper. She barks when you get home, barks when she hears a suspicious noise and barks to communicate.

Don't hit, spank or kick Pepper ― don't you hurt her!

Don't let her escape ― know where she is at all times.

And most important... Don't you hate her cause you ain't her!
Twitter, of course, loves Pepper and the instructions:
Though Rios was a bit taken aback by the directions, he would 100 percent watch Pepper again.
"When I saw the instructions I thought, oh my gosh, this is sooo extra but it's been great watching Pepper," he said. "She is like a human! She does human expressions and faces, it's so cute."
Bow down to a real queen, y'all.