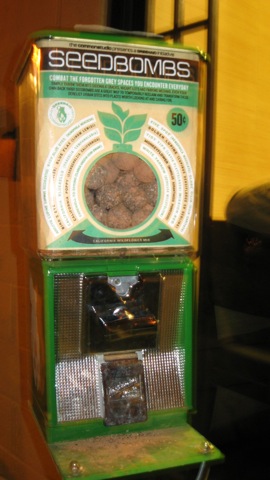 On a recent visit to Los Angeles I was overjoyed at the creativity, ingenuity, business savvy and pure chutzpah of a green service project presented on the streets, a Green Aid Initiative by the Common Studio called Seed Bombs!
I was drawn immediately to the strangely out-of-place green painted gumball machine outside a popular restaurant in the Fairfax district, clad with a stencil of a hand grenade with a flowering plant growing out of it. I was already fishing into my wallet for a couple of quarters before I even knew what I was going to get.
I was thrilled to see this inscription next to the price tag of 50 cents:
Seed Bombs
Combat the forgotten grey spaces you encounter every day.
Simply throw them into sidewalk cracks, vacant lots and parking meridians,
even your own backyard.
Seed Bombs are a great way temporarily reclaim and transform these derelict
urban sites into places worth looking at and caring for.

Yes indeed, a ball of various seeds and soil, mashed together into something just about the size of an 'Everlasting Gobstopper' and dispensed for your planting pleasure.
As I rolled the ball around in my hand, smelling its fecundity I 'oohed' and 'ahhed' myself into a tizzy, feeling the slightest beginning of dissipation of my Nature Deficit Disorder as the soils seeped into my skin.
But alas, this is not just your basic totally adorable urban gardening gimmick, as I would find by exploring their website. This is a truly fabulous execution of a fabulous idea. First off, the machines, their placement, maintenance and their eventual contribution to the greening of the community is an invitation to a partnership. If you are willing to help buy or lease a machine and bring it to your neighborhood in Los Angeles, San Francisco or any other increasing number of locales, these Common Studio folks will reward you by creating and continuously supplying you with a custom Seed Bomb, particularly formulated for maximum germination and success in the soils on your side of town.
Taking advantage of what the internet has to offer, the Common Studio's website offers mapping technology displaying the current placement of the Seed Bomb dispensers, and providing gentle prodding to fill in some of the spots not yet graced by the machines.
I was sold, but then I am a bit of sucker for this such thing. I'm that strange L.A. native that cheers on the trees as their roots push up that stretch of Santa Monica sidewalk yet again. I marvel at the renegade dandelion that finds enough space and soil in the cracks of the Brentwood pavement to spring forth and flower. Nothing makes my day more than a center divider in Venice, that sweet little square of dirt displaying the miraculous abundant diversity of eight different coastal wetland plants, laid out for your viewing pleasure all within a stone's throw of the latest new exclusive wine bar.
I regularly geek out over urban gardening phenoms large and small, and once went 25 blocks out of my way to shoot a video of a small tomato plant bearing fruit in a vacant lot on Market Street in San Francisco. It was truly an urban botanist's dream!
Staring at the Seed Bomb machine I saw the fruits of victory, and raised a toast to the many people I've known and loved who have created, fostered, tended and defended urban gardens. Cheers to the folks who worked so hard on the South Central Farm in East Los Angeles, and to those who bravely defended Esperanza Gardens in New York's Lower East Side.
I celebrated the Seed Bomb with a close friend, and well, we were sort of making a scene I suppose. A waiter came outside the restaurant after watching us linger in front of the machine taking photos, and shaking his head, regaled us with stories of folks who'd absent mindedly cranked a Seed Bomb out of the machine and taken a bite out of it, thinking it was a hip raw food dessert of some sort, only to be sorely disappointed.
I am anything but, and though I've yet to invest in a Seed Bomb machine partnership, but I have hit 'refresh' feverishly on their site's map looking strategically for where the next one should be called into service.
What about outside of your place? Is there some forgotten grey space that needs greening?
Calling all HuffPost superfans!
Sign up for membership to become a founding member and help shape HuffPost's next chapter