The South is known for many things: sweet tea, the Civil War, hospitality, and Spanish moss laden plantations (please, don't evah mention Southern Charm!). Spend more than a few days here and you'll quickly see past these stereotypes to discover that the South is home to a vast quantity of remarkable contemporary artists. Artists who are reframing the way the rest of the world thinks about the South through mixed-media photographs, large-scale oil paintings, and sculptures made of sticks. The Gibbes Musuem of Art in Charleston, South Carolina celebrates the work of these artists annually with the 1858 Prize for Contemporary Southern Art.
Established in 2007 by Mallory and Elizabeth Factor, the (formerly named Factor Prize) was designed to acknowledge an artist whose work contributes to a new understanding of the South. The Factors pledged to support the prize for five years, and in 2013, The Gibbes Museum's young auxiliary group, Society 1858, decided to assume responsibility for the Factor Prize. The renamed 1858 prize awards $10,000 to an artist whose work contributes to a new understanding of art in the South. Presented annually, the prize recognizes the highest level of artistic achievement in any media. Artists from Alabama, Arkansas, Florida, Georgia, Louisiana, Mississippi, North Carolina, South Carolina, Tennessee, and Virginia are eligible to apply through May 28, 2014. The winner will be named in September.
Submissions are reviewed by a panel of visual arts professionals, Society 1858 representatives, and Gibbes Museum of Art staff members. Past panelists include Leslie King-Hammond, Founding Director of the Center for Race and Culture at the Maryland Institute College of Art, Ron Platt, Curator of Modern and Contemporary Art, Birmingham Museum of Art, and Michael Shapiro, Director, High Museum of Art.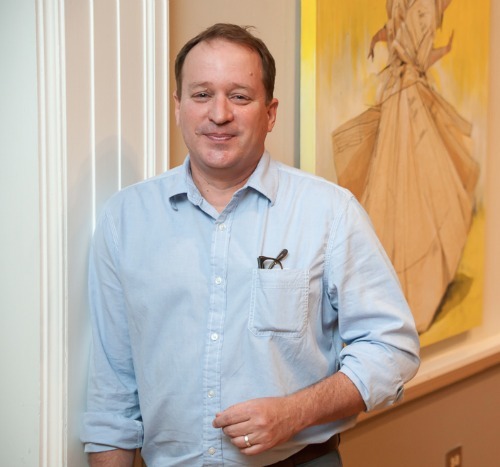 John Westmark at the Gibbes Museum preview party for his solo exhibition: John Westmark: Narratives, running through July 13, 2014. (MCG Photography)
Jeff Whetstone won the prize in 2008. Born in 1968 in Chattanooga, Tennessee, Whetstone has received degrees from Duke and Yale Universities. His photography has been featured in exhibitions in New York, Los Angeles, Atlanta, and Amsterdam. He currently lives in Chapel Hill, North Carolina where he is an Assistant Professor in the University of North Carolina's Art Department. "Winning the Factor Prize in 2008 opened several new possibilities in my career. I was able to expand my approach to portraying and describing the Southern landscape and its people by moving into new mediums. I produced two short films with support of the Factor Prize that were shown at the Moving Image Art Fair and at a solo exhibition in New York. Without the funding and the broader support of the Gibbes museum this work would have never been a reality."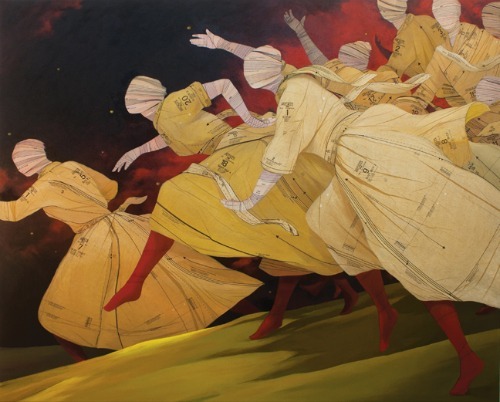 The Fireflies, 2014, by John Westmark (American, b. 1963). Acrylic and paper sewing patterns on canvas; 70 x 87" Courtesy of the artist.

Radcliffe Bailey won the prize in 2010. A native of Bridgeton, New Jersey, Bailey lives in Atlanta, Georgia, where he received his BFA from the Atlanta College of Art in 1991. Greatly inspired by jazz music, he is best known for his mixed media works and site-specific installations that explore his personal background and the history of African Americans. Bailey's work is included in the collections of many prestigious organizations including the Art Institute of Chicago, the Corcoran Gallery of Art, the High Museum of Art, and the Metropolitan Museum of Art.
John Westmark is the 2012 winner. Born in Alabama and raised in Florida, John Westmark is a painter whose large-scale works incorporate store-bought paper sewing patterns collaged directly on the surface. Populated by figures cut and shaped from the patterns, Westmark's paintings create mythical narratives, much like folklore cut from the fabric of human experience.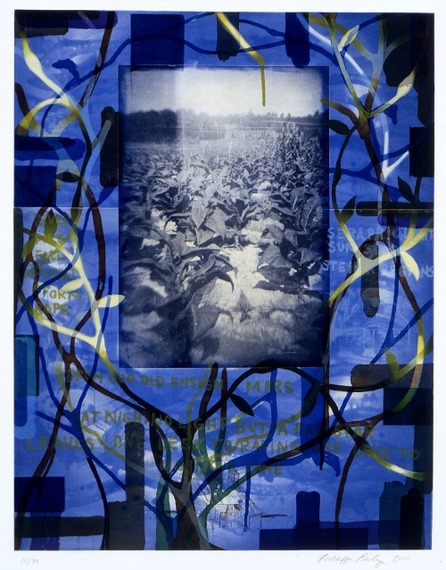 Tobacco Blues, 2000, by Radcliffe Bailey. color aquatint etching with photogravure and chine-collé; 42x33". Courtesy of the Gibbes Museum of Art.
For Westmark, winning the Factor Prize was a real boost on many levels. Receiving critical acclaim has helped validate his work and has served as great personal motivation to continue pursuing his art with passion. Westmark explains, "Without opportunities and acknowledgements such as the Factor Prize, an artist runs the risk of toiling away in relative obscurity." Westmark's success has come full circle and on April 4, 2014, we opened a solo exhibition of his latest work titled John Westmark: Narratives. This is the first time his work is being exhibited in a museum setting and the reviews have been overwhelmingly positive.
The 1858 prize will raise awareness of the innovative work being created by contemporary southern artists. The South is renowned for its history, and the ever-changing future is reflected in the work of contemporary artists. Stay tuned for the announcement of the 2014, 1858 Prize winner!
Related
Popular in the Community