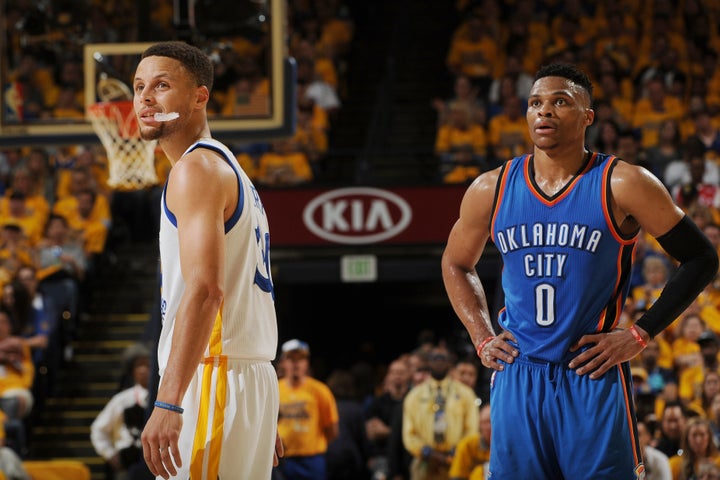 Welcome to the opus of the 2015-16 NBA season, featuring the greatest team in regular-season history and the team with the best one-two punch in basketball. This Golden State Warriors-Oklahoma City Thunder Western Conference Finals series is the best matchup the league has to offer us, with no apologies to the San Antonio Spurs or Cleveland Cavaliers. But more importantly, it is the series we deserve. Let's count the ways.
Fans deserve this series
The actual NBA Finals don't begin until June 2, and frankly, that fast-approaching date can slow on down. We want to savor this series, because the rest of the playoffs has been, well, pretty bad. The vaunted Western Conference saw the Clippers limp out, the Rockets quit on themselves and the Spurs age horribly. Although there were three Game 7's, they were all in the Eastern Conference — yuck. This is how bad it has been: The most exciting part of the 2016 NBA playoffs until this series has been a wild end-of-game inbounds play that everyone screwed up on. 
After a month of sub-par professional playoff basketball, potentially getting seven straight games of Warriors-Thunder is what fans deserve following one of the most compelling regular seasons for the NBA in some time. 
And if the Thunder's up-and-down 108-102 win at Oracle Arena on Monday night is any indication, we're definitely going to seven games. Their Game 1 road victory wipes out the Warriors' home-court series advantage. The players want this challenge. ESPN and TNT want the coverage. The NBA wants the refs to nudge the series to seven games (in this writer's tinfoil-hat-wearing opinion). Everyone wants this. And if you say you don't, you hate basketball and/or babies. 
Russell Westbrook really wants this series. 
OKC are the NBA's only hope to topple GSW
Many expected to see the 67-win Spurs meet the 73-win Warriors in the Western Conference Finals — two historically elite teams going head-to-head on the precipice of the real Finals — but the Thunder vanquished them in the last round, winning three straight to close out the series. Including Monday night's win, OKC's now ripped off four consecutive road wins against two teams with a combined 79-3 record at home in the regular season. Heat check? 
It's not surprising to see the Thunder play at this level — they boast two of the top 10 players in the world and have a versatile bench — but under the guidance of rookie head coach Billy Donovan, they've been maddeningly inconsistent. They've blown a league-high 16 fourth quarter leads this season. Dion Waiters sometimes manages to get the ball enough to shoot them out of games. All-Star enforcer Serge Ibaka doesn't know his role anymore. Third-year guard André Roberson is actually a key piece to Donovan's illogical rotations. So really, it is surprising to witness the Thunder finally get it together when the pressure's ramped up and the best teams are kicking their effort and preparation to the highest level. 
The Spurs were supposedly at their peak coming into the playoffs, and yet the Thunder still ran right through them in their series' last three games. All the better! An alternate Spurs-Warriors matchup was widely predicted and awaited, but that series lacks a certain edge. Contrary to traditional belief, the Spurs are actually a joy to watch, but not a particularly exciting team to root for. All of Tim Duncan's biggest fans reside in San Antonio. Kawhi Leonard is brilliant and emotionless and boring. The Spurs are a model of stability who aren't rocked one way or another by annual championship successes or postseason failures. There's never any inherent risk or obvious tangible consequence with them. And above all, they're not playing to keep their franchise star. As a neutral, where's the fun in that? 
It's now mid-May, and looking at the remaining playoff teams, the Thunder could be the NBA's only hope to prevent a Golden State championship repeat (sorry, LeBron). The three regular season Thunder-Warriors games had electric crowds, end-to-end basketball and hoards of shooting. Like, just the best shooting. To decide a late February matchup in Oklahoma City, Steph Curry hit a 35-foot bomb to win what was decidedly the best NBA game of the regular season. Remember freaking out to this?
That's the ceiling to this series: a Game 7 series-winning shot nonchalantly launched from half-court by Steph Curry. Can you imagine a more timeline-melting high? Didn't think so. 
A Thunder-Warriors matchup has all the players you love (or love to hate)
Which is precisely why this exact series is the best the NBA has to offer. These teams have the most superstars, enigmatic personalities, big meanies and compelling role players than any other two NBA squads combined. Their rosters are comprised of players who are perfect to talk s**t about on Twitter. Durant, Westbrook, Curry, Klay Thompson and Draymond Green are young studs who are transcendent talents in their own ways. We love watching those five, and even more so when they're opponents.
Even role players like Enes Kanter, Harrison Barnes, Shaun Livingston and Dion Waiters are compelling among NBA fans, if not simply for the fact that most fans have a hot take —positive or negative — on each of them.
Dion Waiters dares you to read his lips. 
In the paint, OKC's Steven Adams (who lead all players with a plus-20 Monday night, somehow) and GSW's Andrew Bogut are two big men from down under with protective Bill Laimbeer-like mean streaks. There's no chance that one of these two doesn't eat a punch at some point in this series. But for now, they're really scary (Draymond probably doesn't feel this way). Their effect: Every perimeter player is thinking twice before driving at either of these two:
No other NBA playoff series could offer what Thunder-Warriors still has on tap. It's got superstars, role players worth debating, teams playing for history (GSW repeating as champions, OKC trying to win enough to keep Durant in free agency this summer), and above all, bad refereeing!
Did Russell Westbrook travel at the end of Game 1 or did Klay Thompson foul him first? Neither, according to the refs.
The next six Thunder-Warriors games will be the best basketball the world has to offer. Strap in, and hope no one gets injured along the way. 
REAL LIFE. REAL NEWS. REAL VOICES.
Help us tell more of the stories that matter from voices that too often remain unheard.
BEFORE YOU GO
PHOTO GALLERY
The Most Emotional 2016 NBA Playoffs Moments