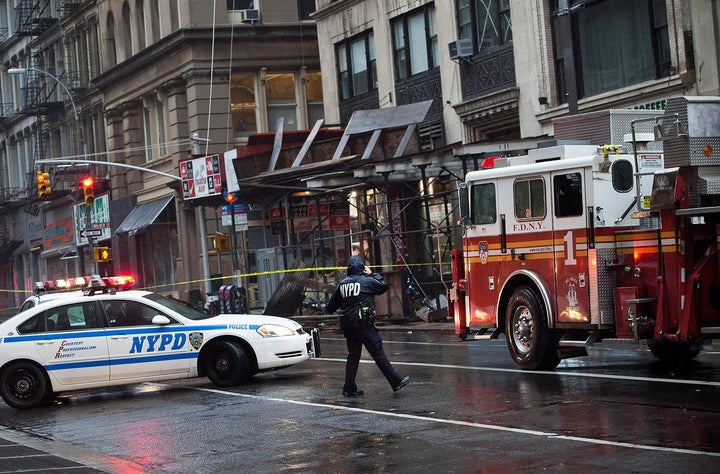 It happens almost every four weeks: A surge of clients comes to Gay Men's Health Crisis (GMHC) in pursuit of meals and bags of groceries. For people living with HIV and AIDS whose main source of income is their Social Security disability checks, money often runs out near the end of the month. At that point they are not able to buy food, and they come in for help.
Many have to survive the "in-between days" until their next Social Security check arrives. I expected the end of October to be no different, but then Hurricane Sandy arrived in its cataclysmic fury. As a tragic result, many people in NYC living with or affected by HIV and AIDS were hit hard. Our clients are among the poorest and most vulnerable New Yorkers, and the outcome of the hurricane continues to have a disproportionate impact on them. These men, women and families continue to be without housing, food, electricity, clothing and HIV medications and need basic humanitarian support and someone with whom they can talk. In fact, on Monday, Oct. 29, despite the severe storm warnings and the rain, several clients braved the weather to walk from as far away as the Bronx and Brooklyn to our offices on West 33rd Street for a hot meal. This was their only meal of the day, and for some the only meal until GMHC was able to reopen the following Wednesday. Well over 400 meals were served in the heart of the crisis, even when subways had not resumed service, with clients walking long distances to receive food and support.
HIV-positive clients haven't been the only ones in crisis. One high-risk, HIV-negative client needed to see three staff persons -- our psychologist, our attorney and our benefits advocate -- because the crises he was experiencing seemed insurmountable. The rest of that week hundreds more came through our doors needing urgent care. Our Meals Program's food supplies, including items such as bread and salad ingredients, began to dip because trucks had stopped delivering. Though our chef, Wilson Rodriguez, is very creative, worrisome feelings started to set in about what could happen during the week of Nov. 5 if deliveries did not resume. When a person living with HIV or AIDS does not have food to eat, there are serious consequences, particularly if their HIV medications have to be taken with food. Therefore, adhering to treatment becomes jeopardized, and anxiety about food takes root. Each day we were reminded how critical it is that we are here for our clients, providing meals and bags of groceries, linkages to housing and crisis counseling.
Even with the emotional intensity of the week, there were heartwarming, inspiring moments. I was deeply moved when board members, volunteers and staff members found ways to travel to our offices, pitched in to cook and serve meals and distributed bags of groceries from our Keith Haring Food Pantry Program. This was a significant, "all-hands-on-deck" situation. Several clients told us how appreciative they were that we remained open. "If you weren't open today, I would have eaten nothing but peanut butter," shared one gentleman.
Close to the end of that week, our Meals Program finally received a food delivery. At the same time we were even able to host a wedding ceremony at GMHC! Two of the agency's friends, Lawrence Neil Chanen and John Eryn Burkhalter, were married in my office. Their wedding faced cancellation due to the hurricane. I took photos, and my spouse, the Hon. Rosalyn H. Richter, an associate justice of the appellate division of the New York State Supreme Court, officiated. It was a touching event. GMHC provided yet another safe space in the aftermath of Hurricane Sandy to this couple.
During the second week after the hurricane, we made a decision to cancel our annual fundraiser, Fashion Forward, in order to continue focusing on our core mission: providing direct support to people living with and affected by HIV and AIDS. A new relief fund, Hurricane Relief Forward, was launched to continue our disaster relief work, as our efforts increase daily with the growing demand for immediate services.
It is clear that the recovery from the hurricane has only begun, and it will be a long journey to heal and rebuild. Yet what is even clearer is the importance of all of us pulling together to be of service to each other. Our hands and our hearts are on deck.
REAL LIFE. REAL NEWS. REAL VOICES.
Help us tell more of the stories that matter from voices that too often remain unheard.