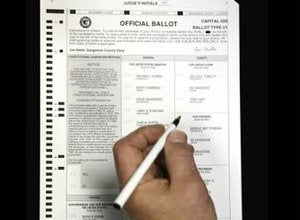 Real change in America won't arrive on November 4 in a compact package, complete with a shiny, new president and congressional Democratic majority. Real change will begin November 5, and positive change will only occur if Progressives demand representation from their leadership, and begin to shape politics first locally, and then spread outward to create national reform.
A fish rots from the head down, and so the American government has been rotting for decades, and we are finally seeing the effects on Wall Street and Main Street. The Progressives miscalculate and misallocate resources when they solely hunt for the presidency. It's also important to snatch congressional seats and local offices in order to push the country left.
Many disheartened citizens feel they don't have the right stuff to run for office. This assumption negates the wisdom found in Margaret Mead's famous words: "Never doubt that a small group of thoughtful committed citizens can change the world. Indeed, it is the only thing that ever has."
Of course citizens can control the destiny of their government. After all, they fund the damn thing. They are government's bosses. It's about time they climbed in the saddle, took the reigns, and steered the country in a more desirable direction.
But real change will start at a local level and build upward. Only a serious, huge Progressive movement will support the occasional Progressive candidate that obtains a position of great power. Otherwise, it's just dye drops in the ocean.
An example of this small fish-big pond syndrome is most clearly illustrated in what Ralph Nader would call a little Dennis Kucinich "window-dressing." The Ohio Congressman is certainly one of the most progressive members of Congress, but he has been unable to create big, sweeping reforms due to being vastly outnumbered by his centrist Democratic colleagues. Think: a field mouse crossing a four-lane highway. Kucinich never stood a chance, but he should be applauded for being one of the last principled idealists left in the government.
It will take an army of Kuciniches to create any real change in the country, but where will these politicians come from? To put it simply: they will come from the people.
Beginning at a local level, Progressives can overtake their government piece-by-piece, beginning with city council positions, then extending to mayoral duties and then finally to governorships, congressional seats, and eventually, yes, the presidency. But first, a Progressive president will need a Progressive Congress in order to get bills passed.
Call it the big fish-small pond strategy. A good example of this approach working is Matt Gonzalez's 2003 campaign for the office of mayor in San Francisco. Matt Gonzalez is currently running as Ralph Nader's vice-presidential nominee for the Independent Party. But back in 2003, Gonzalez was largely unknown on the national stage even though he was one of the first Green Party candidates to be elected to office in the Bay Area.
From the start, his main competitor, Gavin Newsom, outmuscled him financially. Newsom spent over $4 million during the race, while Gonzalez spent around $800,000. With little money and resources, Gonzalez stood on street corners and introduced himself to San Francisco's residents. He attended living room Q&A sessions, and he and his staff went door-to-door and gradually began to take votes from Newsom.
Gonzalez received a major bump in the polls when he enthusiastically embraced the idea of gay marriage, an issue hugely important to San Francisco constituents. In a panic, Newsom matched Gonzalez's enthusiasm, though Newsom had been considerably hesitant to discuss the issue of gay marriage before Gonzalez's statements. Gonzalez's presence in the 2003 mayoral race is credited with Newsom's current stance on gay marriage, a microcosm of what could theoretically happen if more Progressives were permitted in national debates.
It's unfortunate that a Democratic mayoral candidate in San Francisco, Mecca to liberals and gays, can't even speak out in favor of equal rights for citizens. However, it's important to recognize how a progressive candidate running for a local office influenced real policy change. Unlike Kucinich window-dressing, Gonzalez was able to push a Democratic candidate left, and Newsom adopted progressive stances on gay marriage because of his run.
On a ballot with nine candidates, Gonzalez came in second with 19.6 percent of the total vote. Newsom earned 41.9 percent. Since no one secured a majority, there was then a run-off election, which received national and international media coverage. San Francisco has wisely adopted the extremely democratic run-off system that permits third party candidates to competitively campaign. This is also the same system that would have secured the state of Florida for Al Gore in the 2000 election. It gets rid of the stupid policy of awarding a candidate with all of the votes if they haven't secured a majority. See: George W. Bush.
Though Newsom eventually won the race, Gonzalez had emerged as a serious contender, and as the face of a new Progressive movement in California.
Running as a Progressive is not for the fainthearted. Democrats' favorite pastime, ranking higher than even making weak attempts to thwart Republicans, is keeping Progressives out of the election process. Progressives are told to wait four more years to run nationally (as Nader was told in 2000, 2004, and now in 2008,) and they are also told to delay running locally as Gonzalez was heavily pressured to do by California Democrats. If it's not the most critical election ever, ever, then it's just bad timing. It's too sunny to run. It's too rainy. It's the wrong month. Venus is in retrograde.
You get the idea. Democrats can't have Progressives running because they might have to - the horror - adopt some Progressive ideas.
When I recently interviewed Matt Gonzalez, he explained: "I think a healthy challenge by a truly Progressive candidate that shows the strength of the Progressive community makes it clear to the other candidate that he's going to have to face this again four years later unless he realigns his own politics for this new emerging power."
But back to that whole apathetic/scared thing infecting the Progressive movement. Bitching liberals are often overheard lamenting that there aren't enough hours in the day, dollars in the bank, or ounces of courage in voters to get Progressives elected to local seats. Gonzalez disagrees.
"Running for office is important, and you don't really need more than to be right on the issues, and to be able to articulate what it is you believe. You don't need a certain background. You don't need to be a lawyer. You don't need to have some professional degree. If you engage people honestly, and you're willing to do the leg work, people will respond to that. I've run for office, and I've stood on street corners, while people walked by me and didn't want to talk to me, and did not think I was a credible candidate. And then four years later, I was nearly elected mayor of San Francisco, so I know what it takes. It just takes commitment, and a small group of people that will really try to address the issues."
It's too much to hope that the Democrats in Congress will correct their behavior on their own. Nancy Pelosi and Harry Reid have had ample time to show their true intentions, which thus far appear to be rolling around helplessly on their backs and crying. Gonzalez sees the Democrats as unable or unwilling to assertively block the Republicans from steamrolling over themselves and the Constitution:
"Harry Reid has admitted that in the last two years, there have been more Republican filibusters in the Senate than in the history of the United States. Reid lets the Republicans phone-in to say they're going to filibuster. In other words, he doesn't even require them to come to the floor of the Senate and physically have to filibuster. How can these guys call themselves a political party and allow the party in the minority to run over them like this? It's pathetic."
Hope cannot be left in the hands of politicians. It needs to be cared for and cultivated by engaged citizens, who are willing to dip into the political pool. It will take dedication and some time, but Progressives should focus on winning local races and creating a serious, grassroots movement that will grow upward and branch into the dominant levels of government.
Popular in the Community