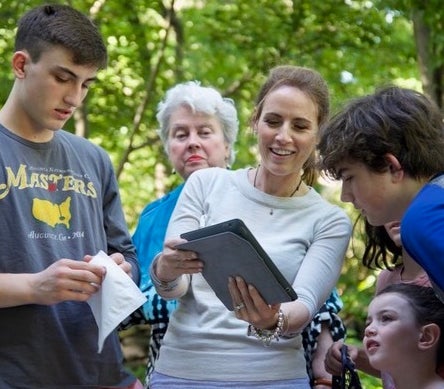 We are blessed to live in a country where freedom exists, in the land of opportunity, a place in which the color of your skin, your religion and your socioeconomic status do not define you. We live in this great melting pot called America. Let's tell our children that story!
All I can think about is you
All I can think about is you
All I can think about is you
Love is the only thing that is true
Each day, like most kids across this nation, I wear my headphones to tune out the noise with a playlist that inspires, motivates, and sparks something within me. Whether the songs and sounds of a familiar voice fill my soul with sadness or hope, or the lyrics say what I so desperately want to express, their meaning and presence in my life often inspire me to overcome my fears. So you might imagine how listening to Coldplay's lyrics of "All I Can Think About Is You" has seemed so meaningful recently.
I believe music, like art, is created for the listener to interpret its meaning, even if it's different for everyone. For me, when I hear these words, I think about the recent events across our nation and how we have somehow arrived at this dark place. In this deeply painful and divisive time, no one has been free of dissension. Regardless of race, religion, age, or gender, we have all been impacted.
As the mother of four kids, ages 5 to 15, and the CEO of a philanthropy whose mission is focused on empowering youth to lead a healthy, high-achieving life, the lyrics, "All I Can Think About is You" reminds me most of our children.
I have learned that our nation's youth believe they are the leaders of today, not tomorrow. It's our responsibility to uplift their voices by enabling them be the change they wish to see in the world, as Gandhi taught us. But, I wonder, are we doing that right now? How can we find more ways to help youth exercise their influence to make a positive impact in their communities and in their school buildings? We have no greater gift than our children and yet, no one has been more deeply affected by the harsh rhetoric shared across a range of issues, than our kids.
For just a minute I want you to imagine what it is like to be a child today.
From proposed Immigration reform to Charlottesville to the possible repeal of DACA, known as the DREAM Act, to Hurricanes Harvey and Irma to the devastation in Puerto Rico, to the senseless violence in Las Vegas, imagine for a second what it is like to be a child. To walk into the school building in Houston when you've lost your home, your personal possessions and, but for the school meal, you don't know when and where your next meal will come from. To walk into your school building following riots or a mass shooting, living in fear of the unknown. To be an immigrant child worried that you could be deported in a moment's notice.
Now, more than ever, is the time to support our students and our educators alike. They need our support and our counsel to better understand how to address racial bias, fear, homelessness, food insecurity and the implications of a natural disaster. Never before in my lifetime has the role of the teacher been more necessary or meaningful than it is today. Never before have our school buildings been more sacred.
As the generations before them we have a tremendous opportunity to lead by example for this next, greatest generation, and demonstrate why unity and American exceptionalism are what bonds and unites us.
I have the great privilege of advising CEOs, companies and industries on their communications plan, go to market strategy and how best to handle a public relations crisis. In each case, I ask them to do one very important task. Put themselves in the other person's shoes. Whether they are negotiating a deal, meeting a vendor, being interviewed by a reporter, selling a product to their consumers or engaging their fan base on social media, I ask them to listen and learn. Equally as important is to look for what they're not telling you, which I call their pain points. Often times what they don't tell you, is where they need the most help.
The same is true for our kids. What are our kids, your kids, not saying, but feeling right now? We teach our kids that "actions speak louder than words." In teaching our kids, through our actions that we may differ, but we should never embrace hate, we can help address their pain and show them by example the power that love has to help heal, empower and unite. As Nelson Mandela said, hate is an acquired learning. Love is what we give when people are hurting, homes are lost and lives are forever changed.
Today, I am asking you, the American people, the moms, dads, sisters and brothers, to consider my advice because we can only do this together! We must unite to help solve the issues of our time and embrace our most precious asset, our children, by letting their voices be heard. "All I Can Think About is You" is that kid sitting next to you right now searching for meaning. So as we go forward, I ask you to do three things:
1.) Ask them how they're feeling, and listen to the answers. Give them your voice, open your heart and help them understand why we are in this dark place. Explain why we live in the greatest country in the world. Cherish them.
2.) Uplift and thank our teachers profusely for they have the power to give our greatest generation the answers, opportunity and ability to understand and live the American Dream. Our teachers can show them how to use their voices to create change and help demonstrate how gratitude and kindness are what lead and define us each and every day.
3.) Unite and stand as one. Engage in peaceful protests and in the exchange of ideas. A difference of opinions is the American way. Show them in our actions, not just our words.
God Bless America, those who serve and unite us, those who protect our freedom and liberty, and let us not forget those whose future - our future - depends on. United We Stand!
Alexis Glick is a financial media personality, frequently appearing on CNN where she provides her perspective on issues impacting global business, corporate leadership and Wall Street. Glick also serves as guest writer periodically on Fortune Insiders. Glick serves as CEO of GENYOUth, a nonprofit organization empowering students to create a healthier future for themselves and their peers. Glick is the proud mother of four children and serves on the boards of the Roman Catholic Archdiocese of New York and the United Healthcare Children's Foundation. www.alexisglick.com
Calling all HuffPost superfans!
Sign up for membership to become a founding member and help shape HuffPost's next chapter
This post was published on the now-closed HuffPost Contributor platform. Contributors control their own work and posted freely to our site. If you need to flag this entry as abusive,
send us an email
.