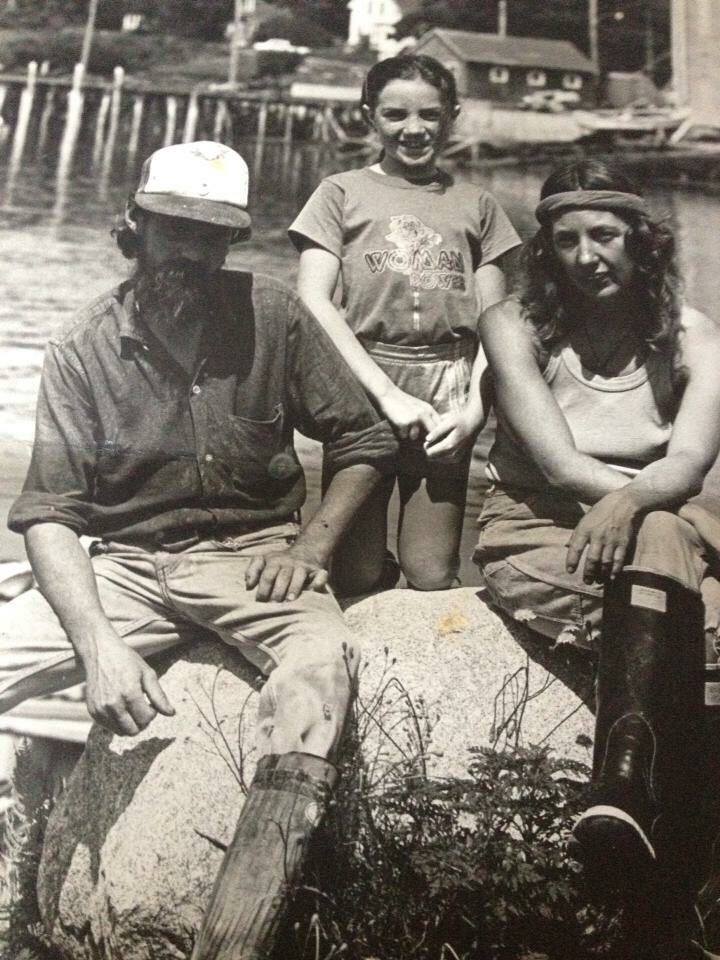 On a Sunday afternoon after church I get on my rusty old bike and pedal down to Sandy Beach, a small rocky cove on the southwest edge of Peaks Island. I know I will find Kat Farrin there, and I do. Kat is sitting comfortably with her back nestled into a wall of stone. I settle down on the rocks and I watch Kat paint. She dips a fine tip pen into primary colors arranged on a shell that fits inside her palm and carefully paints dots onto a piece of driftwood. As I watch her work, an image emerges out of the wood. The tide is coming in and the ocean laps gently at our feet. It's early spring and the air is still chilly. A light drizzle falls intermittently. The delicate spring green buds on the oak that leans low onto the beach have barely opened. Kat comes here almost every day to paint, even in winter.
I've admired Kat's paintings over the years I've known her living out on Peaks Island. Her paintings are integrated into sculptures, into found art. The three-dimensional object that Kat chooses to paint interacts in an integral way with the images painted on it in fine dots. Think of Seurat's pointillism or Australian Aboriginal art. One of my favorite pieces is her deer totem. Painted onto a mask that Kat picked up at a yard sale, the expression in the deer's eyes, the unusual markings, even the cross encircled with pink flowers painted onto the deer's forehead take on magical meaning. The deer's gaze is sacred.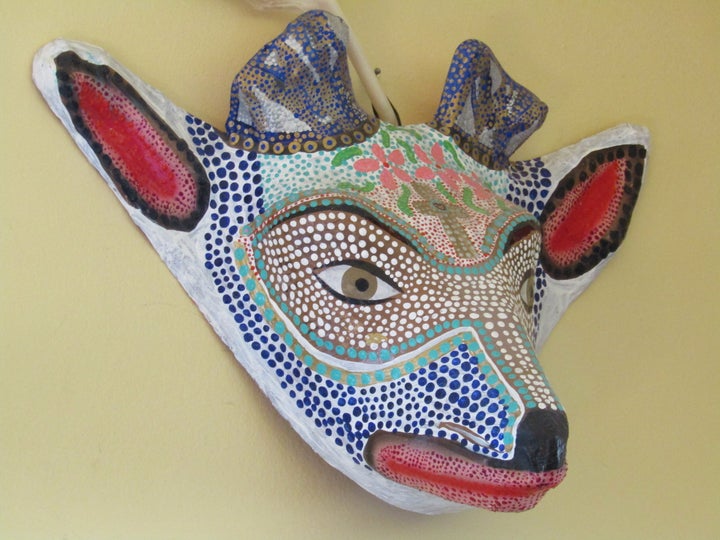 Another transformation is the iguana piece. Painted onto a piece of driftwood that washed up onto the backshore, this delightful sculpture-painting in bright greens and yellows looks like an iguana about to pounce on its prey. It evens has horns and ridges on its back.
A photograph of a detailed board depicting blue, green, even red, waves positioned as a gangplank into the ocean is an example of Kat's experimentations with placing her sculptural paintings in natural settings that continue their story.
I ask Kat about her process.
"Years back when I got my bachelor's degree I had an idea to use the grain in a big piece of plywood as part of the painting. I also would see things in the grain, the same as I pick up a piece of driftwood and already see an owl, or a seal, or sometimes I might paint an owl and then see a turtle inside it, or see the eyes of an animal in the grain and start there. Sometimes it turns into something else. I rarely plan out my paintings, unless there is something really specific I want to paint, such as the outline of a deer. I started putting occasional dots into my paintings and then at one time randomly saw Aboriginal dot paintings in a magazine spread and became so excited I started to add more and more dots until eventually I was dotting the images that appear on the grain of the wood. I particularly like it when pieces of wood drift in or when I find a beaver chewed piece of wood that has drifted up on the beach from some distant overflowed river. These to me are gifts or treasures that the ocean has imparted on me and which I choose to paint. Sometimes I might think I want to paint a mermaid or a deer or an owl and other times I just look at the wood. Recently, I had a piece of wood where I saw the image of an octopus and then found several more in the wood."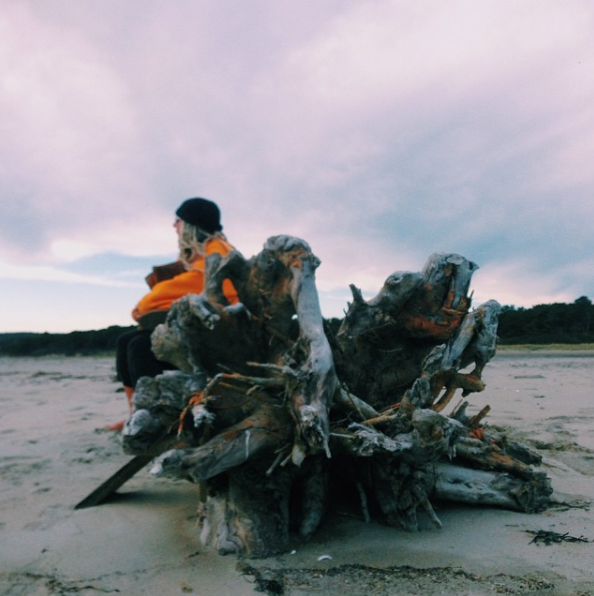 "What professional training did you receive as an artist?"
"I took a drawing class once. When I got my Master of Fine Arts degree at Goddard college I did independent study, so I had the freedom to focus on anything I chose to. I've taken workshops here and there, but mainly it is my own deep connection to nature that informs me and my longing for bright colors. I paint along, thinking a painting will be all blue and suddenly out of nowhere I hear the word inside that says 'orange' and the painting changes. I may start out with an idea, but rarely does it stay the same. On occasion I have finished a tiny driftwood owl on the beach in an afternoon. And then there was the time it took me at least two solid months to paint the entire very fine grain of say a 3' x 4' high quality plywood, dotting every bit of grain in all blues. That was in the middle of winter and I listened to audio books for hours and hours of every day and watched birds out my window."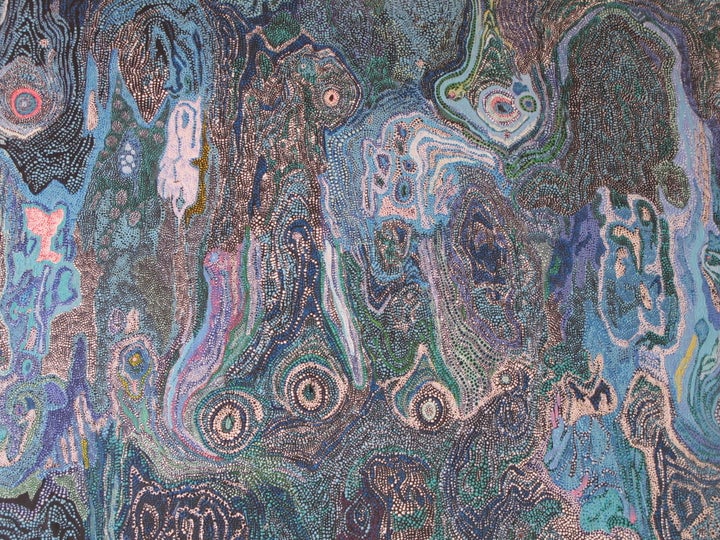 "Do you consider yourself a Maine artist?"
"While living on Cliff Island I did a series of lobster paintings, probably at least 13, but they were not the norm. Some of these were from plywood shaped like a trap, another was of a giant lobster standing up with the title 'she arose' on the painting. I've had friends cut 4' circles out of plywood and smaller circles, one of which I called 'holy nest.' Both the outside walls of my home on Cliff Island and my house in my hometown of South Bristol were covered with paintings pounded onto them. The walls of a studio apartment I lived in on Peaks Island some years back were covered with wall to wall paintings."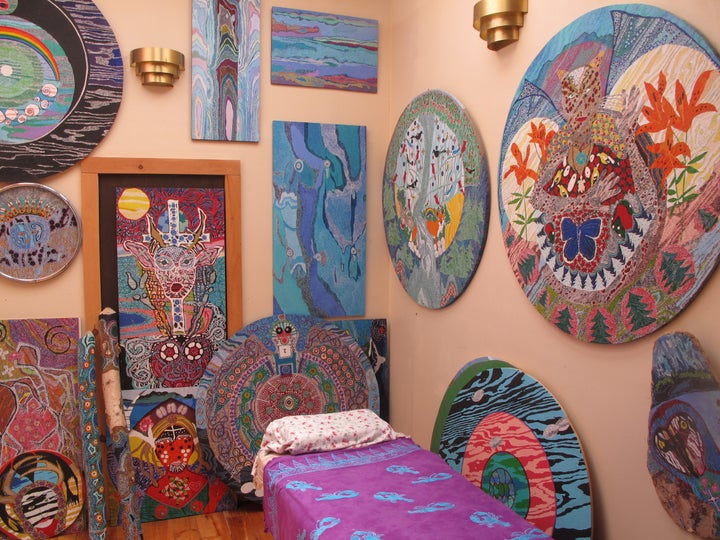 "When did you start painting?"
"My first memory is of painting," Kat says. "I had a tin of watercolors. I'd take my mother's Holland stationary tablets and I'd paint on them. Then I'd fold up the wet paintings and put them under the wood stove in the living room. I'd wait for them to dry. Then I'd pull them out and unfold them and look at how the painting had changed. They would have different colors and designs. I was interested in transformation even back then. I found my center in my early years through painting. I would do paint-by-numbers as a child. Paint-by-numbers taught me how to see miniature detail. That's how I learned how to see the grain in wood. My childhood home was chaotic and the precision of paint-by-numbers grounded me. When I was ten or twelve my father gave me an old wooden row boat. I painted each board on that boat a different color and then I went out on the ocean in it. My father owned a lobster pound. Fisherman would bring in lobster with misshapen claws. He would take the claws and spray paint them red and put them up on a piece of plywood. He called it 'Odd Claws at Farrin's.'"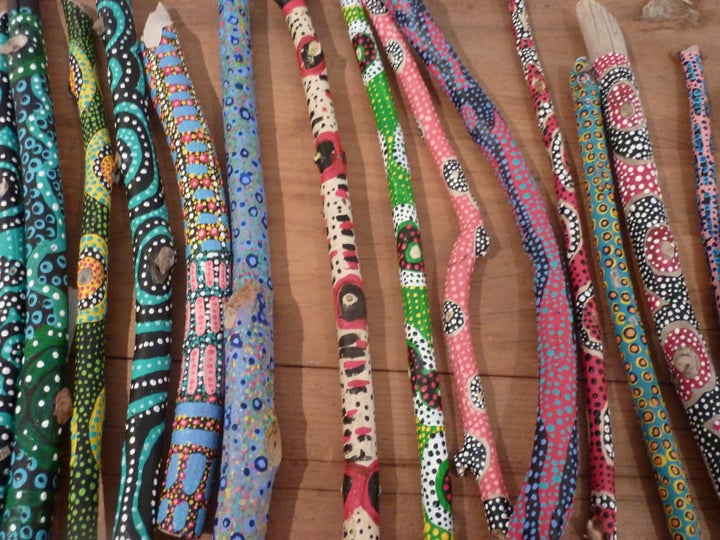 Kat grew up in South Bristol in midcoast Maine. She was a child in the fifties before the Maine coast was developed the way it is today. When she talks about her childhood on the ocean it brings me back into another time, another world, a simpler world. South Bristol is located on a peninsula with Rutherford Island attached to it. According to the 2010 census 892 people live in South Bristol. It is a fishing and resort area and was incorporated as a town in 1765.
"I grew up taking my bike and pedaling to the outskirts of the island and just being in nature. I had my sacred places. When those sacred places began to be developed that's when I left South Bristol."
I ask Kat about her ties to the ocean.
"I've lived most of my life beside the ocean. I was born by the ocean. My childhood was spent on an island surrounded by water. I feel at home outside, listening to waves, watching seals, watching eagles and egrets fly overhead. When I'm on the beach I have that feeling of being totally alive. Painting on the beach is meditation. I can 'be' there with the bigger picture. Painting is something that helps me remain in the present, moment to moment. The power of the ocean is particularly important for women. Our bodies are something like 80% water. That's why the ocean draws us in. The ocean is a source of our creativity. It is our life blood. A lot of my paintings were inspired by the colors of the ocean, by variations of blue."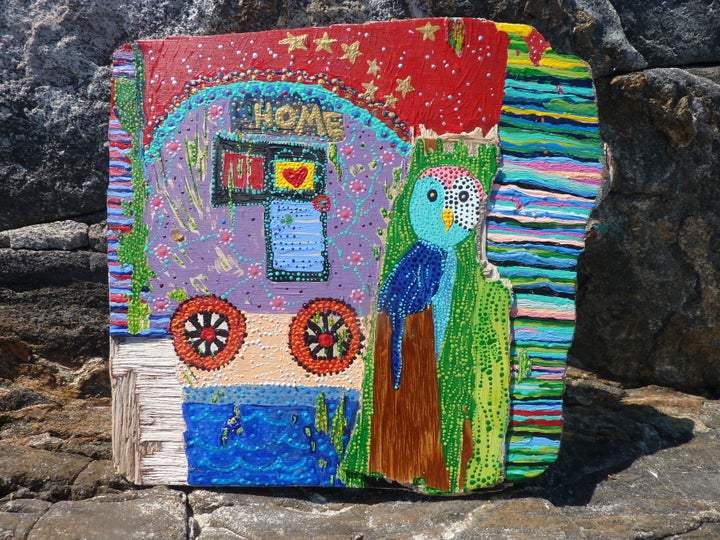 I ask Kat about the image of an owl that is taking shape in her painting.
"The heron, the owl, those are my totems," Kat says. "They are symbols that come from nature and work their way into my paintings."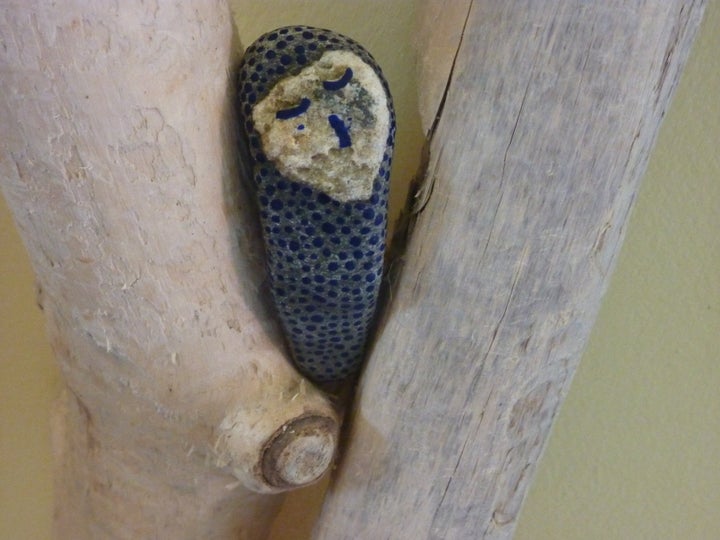 Kat pulls up the sleeve of her fleece. "You see my tattoo," she says. "It's a seahorse. I got it 25 years ago for protection on the ocean. I wore a seahorse necklace around my neck when I was pregnant with my youngest daughter, Fox. Once when I was out lobstering I pulled up a trap and there was a seahorse."
Kat had been a lobsterwoman for most of her life. I ask her to tell me about her life lobstering on the ocean.
"I named my first boat that I owned myself for lobstering, She Wolf. I started lobstering when I was 25. I had my first baby when I was 23. I was working cleaning houses and I got to the point that I couldn't look at another toilet. My brother offered me a job on his lobster boat. I went out with him for a year and learned the ropes. After that I started my own lobstering business. I stopped lobstering when I was 55. I did it for thirty years, and most of those years out alone on my boat on the ocean."
"I was lobstering in John's Bay and in the Damariscotta River in the South Bristol area. For over 20 years I had my own boat. My boat had an 8-horse power motor. The boat was about 14 feet long. It was a flat bottom wooden skiff. I had no winches, so I had to haul my lobster traps the old way, hand over hand. I'd haul 75 traps a day. When you haul hand over hand the work is repetitive and it's meditative. The hand work was organic and it made me physically strong. One time I beat a super-macho woman in a hand wrestling match. I was that strong!" Kat says and laughs.
I'm curious about the connection between lobstering and art and what that means for Kat. "How did you reconcile lobstering with making art?" I ask.
"Because I had my own business, I had the freedom to stop when I just wanted to gaze at the sky. I'd drift in my boat. I'd go to the head of the Bay. I'd sing out to the seals and their heads would pop up. I was deeply connected with nature. I have beautiful memories of being out on the water. My home was on the water. My father owned a lobster pound. My brother and uncles and cousins would all be out lobstering on their own boats. We had a real community out on the water. I'd be out on the water six hours a day."
"How long is the lobstering season?"
"I got ready for lobstering in the spring. I'd paint and prepare my traps and buoys. I'd set the traps in June. Then I made money July through early November. Over the winter I'd paint and take care of my children. I was a single mother to four children. Each of my children had a different father."
"What's a typical day like?"
"The earlier you can get on the water the more calm it is. If you can beat the wind, you have an easier time hauling. So, I got used to waking up before dawn. I had to bring my kids to daycare at seven. That meant I only got out on the water at 7:30. Otherwise, I could get out much earlier."
I ask the obvious question, "Did you eat a lot of lobster in those days?"
"Oh no," Kat says, "I didn't eat a lot of lobster growing up or lobstering. That's because lobster equals money. You can only have lobster on special occasions."
"How did you end up out on Cliff Island?"
"One day I was out hauling a trap when it occurred to me that I could do something different or I could just do what I was doing. I started looking for real estate in Portland. I ended up finding a place on Cliff Island. I bought a seasonal cottage on Cliff Island for $30,000. I raised my youngest son on Cliff Island. We had no running water. We'd collect our water in rain barrels. In the winter I'd have to hack through the ice with a hatchet. We had an electric toilet and a pee bucket. When the ocean was rough spray would hit our windows. Cliff Island was magical. There's only one road on Cliff Island and it's a dirt road. Now my son says he grew up in poverty. But it wasn't poverty. I chose that life. Poverty happens to you. You don't choose it."
"Did you lobster out on Cliff?"
"When I moved to Cliff Island I thought I was done with lobstering, but people kept hiring me to work on their boats because I knew how it was done. The seas out there are rough. I did seven more years of working on boats."
"Why did you leave Cliff Island?"
"In the years before the City of Portland began killing the deer on the islands, we had 60 people on Cliff Island and 60 deer. I developed a relationship with the deer. I had a spiritual connection with the deer. They would come into my door yard. I dreamed I'd been initiated into a deer society. I painted the deer. My son and I would find deer antlers all over the island. When people on Cliff Island began fighting bitterly over killing the deer, that's when I felt I had to leave. That's when I sold my house and began renting on Peaks Island."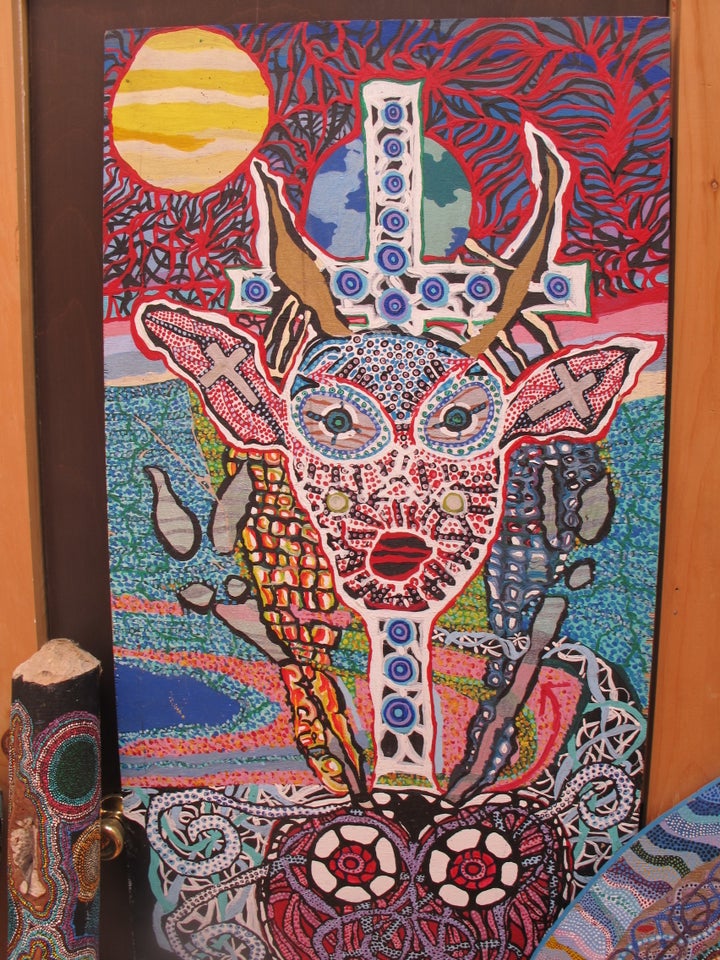 I am Facebook friends with Kat. I always look forward to Kat's posts of photos of the sunrise and the sunset. If I miss a sunset on Peaks because I was in town or too busy to notice it or away, I know I can go to Kat's page and experience the beauty and magic of the day's sunrise or sunset.
I say to Kat, "Facebook is your artist's gallery."
"I always took photos of nature," Kat says, "and out on Cliff I'd sell them as postcards. In the Cliff Island days I used a film camera. It would be so exciting to get the photos back when they were developed. A few years ago I got a digital camera and then I really went wild. Living on Peaks I became obsessed with going out to the backshore to see the full moon rising. I also go out there to see the sunrise. There is something about the early morning light. Yesterday morning I glanced some pink out my window, so I hopped on my bike and pedaled out to the backshore. I caught the sky on fire."
"Why are sunrise and sunset so important to you?"
"Sunrise and sunset feel like the most alive parts of the day. The sky changes colors and at sunrise all the birds wake up. It's like surround sound. Sunset is, as they say, the crack between the worlds when everything takes on an element of being able to slip into some other dimension..."
I ask Kat what she plans to do with her paintings.
"I told my younger son the paintings were his inheritance and some time back he drove them all away in a U-Haul van. I had reached the point where there were so many and they were so heavy they filled the back of a pickup truck. Whether it's the fates or my general nature, I seem to keep moving and have not driven a vehicle for years, so I simply cannot keep dragging this part of my life around, so I have surrendered it to my son. Within the last years, I must have moved seven times and am about to move again. I feel a sadness at all this moving, but I'm like an ocean bird flying from island to island on such a long flight I need to set down to rest, and then I keep moving. The place where I feel most at home is right next to the water. For over twenty years I hauled 150 lobster traps by hand, 75 traps a day, from a wooden skiff. Then I moved to another island and worked on other boats for another seven years. At age 55 I let that all go. I am constantly looking for HOME and no 'place' can seem to hold me, though I keep hoping it will."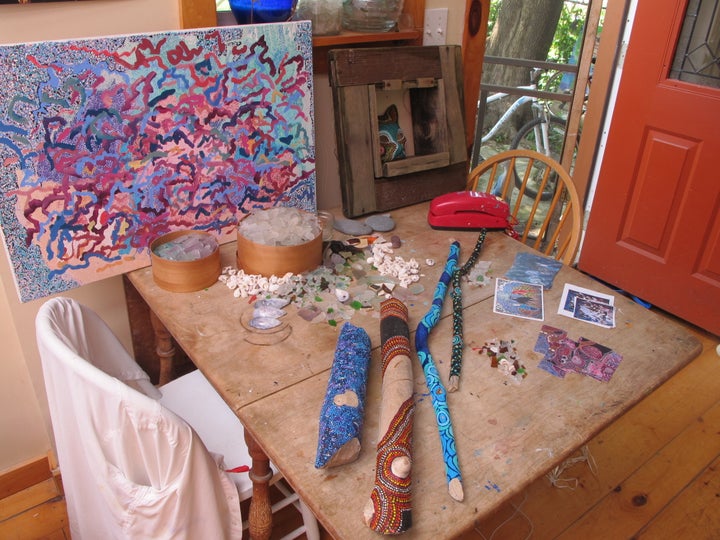 i was three. he thirteen.
all i wanted was wings. he promised.
in the earliest morning in the dark
i go to the tree. the tree my father shot from the sky
the wings. i search. they are nowhere.
the only wings on top of the tree, the angel
still. unmoving. golden paper, crinkled.
fiberglass do not touch it could cut.
maybe i wanted to fly away to the full moon
a giant cookie i always wanted to have
today i want to fly but the wings
they must grow out of my body
as i take the long flight
my brother, ten years older than me
christmas morning i go there
to the tree my father has shot from the sky
the angel looks down from the top of the tree
and on every branch the stars, bells, reindeer
cookie my mother has made and decorated... hand silently
a voice says take a deep breath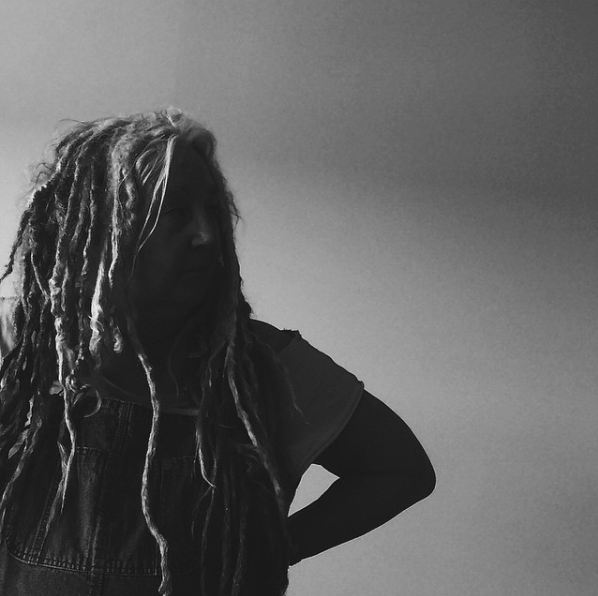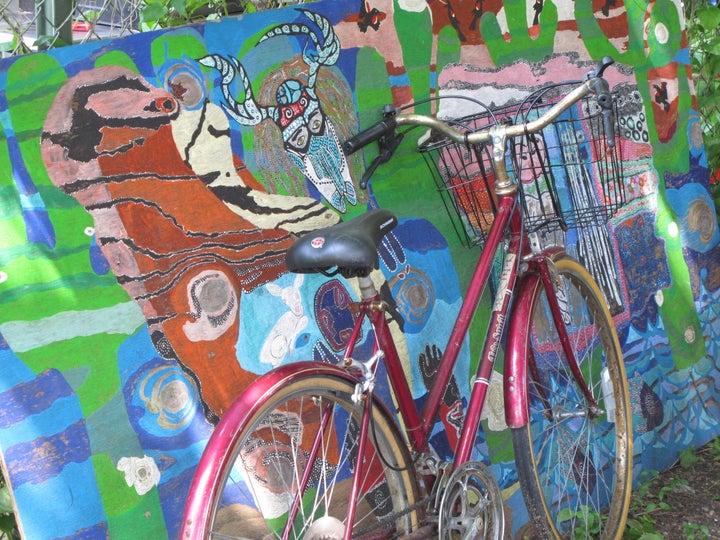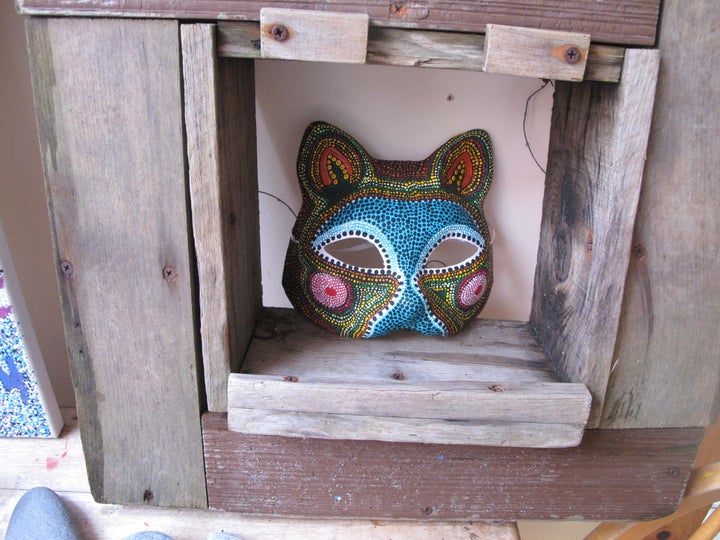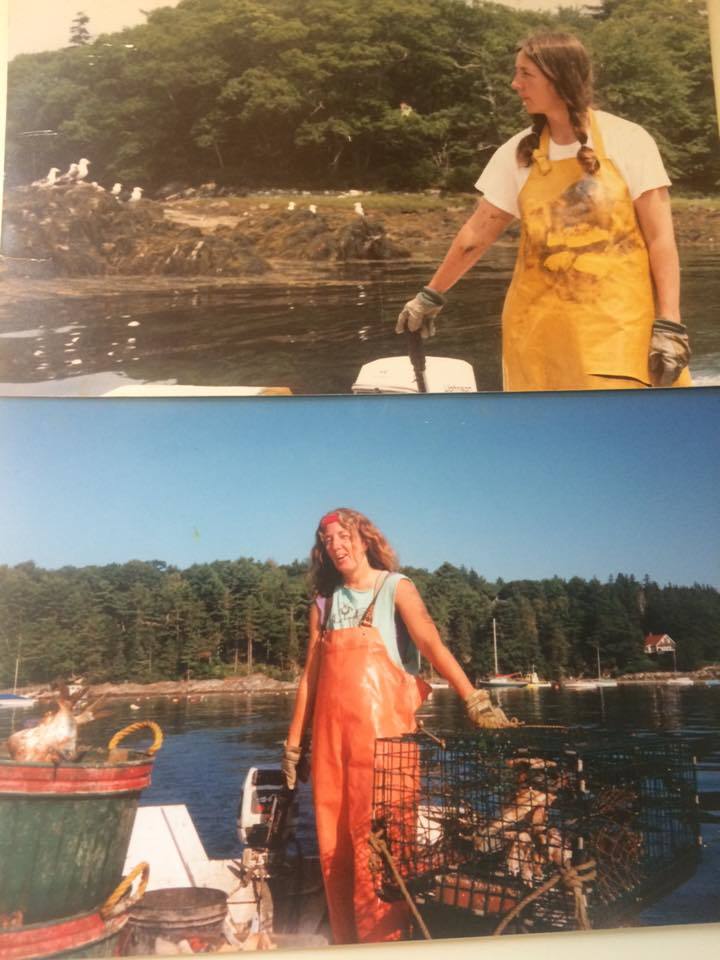 This essay is available along with others in THE WAY LIFE SHOULD BE by Laima Vince.
Popular in the Community