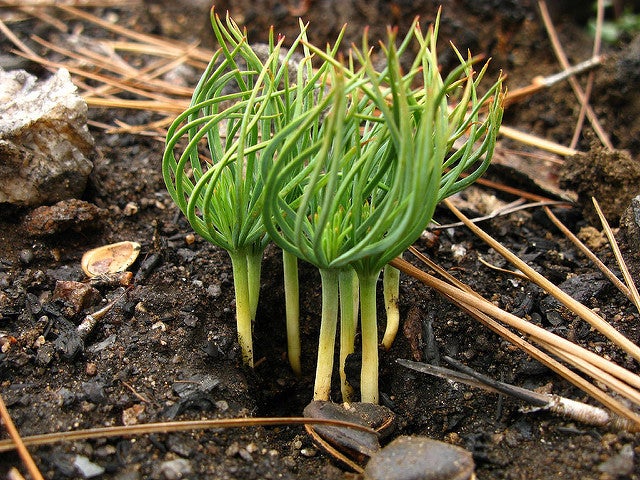 This gorgeous image of a Coulter pine seedling was taken by David Silva nine months after the 2008 Basin Complex Fire swept through Tassajara Zen Mountain Monastery. It's an arresting testament to how quickly life reasserts itself from seeds hidden in the soil, a small, sturdy reminder that we can find opportunity and beauty in the aftermath of disaster, if we are willing to look.
This past summer, fire scorched the wilderness around Tassajara again. The Soberanes Fire closed the monastery's guest season in July, and it never reopened. But for a variety of reasons, the fire never reached Tassajara. The 2008 incident earned the nickname the "three-day-away fire" at Tassajara after fire managers continually predicted it to be that distance away, until it arrived suddenly after three weeks of waiting. The 2016 Soberanes Fire could be called "the fire that never arrived"—at least to Tassajara.
Millions of taxpayer dollars were spent fighting the Soberanes Fire—started by an illegal campfire. Some have deemed it the most expensive firefight in U.S. history, at a cost of at least $262 million. The burn footprint is 132,127 acres. People were injured; two were killed. Countless animals were displaced and died. People lost their homes. Tassajara lost its crucial revenue-generating guest season. I was booked for a stay a week after the fire closed Tassajara and all reservations were cancelled. It was the first summer in more than 15 years that I haven't spent time there. As a result, life feels slightly out of alignment.
But today I'm thinking of an observation former San Francisco Zen Center abbot Myogen Steve Stücky made during a 2008 dharma talk after the fire. "One of our fire advisors talked about the kind of fire he likes to fight. I thought, 'It's good to know the kind of fire you like to fight.' But I actually don't know enough about a fire I'd like to fight." Myogen spoke to me about this moment too, when I interviewed him for Fire Monks: Zen Mind Meets Wildfire—about the 2008 fire. He had full confidence in the merits of not knowing. In his talk, he went on to say, "This practice gives some strength to be ready to meet whatever arises. Not knowing what kind of fire might arise is a practice of a fire monk."
I didn't write Fire Monks just for Buddhist readers, or just because it was a dramatic story. I wrote it because its core message is as evergreen as the needles of the pine. Fire Monks presented a situation emblematic of our fundamental human situation, and it showed well intentioned but imperfect people moving through difficulty, uncertainty, and even chaos with grace, wisdom, and humanity. I think that's an example we all need, both now and perpetually.
The Soberanes Fire is 100 percent contained. Fire season in California is drawing to a quiet close with the recent rains. But there's always a fire burning somewhere, for someone. Right now it feels as if the whole world is aflame, just like the Buddha said more than 2,500 years ago, after his enlightenment. There's smoldering discontent and unease. There's flammable hatred and alienation. We have a president-elect who seems unable to dampen his own greed, anger, and delusion.
No matter who you voted for in November's election, you can feel the prevailing atmosphere of uncertainty. All across America, people are stirred-up and afraid. What kind of fire is coming? For me it's helpful to admit that I really don't know. My job is to stay calm, alert, and ready to meet whatever comes. Also, to think clearly and act decisively. These directives make up one of the Ten Standard Orders a firefighter follows. They also describe the ongoing practice of a fire monk.
Last summer, Tassajara residents again lay hoses, tested pumps, cleared brush, dug trenches, kept watch, and tried to laugh enough and get sufficient rest. They sat zazen (meditation), a good mirror for assessing what's really going on inside mind and body, for what is true beyond words or politics. The fire never came, but it could have, so they just kept up their steady efforts.
We can learn from this brave example even if we never pick up a fire hose. We can listen to what sociologist Arlie Russell Hochschild, author of Strangers in Their Own Land, calls the "deep story" of those we don't understand—the story that has the potential to unite instead of divide. We don't need to panic. We do need to resolve to act from a place of clear intentions. We need to take care of what is sacred to us, moment by moment, knowing that we can't predict what kind of fire is coming or the results of our efforts to meet it.
We can get to work. We don't know what might spout up out of the burned soil. Our clear and continued effort is all we really ever have.