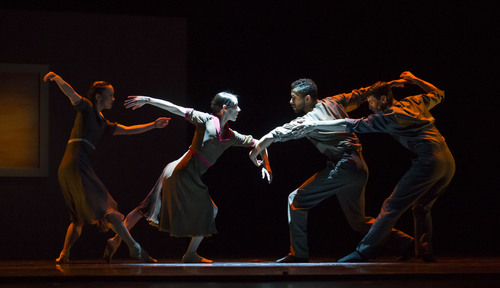 Hubbard Street Dancers in "The Impossible" by Resident Choreographer Alejandro Cerrudo, from left: Jessica Tong, Ana Lopez, Jonathan Fredrickson and Andrew Murdock. Photo by Todd Rosenberg
Hubbard Street Dance Chicago brought together three impeccably danced pieces at the Harris Theater Thursday night-one of which was resident choreographer Alejandro Cerrudo's world premiere, The Impossible.
Starting out with a dramatic puff of cigar smoke and a single red candle, the audience first meets devilish Johnny McMillan, who is a shadowy figure and a force of evil throughout. Later he will be joined by a strong cadre of five other men who command the stage and careen through steps with both power and precision.
In the interim, a stooped old couple dances with little verve but much tenderness, draping themselves over one another and moving ever so gingerly. Soon they are joined by a younger couple (earlier versions of themselves?) and all four then dance together, offering both a reminder of what has been lost over time and a spark of joy for what is still left of love.
Ana Lopez and Jonathan Fredrickson capture the very essence of old age without being too literal. The choreography has the other couple helping them dance, gently lifting arms and moving limbs. It's at once ghostly, sweet and sorrowful.
Branimira Ivanova's costume design is subtle with just a few pops of color, such as the red socks and suspenders for McMillan's costume-the perfect hint of drama. And the music, although by a variety of different artists, comes together seamlessly to help solidify the overall vision.
Cerrudo's ability to tug at the heartstrings while merely hinting at a wisp of a storyline is phenomenal. Many of his hallmarks are here-slow motion movement, a simple, yet theatrical set, and the intense lighting design by Michael Korsch-yet, he offers some new possibilities through this choreography. The only small flaw in this new work of his is that it didn't last quite long enough to see them all through.
Gnawa opens the program with Nacho Duato's stunningly musical choreography. Dancers place candles at the edge of the stage and move through the piece effortlessly, making a multitude of marvelous shapes as they go. The strength and control of the dancers is evident here as they make each movement appear completely natural-no matter how difficult. It's easy to see that when Duato made this piece for them in 2005 he was intent on showcasing the abilities of the company. And showcase them it does.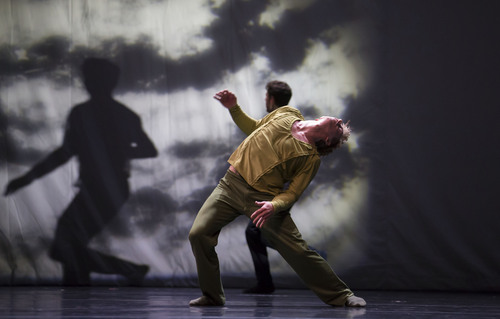 Hubbard Street Dancers David Schultz, foreground, and Kevin J. Shannon in "Quintett" by William Forsythe. Photo by Todd Rosenberg
Forsythe's Quintett puts forth both vitality and vulnerability as the dancers whirl through its tortuous choreography, set to composer Gavin Bryars' composition "Jesus' Blood Never Failed Me Yet". Although this piece was only recently debuted by the company (2012), it is clear that it is well-suited to their skills. The sometimes graceful, other times erratic movements in the choreography are performed with aplomb by all five of the dancers-and this is by no means an easy task.
The stark set includes a projector which remains idle until the final minutes of the piece. It comes to life suddenly, throwing imagery against the white backdrop, but the focus is quickly torn away by the intensity of the lovely Ana Lopes who continues dancing with a sense of reckless abandon as the curtain lowers.

This post was first published on 4dancers.org
REAL LIFE. REAL NEWS. REAL VOICES.
Help us tell more of the stories that matter from voices that too often remain unheard.