For anyone who delights in Taylor Negron's talents as an actor, standup comedian, playwright, and writer, this exhibition of his paintings will confirm the dazzling Renaissance scope of his gifts. But even if you have no idea of the man who has appeared in over forty movies and nearly one hundred TV episodes, you'll be smitten by his riveting images of family and friends on view in Echo Park.
These two dozen small-scale, informal portraits have an intense presence that belies their intimate size and understated execution. Piquant color and energetic draftsmanship give the sitters a startling immediacy; a flame burns beneath their louche, nonchalant air. Negron's work has something of the crackling electricity of Schiele and the probity of Alice Neel.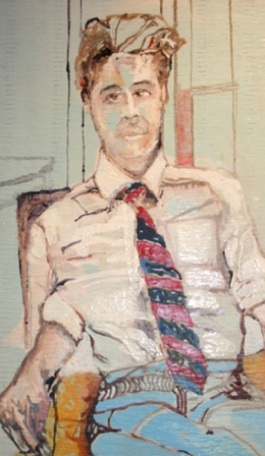 Ethan - Tusk in Echo China
Negron describes his approach to portrait painting in his essay On Painting:
I used to know a very straightforward heavy-set lesbian named "Rocco" who would ask her potential lovers, "How much weight can your body take?" Very to the point.
I think this is a healthy technique, because when it comes right down to it, no one likes surprises.
I try to apply this direct approach to my paintings. Before I paint someone, I always ask, "How much examination can your body take?" "How much do you want me to see?"
Most people don't really like to pose. It is difficult to get them to be present and relaxed under this kind of molecular scrutiny. I want them to understand I'm not simply painting them, I am painting them within a precise moment in time, as a shadow moves across their eyebrows. Then it is gone. The moment is over.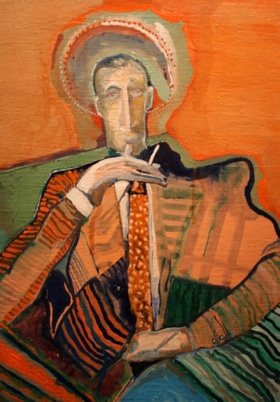 The Gentleman Smoking a Cigarette
Most of the subjects in this show are from Negron's close circle of show business friends. In a sense, they represent his integration of the two worlds of public and private expression that he has long straddled as performer and painter. Despite this duality, Negron observes, "My creativity all comes from the same place. I wear one very comfortable, large hat." Actually, his interest in painting preceded his acting career. While in high school, he won a scholarship to the Art Center College of Design in Pasadena and went on to study painting in San Francisco and New York. It was a stint as an extra in the Barbra Streisand film The Main Event that by chance drew Negron away from the path of a full-time painter. He had become an extra as a twenty-year-old to earn money and to sketch other extras on the set. ("It was like having free models," he marvels.) Negron was chosen out of the crowd "to do a little acting business" with Streisand in a scene--and that chance moment launched his long and successful acting career. No matter how frenzied and full his stage and screen work has been since his extra days, however, Negron never put down his brushes. And this gem of an exhibition only hints at the great and prodigious talent that he has managed to nurture along the way.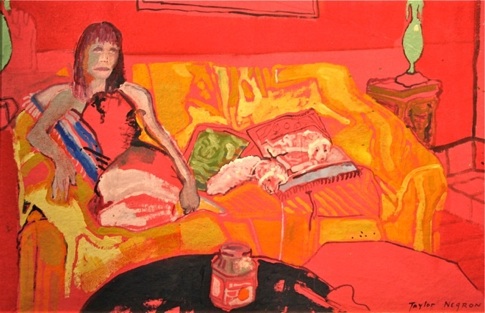 The exhibition runs through July 24.
Open reception for the artist on Friday, July 1, 5:00-10:00 pm.
Hotel de Ville Lifestyle, 1932 Echo Park Ave., Los Angeles.
A word about the show's venue: Hotel de Ville Lifestyle is a buzz-worthy frame shop in Echo Park run by Dana Premer. Premer is trained as an art historian and has a unique, inspired eye. Her framing encourages visual revelations in a remarkable way.
Calling all HuffPost superfans!
Sign up for membership to become a founding member and help shape HuffPost's next chapter