The specific meme (see below) reads, "All lives splatter. Nobody cares about your protest. Keep your ass out of the road." 
The unnamed employee shared the meme from another Facebook page called "Libtards; you gotta love 'em!" with the comment, "I don't wish harm on anyone ... but protesters don't belong in the road!"
Of all days, the post went up on Sept. 11 ― not that a threat against Americans exercising their right to protest would have been any less abhorrent on any other day.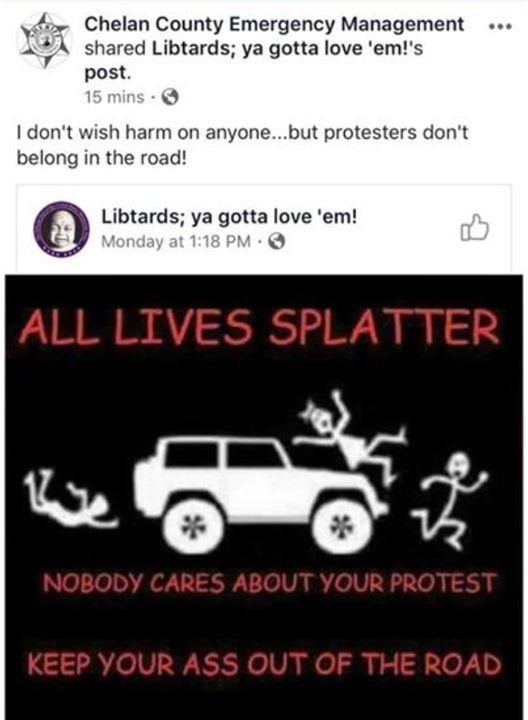 Chelan County Sheriff Brian Burnett said the post was sent to the employee's personal Facebook account and then shared by mistake on the department's emergency management page, the Yakima Herald reported.
The message was deleted shortly after it was discovered. The department also posted an apology saying that the "All Lives Splatter" meme "does not reflect the views of the Sheriff's Office." 
Burnett said changes have been implemented to make sure mistakes like this don't happen again. His statement did not mention whether the employee who posted the meme would be disciplined.
The unnamed employee commented on the apology post anonymously to try to explain what happened ― in a technical sense: "I work off a computer but it does give options of who to share with and I must not have caught that it was sharing to [the Emergency Management page]. ... I had planned to share with a cousin primarily. I just did it too fast or something."
However, the poster didn't acknowledge the real issue, the reason why people found the meme so disturbing: It suggests that it's perfectly acceptable to run over protesters in the streets, especially those marching for Black Lives Matter.
Facebook user Melissa Aaron, made that point in response to the apology post:
"You've incurred the wrath of so many people, myself included, with a post that ridiculed the murder of a woman and the felonious assault of 19 others. The very least you should do is inform the public (many of whom spend time in Chelan County) that you will discipline the employee who posted the offensive meme and inform him or her that any future infractions of this sort will result in termination. Anything else is tacit support."
Calling all HuffPost superfans!
Sign up for membership to become a founding member and help shape HuffPost's next chapter
BEFORE YOU GO