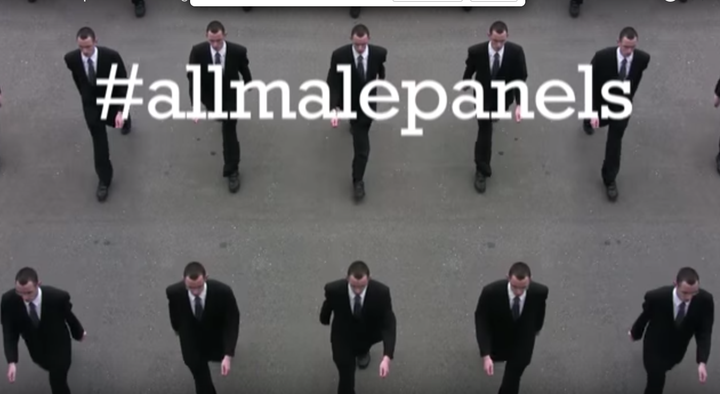 Hey guys! You can do something very simple to help achieve gender equality in the business world. Just say no to all-male panels.
"Too often I've been the only woman on a panel. It is time that we challenge the status quo and stop making excuses -- there is no shortage of qualified women," Kingo said in a statement, part of her opening remarks at the Women's Empowerment Principles annual event in New York.
The U.N. Global Compact plans on urging its 8,500 member companies, including Coca-Cola, Cisco, HP and Johnson & Johnson, to also take the pledge. Notably, some of the biggest tech companies, including Google and Facebook, have not signed on to the Global Compact -- a commitment to higher standards on environmental, labor and human rights issues. The tech industry is somewhat notorious for heavily male events, as personified by bathroom lines at events like Apple's Worldwide Developers Conference:
But "manels" (get it?) are definitely not just a tech industry problem. Far too many conferences feature talks exclusively hosted by men. Just this past winter at the World Economic Forum in Davos -- the business world's super-fancy schmooze-fest in Switzerland -- a stunning 20 percent of the panels were all-male. Women were almost entirely absent from the panels this year at congressional hearings discussing the U.S.-Iran deal, even though women were key players in structuring the deal, The Brookings Institution recently noted.
The #panelpledge movement started in Australia and was inspired by this terrific piece in The Atlantic urging the tech industry to take up the cause. The Women's Leadership Institute in Australia even put together a handy toolkit for those who want to say no.
It's easy! When you're invited to participate on a panel, ask the organizers who else is speaking. Tell them you've made a pledge to avoid all-male panels and can't speak if there are no women going. Then suggest some women that might be great for the event. Reserve the right to bail out at the last minute if your requirements aren't met. And speak up about the need for a diversity of voices!
Here's a cheat sheet for event organizers who want to do the right thing in this arena.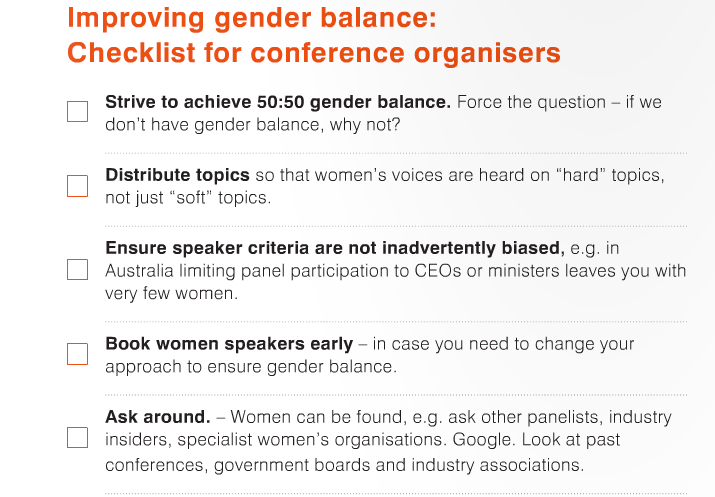 If you're game to do this, tweet about it, using the hashtag #panelpledge to let others know.
If we can agree that we want more women to have their voices heard in business and policy, then we can recognize that those voices need to be heard at the conferences and networking events that fuel those arenas.
The beauty of pledging to never again do an all-male panel is that it is a super-easy way to foster gender equity. The worst thing that could happen is that you get out of going to yet another boring conference, let's be honest. It's certainly easier than getting more women on your board or into the C-suite. There's a lot of hand-wringing on those fronts about how these things take time or how there are simply not enough qualified women.
Think there really are no women available for your panel? Mathematically speaking, all-male panels don't just happen. One statistician has actually crunched the numbers on this.
"If conference speakers were being chosen by a system that treated gender fairly (which is to say, gender was never a factor at all), then in any conference with over 10 speakers, say, it would be extremely rare to have no female speakers at all," mathematician Greg Martin told The Atlantic.
That means gender bias is baked into the conference organization process. It's up to organizers and participants, then, to consciously weed it out.