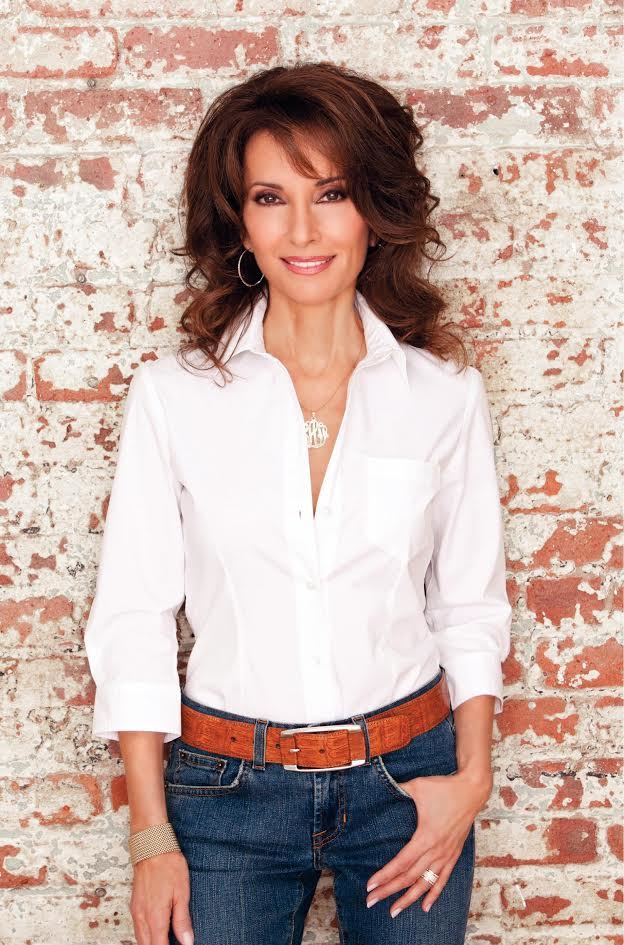 No one who owns a television- or have ever heard of television for that matter- can argue that soap queen Susan Lucci is an icon. For close to five decades, the adored star has reigned supreme as she stole the hearts of fans while playing both the famed and fiery Erica Kane on All My Children, and the flamboyant and fabulous Genevieve Delatour on Devious Maids, not to mention a slew of memorable roles in between- including the highly acclaimed David O'Russell film Joy. When it comes to the regal fan-favorite actress, there aren't many who come close or can even light a candle- and her extremely loyal fan-base knows it.
Naturally, the first attributes that audiences concoct when thinking of the former All My Children star is her undeniable charisma, her incomparable beauty, and her sharp talent. When it comes to camera presence- no one's got it like Lucci. She eats the lens with every flash of her radiant smile. Defying convention, the gifted artist's unique beauty has consistently set her apart from the crowd as her brunette locks and twinkling dark eyes made her a rare celebrated novelty during a time when it was hard to make an impression against the status quo. And, the astounding glamour girl has only managed to keep the celebration going by continuing to defy convention as she remains one of the most stunning women in Hollywood even while maturing, constantly shutting down the industries standards and expectations on beauty and age. And with more than twenty Emmy nominations, and easily what is the most notable Emmy win in TV history, the impressive performer remains one of the most revered actresses on television- and that is just the beginning of the remarkable accomplishments that the gifted talent has achieved in her life.
While everyone easily notes and commends the legendary Emmy award winner for all of the above, what audiences might sometimes overlook is her groundbreaking role in pioneering so many important firsts for other stars, paving the way for even more significant change to take place. When cast as Erica Kane, the exotic beauty was originally thought of as "too ethnic" for television- making her very out of place in the world of more cookie-cutter white soap stars. And with a character that refused to mince words or take anything lying down, Lucci's All My Children character really took the women's movement of the 70's to the next level as she gave the modern woman a fascinating face on television that was both distinctive and strong. The actress used her platform as a way to give a voice to many people who felt disenfranchised and undervalued, and with that, she forever changed the scope of television, offering up greater opportunities for an even broader range of disenfranchised voices.
Cut to nearly four decades later, she found herself on the groundbreaking dramedy created by Marc Cherry; Devious Maids. Produced by Eva Longoria and starring a slew of talented, strong Latina women as its main leads; Judy Reyes, Roselyn Sanchez, Dania Ramirez, and Ana Ortiz, the show proved to be an amazing and meaningful work of art that elaborated on Lucci's paramount contribution to television. It showed that there was not only a place for powerful women in media, but that there was room enough for multiple commanding women to lead one show- and women of color at that. The scope of the industry now so changed, Lucci was now so far removed from the role of the "ethnic" actress of the bunch, and was now thought of as more fitting for the Beverly Hills heiress- a promising reminder of the good that could happen over time as far as expanding the mind-set of society goes.
But, Lucci's talent, beauty, award wins, and pivotal role in entertainment wasn't the only way she made waves. The beloved star also managed to become a branding extraordinaire as she was the first ever soap star to ever become an entrepreneur, putting her name on one top-selling product after the next as she built an incredible empire.
In short, it's impossible to say anything other than that everyone's favorite TV vixen has lead an unbelievable life. And now- fan's can potentially walk away with a piece of that life as Lucci is putting some of her most prize possessions up for auction. Partnered up with the incredible online estate sale company; Everything But The House
, the Devious Maids star has found a way to clean house- and potentially get some of the most cherished items from television into the hands of fans!
From detailed fine China, to luxurious Escada gowns, Lucci's collection of clothes and furnishings are nothing short of breathtaking- and she can't stop commending EBTH for helping her sort through it all. Gushing over their professionalism, cleanliness, and knowledge of each item, the enchanting beauty is thrilled that the site came in and helped her out, creating a sophisticated online auctioning experience where her fans could go and browse. For ten days from March 1st to March 10th, fans can bid on items such as the sofa from Lucci's All My Children dressing room, a pair of Miu Miu heels she wore on Devious Maids, a fabulous Chanel purse, and plenty more!
And as if that's not enough, a portion of the proceeds will go to UCP of NYC- a wonderful organization that the lovely actress/philanthropist has been working with for nearly a decade as she tries to help raise funds for and bring awareness to cerebral palsy- a cause very close to her heart. Refusing to use the word "disabilities," Lucci instead replaces it with "abilities," declaring that the organization is not only doing great work for those diagnosed with cerebral palsy, but also their families.
With portions of the proceeds going to such a great cause, and so many hot items up for auction, it became imperative to sit down and talk to the iconic actress and find out more about Everything But The House, what inspired Lucci to partner up with them, what else she might be selling, and more! Read below to see what the unparalleled actress had to say!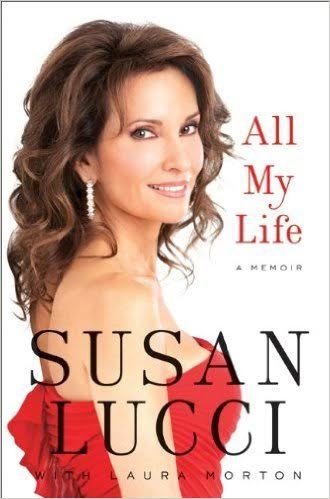 Can you talk a little bit about Everything But The House, what they do, and why you're excited to partnered up with them?
Well, first of all, it was just something that had been on my mind for a while; to start to see what was best to do with the things that I had happily been amassing over the course of at least the past ten years; such as my beloved ivory sofa in my dressing room in New York- which was then moved to my dressing room for All My Children in Los Angeles as well. That was just one thing that in terms of furnishings I had accumulated so happily. I have acquired so many beautiful designer clothes, and have been traveling so much that I really never had a chance to wear them. So, as time went on, I kept thinking to myself what the best thing to do with these belongings was- and my son knew that I was thinking about this too, and he was the one who found Everything But The House for us. My son Andreas is very thorough, and when he suggests something- I pay attention, and he was exactly right. EBTH made this process so easy for me- a process I had so wanted to do, but still it was difficult since I get emotionally attached to things. They came in and they were such a help. The crew was very knowledgeable about what we were donating. There was a woman from the fashion background who went through my clothing with me and was able to assess what things were, and someone else who had a keen knowledge of the China and what to do with it. They were actually like a construction crew in that they wore booties when they were in the house- so you would never even know they were here. They just did so much. And the things we decided were not worthy for going into the auction were donated- and they took care of that for me too and made sure they were donated to the proper place.
And a portion of these sales will benefit UCP Of NYC- which celebrates its 70th anniversary in March. Can you talk about this cause and why it's so important to you?
I have great admiration and respect for UCP Of NYC. I see the work they do, and I was very pleasantly honored by them several years ago- which was my first introduction to them. Since then, I had been doing more work with them because one of my grandson's has been diagnosed with cerebral palsy. Brendan is now eight years old and he is doing extremely well, and I've just learned so much about the diagnosis. My daughter has been such a wonderful mother, and we both decided that in telling this story about Brendan that since we did not know much about it at all, there were probably many people out there who were in our shoes and this would help shine a light on cerebral palsy- and we had no idea how much light would come back toward us. It has been a spectacular experience, and a lot of it I attribute to working with UCP Of NYC. I had been working with them quietly for about ten years thinking that if and when it would eventually be my daughter's story to tell about Brendan- which she did, and she has been working with UCP of NYC now as well. They do incredible work not only for people who have cerebral palsy, but their families- and in addition, they also do great work for people who are diagnosed with other disabilities- which is a word I hate to use, so I'm going to say abilities. Brendan is doing so well now- he's even skiing! It's incredible.
And just to give an idea on some of the items listed here that you will be selling are a pair of Miu Miu platforms, to the Anne Klein jumpsuit you wore when meeting Sammy Davis Jr. Talk about what makes those items special.
The Anne Klein gold lame outfit is actually a two-piece! It looks like a jumpsuit when it's on, so I understand why they would call it that. And the shoes, [Chuckles sweetly] both items certainly mean a lot to me. The Miu Miu platforms with the crystal heels are actually the very first shoes I wore in my first scene on the first episode of Devious Maids when Genevieve is seen under the bed self-medicating and crying her eyes out- those were the shoes I had on, and they are gorgeous. The two-piece Anne Klein gold lame jumpsuit- that was quite a night when I wore that. I had been invited to go to an event to honor Lucille Ball, and I think it was just a year or two before she passed away, or right around that time. So, I was at the cocktail reception before, and I saw Sammy Davis Jr. across the room- and I always thought Sammy Davis Jr. was the best entertainer ever, and he was coming toward me- and he seemed to be walking with such purpose. So, I looked behind me to see who he might be coming to see, and as I turned back around it turned out that he was actually in fact coming to see me- which just floored me. [Gasps sweetly and humbly] He stopped and said to me "I just want to tell you how much I love your work." He had watched me as Erica Kane. His wife had told me years later when I ran into her that Sammy would make lunch for them every day and put the TV on and they would watch me together because he didn't want to miss Erica Kane. That just meant so much to me. And then, after telling me how much he liked my work- which believe me would have been enough- he asked me; "Would you like to meet Frank?" Meaning, of course, Frank Sinatra, who was standing not too far away and naturally I graciously accepted saying, "Of course I would! Thank you!" And when he took me over to meet Frank Sinatra, Frank was having a conversation with Dean Martin and Shirley MacLaine! And my father always loved redheads, my mother was a redhead, and Shirley MacLaine was just it in my household when I was growing up- she was just talked about all the time. So, to meet Frank Sinatra then with Shirley MacLaine and Dean Martin was a dream. My dad loved Dean Martin, and Frank Sinatra was just on all the time- his music is the backdrop to so many of our lives spanning so many generations. So, that was quite an evening, and that was what I had on.
Now I'm sure you are not auctioning this item off, but, you have without a doubt what is most likely the most valuable Emmy in TV history- and probably the most valuable item in television history, period. Can you talk about that moment of winning, and eventually, would you rather leave it to your children, or auction it to museums?
When that day comes, I would ask my children what they would want to do with it- but at the moment, I want to keep the Emmy and the gown I wore to receive it. There are certain things I'd like to keep just for them, but as time goes on, they'll tell me what they think. Certainly, I'm open to loaning the gown to the Smithsonian if they had asked for it. It was actually lost until EBTH came and they were up in the attic and I finally found my Emmy gown! I couldn't believe it! It was missing in action when the Smithsonian did ask for it for their American pop culture wing, but at the time I was able to donate the pale pink silk charmuese gown I wore on the cover of People Magazine. People came over early the next day after I had won the Emmy and had asked me if I could wear a different gown since the Emmy gown had been photographed, so that was the one I wore- and that's at the Smithsonian. So, yes, I would be open to loaning to the museum, but I'd really love to keep them within the family. And the moment of winning was amazing!
You are also no stranger to sales and merchandising. You have your own line of hair care products, perfumes, and lingerie called The Susan Lucci Collection, and your own perfume called LaLucci- which made you the first soap opera star to ever become an entrepreneur as well as an actress. Talk a little bit about branding yourself and not letting the world pigeonhole you.
Thank you! I had all of those products when I was on The Home Shopping Network. I began on QVC with the hair care, and then I went on to The Home Shopping Network with all the products you just mentioned. In addition to LaLucci, I also had a fragrance called Invitation. LaLucci, of course, came from the name that Regis Philbin adorably called me and made famous on his show. So, now I'm back on QVC with my Pilates Pro-Chair, and we're just now in meetings to expand once again- so, we will see where those meetings lead us. But, it's a very exciting collaboration. I'm very excited to be back on QVC as it's where I began, and actually when I did the movie Joy last year with Jennifer Lawrence and Robert DeNiro about Joy Mangano, that is actually where I met Joy Mangano- that's a true story. Her mother and I did meet in the dressing room and the green room. David O'Russell is a great director and that was a wonderful experience. And I do love the work they do on QVC. I love the opportunity to speak directly to the audience. So many of my fan mail emails are asking what I do to stay in shape, and I'm so happy to speak directly to the fans and show them.
You were recently on the extremely beloved "Devious Maids," which just came to a close. Would you like to talk about that experience and what it was like working with wonderful women such as Judy Reyes, Roselyn Sanchez, Dania Ramirez, Ana Ortiz and Rebecca Wisocky?
Oh, well this was a love fest- an absolute love fest- from beginning to end. Everyone was on the same page, and it was such a joy to work with every single one of these amazing actors- and to work with Marc Cherry's incredible material. I just felt so lucky because I had such an amazing experience on All My Children, and I kept being told along the way that it's very rare that these wonderful experiences come along repeatedly- so I did not expect to find that again. So, to go to Devious Maids and have that opportunity and work with such incredible actors was such a gift. And it also gave me the opportunity to really have an international audience, which really happened with Devious Maids, and now on my social media accounts, my responses are in Chinese, French, Spanish, Russian, Arabic- you name it. They come from across the world, and that has been really exciting. But, most importantly a love fest, and truly a very happy time.
One thing that is truly interesting about "Devious Maids" was how it really gave a voice to Latina actresses, and particularly women- putting them all in the forefront- which was something very novel for television. You very much broke down boundaries that helped pave the way for this early on in your career when you were thought to be both "too ethnic" and "a pushy woman" with your character Erica Kane, persevering and becoming one of the most beloved television characters of all time. Can you talk about that and how glad you are to see the world opening up and embracing both diversity and strong women on television today?
Thank you so much. What a beautiful question- and what an important question. You're giving me chills. Playing Erica Kane, she was the naughty girl in town- I did not anticipate the audience embracing her so much. And what they saw in her was her spirit and spunk. They loved her and understood her, and I was very surprised when I was hearing that she was becoming a role model for modern women. I knew the story-telling was modern, but I had no idea what an effect this character would have- and that was really Agnes Nixon's beautiful writing. I saw these scripts every day and I would just gasp and say; "Oh my God, I get to play this incredible material!" And I can't tell you how much that meant to me that the audience saw the truth in Erica Kane, and her spirit, and saw that she would not be kept down. And I loved that about the character, and I loved that the American audience embraced her that way. And yes, I had a chance to do a lot of breakthrough storylines because of Agnes and her pioneering and vision in telling those storylines through Erica Kane, so I was truly lucky. In terms of Devious Maids, I was thrilled to be part of such groundbreaking television. I had been told so frequently in my career that I would never work in television because of how ethnic looking I was, so, when I was asked to audition, quite frankly, no one had been more shocked than I was that now I was going to be playing one of the Beverly Hills household owners! [Laughs] You know what I'm saying? I could have been cast as one of the maids as far as I was concerned! And it was Marc Cherry- I would have been happy to do that. His characters, like Agnes', are very fully drawn, with more of an emphasis on humor telling the stories- even though Agnes did bring humor to daytime television as well. But, I was truly in great hands with Marc Cherry. He told stories that did open up awareness and conversations about these beautiful, strong, Latina women. In terms of Judy Reyes and I working together? This was an incredible chemistry- and a relationship I think many people found very engaging. Very often when watching it posed the question of "Who is the home owner, and who is the housekeeper? And who is the one with street smarts, and who is the person who might know about glamour, but doesn't have a street smart bone in her body?" And that give and take was so interesting, and such a smart compatibility and juxtaposition. They were very push-pull, and yet very caring, and at the same time- very funny. It was truly great. And I got to work with all the actresses on the show and they are all so incredible and so talented.
Susan, you've truly done so much in your career, and you really are so adored. Is there any type of role you haven't played yet that you'd love to play, or anyone you haven't worked with yet that you would love to work with?
Oh, I wish I had thought about that before we spoke, because I'm sure I'd have answers! Certainly, it was a great joy to work with Robert DeNiro, Jennifer Lawrence and David O'Russell in Joy. That was already a dream come true for me and an incredible experience- and certainly one I'd like to have more of. I'm actually in the process of reading something right now, and it's nothing I can talk about currently, but- I really like this character a lot! So, I might just go in this direction. I think it would be something that audiences would enjoy watching as much as I would enjoy playing, and that is definitely thrilling.
And no matter what character the esteemed LaLucci slips into, she is sure to have her legion of devoted fans watch along happily- and she is sure to create even more iconic and notable television and film memorabilia with everything she touches or puts on- perfect for her next go 'round on Everything But The House!
To preview Susan Lucci's collection for Everything But The House (available March 1st to March 10th) and enter for a chance to win an opportunity to meet the beloved star, head on over to www.ebth.com!
Popular in the Community