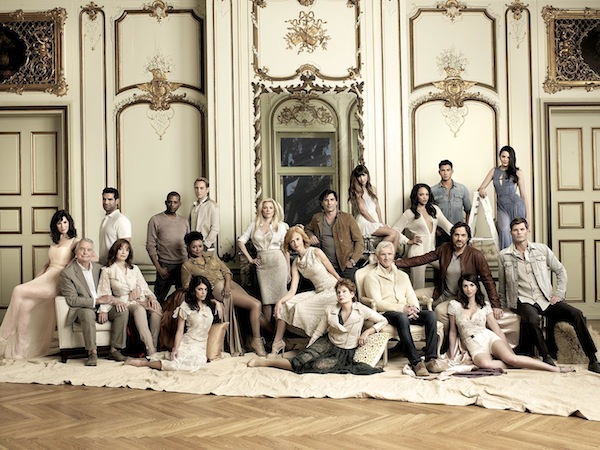 Photo: Chapman Baehler/Styling by George Kotsiopoulos
More than three decades have passed since Darnell Williams and Debbi Morgan morphed into Jesse Hubbard and Angela Baxter on All My Children, only to become daytime's first African American super couple. On screen, they have triumphed over financial woes, parental pressures, explosions, gunshots, pregnancy, death, more death, resurrection -- Jesse was alive, after all, and came back to AMC in 2008 -- remarriage, blindness and even cancellation. Ever since Prospect Park announced several months back that it did, indeed, have funding in place to revive AMC after ABC brutally forced it to fade to black a couple of years ago -- although the cliffhanger was a hoot -- soap fans have had themselves in a lather over the online reboot on Hulu, premiering Monday, April 29.
But stand back: This Next-Gen AMC may be full of more suds -- and studs.
In addition to Williams and Morgan reprising their roles as Jesse and Angie, a slew of AMC alums are also back -- David Canary (Adam Chandler), Julia Barr (Brooke English), Cady McClain (Dixie Cooney), Thorsten Kaye (Zach Slater) and Eden Riegel (Bianca Montgomery) among them. Look for Robert Scott Wilson to rise to the occasion as Pete "Petey" Cortlandt, Pine Valley's six-pack ab'd hunk du jour. No word yet on La Lucci (that would be Susan/Erica Kane), whose new series Devious Maids, debuts on Lifetime in the summer.
But this is a soap. Anything can happen.
And, by the looks of it, everything can evolve.
"Soaps have gone from radio to TV and now to online, and what an honor to be at the forefront of this brand new day," Morgan muses about the second coming of AMC. "I think it's huge because in about four or five years, television is just going to be a monitor and everything's going to be done through the Internet. So to be part of something that's so groundbreaking... it's just fantastic on so many different levels... it really is."
Still, Williams and Morgan are rare creative birds. They are among a small handful of actors able to exude genuine on-screen chemistry.
"I just think Debbi and I clicked from day one and we've been good friends ever since," Williams admits. "I think we both love what we do and, you know, the rest just comes naturally."
"I've been married a couple of times, and I say I've been married to Darnell/Jesse longer than any of my other husbands," Morgan says, laughing. "And, you know that [chemistry] is not anything you can teach. Either you have it or you don't. And it's like Darnell said, we clicked from day one, and so much so that it just comes through the screen and it connects with the audience. I think if you don't genuinely like somebody, I don't care how good of an actor you are, it's like the audience doesn't feel it."
After news surfaced in 2011 that ABC was cancelling both of its Emmy-winning soaps All My Children and One Life To Live, which each had been on the air for more than four decades at that point, Prospect Park entered the picture, promising new life for the celebrated shows online. Funding fell through until recently and suddenly, the road back to AMC's fictitious Pine Valley was reopened.
But what prompted Williams and Morgan to say yes to entering the online fold again, especially after things didn't take off after the show's initial cancellation?
"Well, to be honest I mean, we're actors and, to make a living and to be able to do what we do, we have to have jobs," Morgan says. "And so number one, it was great to be offered a job again. We knew how much we love these characters, we knew how much we love All My Children. We knew how much we love [creator] Agnes Nixon -- it was like all the right ingredients in the soup. So it was like no question -- when all of this stuff came together and I knew Darnell was coming on board, I mean... it didn't take long to make a decision that I wanted to be a part of it."
"And I would like to just give a huge thank you to the fans for their persistence and their dedication and their love of these shows," Williams adds. "Because that's what bought us back."
As for what those fans can expect when they tune in, one of the biggest differences may be more robust storylines, the show's pacing -- down to 30 minutes -- and, to some degree, the dialogue.
"There's different language somewhat," Morgan teases. "I mean, there's something that I say in the first show that was quite funny but I know I couldn't have gotten away with it before."
"Some of the restrictions have been lowered and we got a little excited that first week with the freedom of speech," Williams goes on. "When we came back the second week, they said, 'OK guys we need to, you know, kind of ...'"
"Tone it down a bit," Morgan finishes the thought.
In the meantime, there's plenty of new eye candy -- from muscle men to femme fatales and (one can only hope) some stellar bitchslapping to boot.
"They have some really good young talent on the show," Morgan says. "I think the audience is really going to connect to them, and some of our younger fans will, too."
"It's really happening," Williams adds of his excitement over the new outing. "Anxious is not really the word,--anticipatory. And I think it's all optimistic and hopeful. And that certainly seems to be the air around the studio, you know, everybody is very happy to be working again and everybody's got their head and their eyes to the sky, you know?"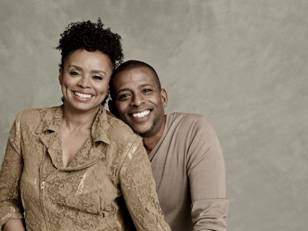 Courtesy: Prospect Park / The Online Network
Catch All My Children on Hulu Mondays through Thursdays. Episode also available on iTunes.
Calling all HuffPost superfans!
Sign up for membership to become a founding member and help shape HuffPost's next chapter