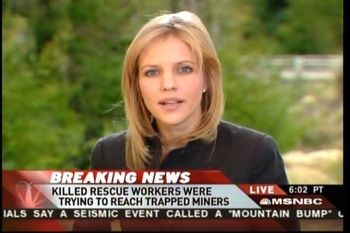 That's MSNBC's Michelle Kosinski, up all last night on location in Utah reporting on the tragic turn of events in the mining rescue mission, with another collapse and three rescue workers dead. It's a turning point in this story — now in the 11th day since the original six miners were trapped underground, with mining company owner Bob Murray starting now to take some heat (see Arianna on how the press was late to the game on looking beyond the search-and-rescue angle, and HuffPost's Max Follmer on Bob Murray's record here). Meanwhile, on MSNBC last night (checked periodically; sorry, Fox and CNN), Dan Abrams stayed live past his usual 10 p.m. sign-off, anchoring until 1:10 a.m., with live coverage from Utah continuing until 2 a.m., and it was good work, with Abrams coming up with question after question to try to peel back the story in terms that viewers just learning about the new events could understand (Abrams is no mining expert, to which he readily copped, but that helped get the story out as he asked people on scene what it really meant to have a "bump" or a "bounce" underground, what it felt like, etc., — which is helpful in coming to an understanding about how the rescuers, now, could have been permitted to proceed under those conditions). Abrams also questioned the claim that an "earthquake" caused the original collapse; look for more on that storyline today, as well.
So it looks like the hard questions are now being asked more broadly about this event, as well as about an old-school, industry — and its standards (see the NYT here). And with good reason — Murray said on the air two nights ago (shown on Anderson Cooper 360) that the search for the miners was something of a "trial and error" exercise — how his employees could venture so deep underground and into such danger without a cogent plan for the very real risks is a question that needs to be examined (Salon looks into the question more generally here). Just a snapshot of the story, and its coverage — which, I suspect, has reached a critical turning point here.
Calling all HuffPost superfans!
Sign up for membership to become a founding member and help shape HuffPost's next chapter