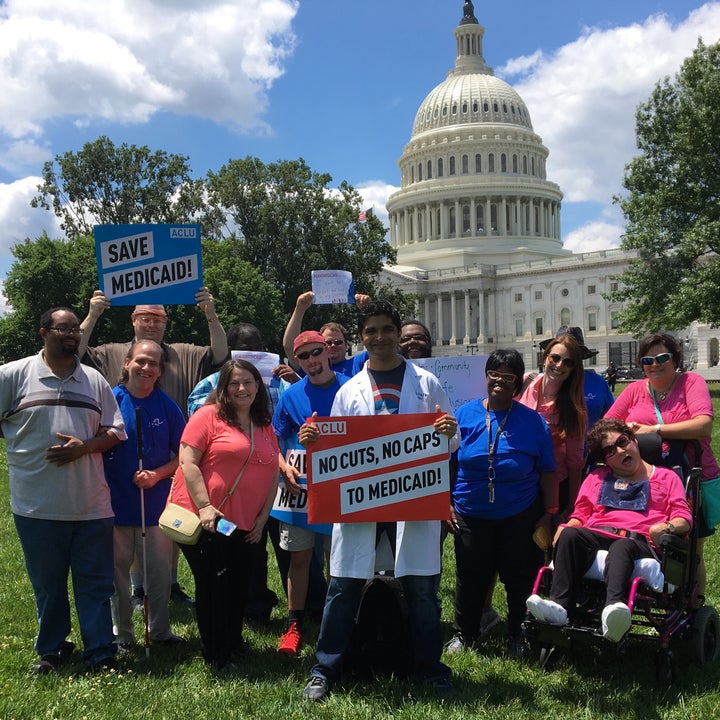 To call Trump's budget a budget is insulting to budgets. Real budgets are moral documents stating a society's values and priorities. Real budgets invest resources to improve lives while getting the most bang for the buck. What the Trump regime has created is not a budget but a bludgeon to hurt the lives of struggling Americans, particularly those on Medicaid. The majority of the American people did not vote for Trump, and they certainly did not vote for the Trump regime and its allies in Congress to assault Medicaid or the Affordable Care Act. As a physician, I know my patients cannot withstand the following threats to Medicaid, and I urge my fellow Americans to stop these attacks.
1. Trump's budget: a bludgeon on patients and families
Earlier this month, the House of Representatives barely passed its bill called the American Health Care Act (AHCA, aka Trumpcare) with 217 to 213 votes. The May edition of this bill included just enough new horrible ideas to gain the support of "moderate" Republicans who were uneasy about the March version of AHCA. However, no changes were made to the parts of Trumpcare that devastate Medicaid with per capita caps, where each state gets a small lump sum of federal money per Medicaid enrollee. If a state needs additional Medicaid funding because of public health challenges, the federal government will not help. The per capita caps scheme slashes over $800 billion from Medicaid, and Trump's so-called budget assumes this destruction will become law. We are still waiting for the Congressional Budget Office (CBO) to report on how many Americans will lose coverage under the May edition of Trumpcare. However, the CBO assessment of the bill's March version showed 14 million people losing coverage if Medicaid is changed to a per capita cap system.
Right now, Medicaid is helping over 70 million people, including 35 million children, 10 million seniors and 6 million Americans with disabilities. Medicaid pays for over half of all births in our country and covers over 60 percent of our fellow Americans in nursing homes. Despite its lean budget, Medicaid is currently delivering excellent care that patients rate higher than the private insurance industry. The Trump regime's plans to cap Medicaid endangers Americans who can not find or afford health care anywhere else.
2. Phase out expansion: this so-called moderate idea threatens millions
Some of the biggest successes of the Affordable Care Act have been in 31 states opting to expand Medicaid, covering a total of 15 million people, the majority of whom also report high satisfaction with their care. Republican Senators from some of these states expressed support for this progress, but they still want to undermine it. The House's Trumpcare bill terminates Medicaid expansion in the year 2020, after which no new patients can join the program. Then it implements the disastrous per capita caps scheme described above. The funding restrictions will push states to ration who is eligible for Medicaid, limit the services they receive, and cut other programs needed for individual and public health (such as transportation and education).
As House Republicans celebrated this moral atrocity at their obnoxious frat party, some Republican Senators said the Senate would not give the AHCA an easy pass. Instead, they claim to seek a more "moderate" approach to repealing the Affordable Care Act. The truth is that these so-called moderates in the Senate support a lot of what's in the House version of Trumpcare, but want to negotiate a time later than 2020 to freeze patients out of expanded Medicaid. Postponing the loss of coverage for patients and families is cold comfort. There is nothing "moderate" or sensible about wrecking health care through a phase out of Medicaid expansion. There is nothing moderate or sensible about implementing per capita caps on Medicaid.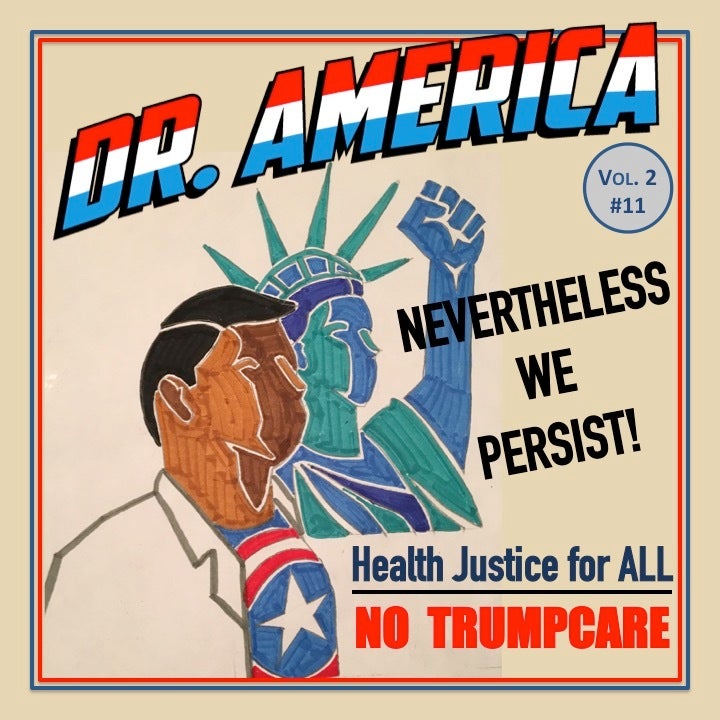 3. Work requirements: no one should have to prove they're worthy of care
If all the above were not bad enough, there are many members of Congress, Governors, and state legislatures who want Medicaid patients and families to regularly show proof of employment. These work requirements are unnecessary because 77 percent of families on Medicaid have at least one person with full-time or part-time employment. The remaining 23 percent of families are headed by retirees, students, people with disabilities, or full-time caregivers (delivering unpaid care at home for a family member). Work requirements for Medicaid create unnecessary bureaucratic procedures that are cumbersome for our fellow Americans with struggling incomes working multiple jobs and unpredictable schedules.
Worst of all, Medicaid work requirements reinforce the cruel notion that health care should not be "wasted" on the "undeserving." This contempt has got to go. Patients and families on Medicaid are our fellow Americans, period. Access to health care should not require passing an ideological popularity contest. There are plenty of people who despise me and every argument I am making in this article. Every single one of them should have the basic human right of health care.
4. State flexibility: states' rights often fail vulnerable people
Many people who support phasing out the Medicaid expansion, replacing its funding with per capita caps, and imposing work requirements rely on the idea of giving states "flexibility" for running Medicaid. The problem with that is there is already more than enough flexibility in how states run their Medicaid programs. Governors and/or legislatures in 19 states have opted against expanding Medicaid, forbidding the basic human right of health care to people with struggling incomes. In Texas, a mother of two making $4,000 a year earns "a little too much" to qualify for the state's Medicaid program (and though her children are eligible, they are not automatically enrolled). There are 684,000 Texans without any coverage for health care who would qualify for Medicaid if they lived in their neighboring states of New Mexico or Louisiana.
The 19 governors and/or state legislatures opposing Medicaid expansion are more or less standing in clinic doors proclaiming "segregation now, segregation tomorrow, segregation forever." Over the course of American history, few states have used "flexibility" or "states' rights" to deliver justice to their citizens. Let's learn from the struggles for civil rights, voting rights, and LGBTQ rights. Let's demand Congress and states manifest health justice by putting patients before politics. The basic human right of health care should not depend on where you live in America.
I implore my fellow Americans to take up the fight for Medicaid, regardless of whether you are directly covered by the program for your health care. As a physician who cares for Medicaid patients almost exclusively, I can assure you that Medicaid is not "other people's" health care. Medicaid is critical to every hospital, every training program for health care providers, and to every county's ability to respond to public health challenges. The threats to Medicaid from Trump's so-called budget and the AHCA have dire consequences for the health of every family. Contact your members of Congress and your state governments to demand protection for Medicaid. Repeat that demand for as long as it takes to make health justice for all a reality.
June 6, 2017: Article edited by author to include group photo at the top.