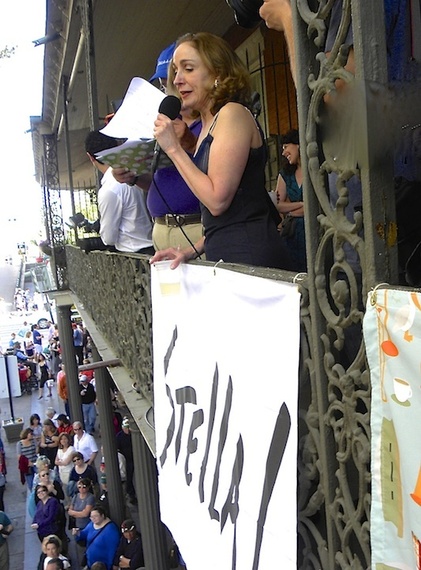 "I have to go channel my inner Stella," Tennessee Williams New Orleans Literary Festival President Janet Daley Duval says in passing. In an hour she'll be leaning off a balcony of the Pontalba Apartments over Jackson Square as contestants gather below to shout "Stellaaaa!" Streetcar Named Desire-style, and a panel of judges will determine that Daphne Britton yelled it best.
TWF is an annual literary gathering with Williams scholars expounding on Williams; New Orleaneans on New Orleans, and writers on writing. An evening in the courtyard of the Old Ursulines Convent was the setting for Blue Devils and Better Angels with John Waters on Percy Bysshe Shelley's bloody heart from Williams' one-act play Lord Byron's Love Letter; Pulitzer-prizewinning playwright John Patrick Shanley performing new work; and author Amy Dickinson reading Williams' stark, heartbreaking essay about his father, The Man in the Overstuffed Chair.
Another moment with a Capital M was Broadway vet Joel Vig 's Truman Talks Tennessee, as he slipped effortlessly between the voices of Capote and Williams. On Capote's feud with Robert Frost who fired him from The New Yorker: "Let's just say he never stopped by MY woods on a snowy evening." Vig portrayed Capote and Williams crossing on The Queen Mary with Capote attempting to elude an amorous bishop as Williams asked in his booming voice: "Tru -- HOW can you be so cruel?" wrapping it up with a chess joke in which Queen trumps Bishop.
Pathos butts up against humor in much of Williams' work, as it did on the Then We Laughed panel with Roy Blount, Jr., Dickinson and Rick Bragg. Bragg put Stephen King on blast after his review of Bragg's book on Jerry Lee Lewis, leading moderator Bev Marshall to joke: "You're putting us on the map!" The fest is well situated on literary maps with its 30th year coming up.
Longtime Program Director and author J.R. Ramakrishnan booked both senior New Yorker drama critic John Lahr, and poet and Buzzfeed editor Saeed Jones who took his The Ferocity Twitter following along for the ride. She also moderated "A Byline of One's Own," a discussion with New York Times Book Editor Pamela Paul; Publicist Lauren Cerand, and Open Spaces Publisher Brigid Hughes. One of the most timely topics was the blessing and curse of social media which can be a platform for writers, and a backlash enabler when the tide turns.
From panels of people who moved to New Orleans to write about it post-Katrina, to panels on Tennessee Williams moving to New Orleans to write about it post-Midwestern childhood, there was something for everyone. Michael Farris Smith passed his iPad around a Master Class to show how breaking out chapters can give work a fresh perspective, then gave the class his password to re-log in which may have been an exercise in trust. Agent / Publisher Marly Rusoff and Jonathan Odell described touring the country promoting his Miss Hazel and the Rosa Parks League, which Rusoff described as her way to re-learn the business of publishing from the ground up.
In her Ladies With an Attitude panel, Rebecca Chance posited that gothic literature was women's noir. And not all books with a woman running away from a house with a single lit window has anything to do with that meme. Nor do all books showing the back of a woman's head on the beach, or a single stiletto-heeled shoe as was discussed in A Byline of One's Own.
Finding a cover that fits the content notwithstanding, a woman winning the Stella Shouting Contest is one sign of the times. Williams, who never stopped championing two of his favorite writers Jane Bowles and Carson McCullers, would approve.

Related
Popular in the Community