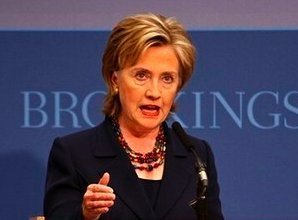 I recently got a lesson in how diverse this country is by speaking about my book, Pearls, Politics, and Power: How Women Can Win and Lead on Nantucket, El Paso, Texas, Chicago, Illinois and Greenville, South Carolina.
When I walked into the Nantucket Athenaeum, I inhaled the air of history. The walls were lined with portraits. Frederick Douglass, the abolitionist and woman's suffragist had spoken here; so did Lucretia Mott, a suffragist born on the island, and Henry Thoreau. As one might expect, it was a sympathetic audience, following in the tradition of northern liberalism.
Greenville, South Carolina has a starkly different history. Frederick Douglass, Lucretia Mott and Henry Thoreau would not have been welcomed there. But I spoke at the neutral venue of Furman University, originally a Southern Baptist college, now independent. The faculty, I was told, is more democratic than the student body.
I had been invited by former Secretary of Education Richard Riley, who I had worked with when I was Deputy Secretary in the Clinton years. As a result my reception was warm and cordial.
But nothing could hide the fact that politics in South Carolina is fierce. This is not only the state that produced "You Lie" Joe Wilson, who is revered more than he is rejected, but also Governor Mark Sanford, who refuses to resign after an affair with an Argentinean woman, followed by a tearful public confession. I was told that despite a petition asking for his resignation from a majority of Republicans, they are unlikely to vote for impeachment because they don't want the Republican Lieutenant Governor to have an advantage in the next election.
It is a tough state for women in politics. South Carolina is at the bottom—50th—of all the states in the percentage of women in politics. There are no women in the State Senate, in contrast to New Hampshire, which was a majority of women in their Senate. Ever wonder if there are different political cultures in this country?
I wanted to learn more from the women of South Carolina, so in addition to my public address, I met with a group of 25 women leaders. They know they have a problem and they didn't need an uppity northerner to tell them about it, so I did more listening than talking. The picture of the genteel southern woman has not faded, neither has the power of the church, they said. That day I had read an editorial in the Furman student newspaper, decrying the lingering influence of the southern Baptist church and it's role in diminishing the role of women. Women are not encouraged to be leaders.
Most significantly, politics is dirtier than in some other places. During our roundtable discussion, there was an empty place behind a name card. The 69 year-old woman could not attend because she was seeing her lawyer to file a lawsuit to refute an anonymous letter campaign that accused her of having had an affair with Governor Sanford. No wonder women hesitate to enter the arena.
I left with one message—sometimes women get elected to be the clean up crew after a period of dirty politics or political violence. The state of New Jersey has moved from around 35th place in the country to one of the top ten in just a few years. In addition to recruiting and training women to run for public office, Debbie Walsh, director of the Center for American Women and Politics at Rutgers University, told me women got a boost because "a lot of the men were indicted."
The very qualities that make it harder for women to get elected—not being part of the old boy's network, gives them the advantage of having fresh, and yes, clean faces.
El Paso, Texas was totally different, not only in terrain, but in how it welcomes women into leadership. As we began to land, I saw nothing but sandy colored ground, and a rim of bare mountains. A few blocks from our hotel we could see the border fence (which the locals hate) and a huge Mexican flag waving in the breeze. Most of the people at the airport and at the restaurant where we had lunch spoke Spanish.
This is the state that produced Governor Ann Richards, Sarah Weddington, who as a young lawyer argued the case for Roe v. Wade, and Molly Ivins, the outrageously funny, liberal columnist. My audience was comprised of 100 women from Leadership Texas, a competitive program that recruits women from all over Texas for leadership training. They were joined by the El Paso Women's forum. The 300 women were raring to take on the world. When I spoke I could see heads nodding and faces smiling. Like any speaker, I know an audience is in tune with me when the audience laughs at my jokes before I even finish the punch line. I was even introduced to a distant cousin. Now that's connecting with your audience.
In Chicago I spoke to the National Council of Jewish Women, a social service group which provides funding and volunteer work for many non-profits. I was told that there was not a social service group that had not been touched by these women. The question I posed to them was, would any of them take the next step and jump into the political fray? Chicago politics is not for the faint of heart either. They were keenly aware of the fact that most of their recent governors had landed in jail, and the recent Governor, Rod Blagojevich, has been impeached.
One of the surprises in my travels was to discover a marvelous museum in El Paso, with an extraordinary collect ion of Renaissance art, and to see the new addition to the Chicago Art Institute and the sculptures in Millennium Park.
This is a diverse country, and getting elected in some states is much harder than in others, but the message has to continue to be the same—women can and must make a difference.
Madeleine M. Kunin is the former Governor of Vermont and was the state's first woman governor. She served as Ambassador to Switzerland for President Clinton, and was on the three-person panel that chose Al Gore to be Clinton's VP. She is the author of Pearls, Politics, and Power: How Women Can Win and Lead from Chelsea Green Publishing.
Calling all HuffPost superfans!
Sign up for membership to become a founding member and help shape HuffPost's next chapter