Aol's BeOn group creates custom editorial content that is sponsored by marketing partners. The sponsoring partners do not exert editorial influence over the content, but may be organically integrated within content in an authentic manner that does not impact editorial integrity.
It's easy to let the spirit of giving come and go with the holiday season, but helping others as a daily practice can have life-changing results. Take Daniel Sadler, a tow truck driver at All Over Towing in Kernersville, North Carolina. Angela Black, the dispatch manager at All Over Towing, says, "Daniel is the kind of guy that always goes above and beyond. Like, instead of just picking up a car and towing it to a repair shop, then he would turn around and take [the owner] to work -- that's the way he is. And he just takes care of people."
While generosity has always been ingrained in Sadler's DNA, the idea to give back to the homeless near Kernersville came to him one winter evening when he was watching TV; the weatherman forecasted a drop to 10 degrees that night. In that moment, Sadler instinctively put himself in the shoes of those living on the street, considering their needs and how he could take action to help. Having made $40 in tips that day, Sadler decided to use that money to purchase warm clothes such as gloves, blankets, socks, hats and scarves. He then took to the streets to distribute them, along with water and toiletries, throughout Kernersville neighborhoods most in need of assistance. On helping others Sadler says, "I love helping folks, that's why I like towing. I get paid to help folks -- we just found a different way to help."
Sadler's kindness has had a profound impact on the local homeless population. "Sometimes he comes here late at night and brings goods for the homeless," says Ronald Richardson, one of many grateful recipients of Sadler's giving spirit. "He's a nice guy. He's all about caring for anybody. We're all people."
Some days Sadler doesn't make that much in tips and gives back with whatever amount he's able to afford. But the dollar amount is beside the point. "You don't need to be wealthy to help anybody," he says. "You can help somebody with 50 cents. You can help somebody buy a soda -- anything helps." People are always grateful, and he feels good about paying it forward.
Related
Before You Go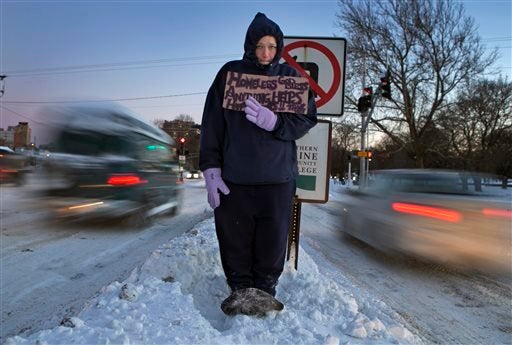 How To Help Homeless People This Winter